Conexpo-Conagg Review: Vegas Views
By Euan Youdale01 May 2017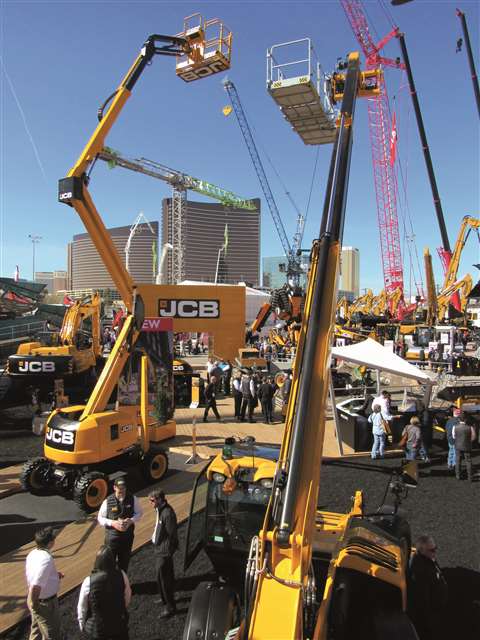 The organisers of ConExpo 2017 announced that, over five days, a total of 128,000 people attended the show, which featured a record number of over 2800 exhibitors. Some 20% of the visitors comprised international attendees from approximately 150 different countries.
The general consensus among manufacturers and customers was that the mood at the show was positive, with many reporting a tangible feeling of economic optimism. Exhibitors across the board reported good sales activity. This is supported by the organiser's figures which show that general US buyer attendance increased 16% from the 2014 show, and total buyer attendance improved by almost 8 percent.
The view among the access manufacturers confirmed ConExpo had attracted a greater international crowd than in previous editions of the show. This was particularly relevant to those manufacturers looking to expand their global presence at the show. One of those is MEC Aerial Work Platforms. Its vice president of business development Pat Witte told AI, "We have people here from Japan, Vietnam, Australia, Europe and Brazil, among others. It's getting more and more international. This is my 10th ConExpo and it's the most international I have ever seen it."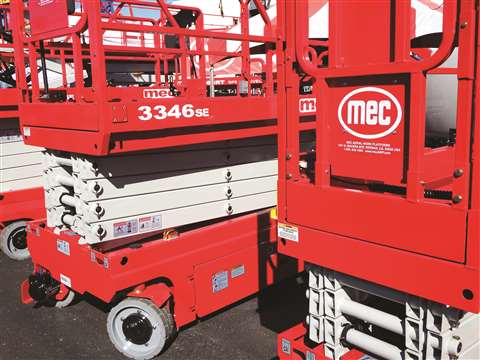 MEC has a new range of slab scissors
MEC is celebrating 40 years in the business and was showing its new line of slab scissors in Las Vegas to celebrate the landmark. The new DC drive slab scissor line provides a full offering of six machines from the company's 13ft micro slab 1330SE to the 45ft compact slab scissor – the 4555SE. The line also features MEC's compact 4046SE and the series of 19ft, 26ft and 33ft scissors with standard integrated material sheet trays.
Reflecting the international scope of ConExpo, Wisconsin-based low level access specialist Custom Equipment entered into a distribution agreement with Saudi Arabia-based General Trading & Equipment Company (GTE) at the show. GTE has purchased 25 units comprising of Hy-Brid's HB-1430 and HB-P527 lifts, says Justin Kissinger, marketing manager for Custom Equipment.
The Custom Equipment team will travel to GTE to provide sales and service training to GTE staff in the coming weeks. GTE has eight branches across the region and was established in 1976.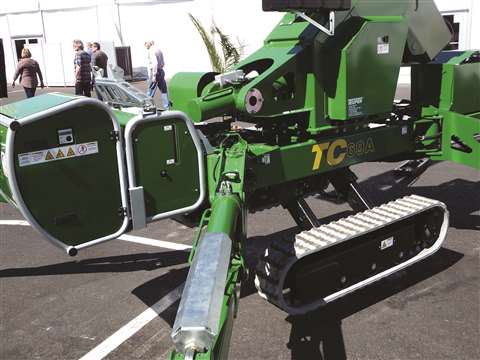 The Teupen TC69A unit is painted green for the tree care industry
In return, North America is also notable for its gradual adoption of more niche products. For example, Germany-based Teupen displayed a prototype of its new 69ft working height TC69A tracked platform aimed at the North American market. An alternative version is the insulated TC69A-IN. both versions are based on the manufacturer's 23m working height 23GT, available in Europe. The difference being the North American version is aimed at tree cutting around power lines and therefore only offers a diesel engine, whereas the GT is a diesel electric. The plan is for the model to be production-ready in the first quarter of 2018. Teupen would be looking to sell 10-15 units of the model in the first year. It represents the next instalment in the new Canopy series that has been on the market for the last three years specifically with the TC92SJ model.
ReachMaster showed its new Bibi additions. Manufactured by Italy's Almac group, the track-based lifts are distributed by ReachMaster in North America. Rental company Lizzy Lift has purchased a number of the units. The Bibilift series has working. The Teupen TC69A unit is painted green for the tree care industry. heights from 13ft -20ft and single door access.
AGF Access officially launched its Special Project Group at ConExpo, in which it will use its range of access-related products and services for long timeframe projects like bridges and power stations.
Made up of three divisions; manufacturing, rental and now special projects, the AGF Access Group includes mast climber producer Hydro Mobile and suspended access manufacturer Winsafe.
AGF Access, part of AGF Group, already achieves a revenue of $9 million from special projects and $110 million in total. The aim is to increase that to $150 million over the next five years. This will occur through organic growth, including special projects, and acquisitions, said Vincent Dequoy, president of AGF Access.
Special projects, such as power station maintenance can be anything up to three-years in the planning and require staying power. However, the rewards can be significant. The division, which currently operates in North America also lends itself to international expansion.
Hydro Mobile produces heavy-duty mast climbers designed for modern buildings found in North America, compared to the older buildings generally seen in Europe, which require generally low capacity electric rack and pinion mast climbers. However, the modern structures used in power stations, for example, in Europe are able to accommodate Hydro Mobile's heavy duty platforms.
Big News
One of the biggest stories at the show was the global debut of JCB's first boom, the articulating AJ50D. The company recently announced its entrance into the access market and will introduce 27 models over the next year.
The AJ50D is a 50ft articulating boom with a 500 pound platform capacity. The unit weighs 15500 pounds and has standard oscillating axles. The machine is powered by a Tier 4 Final JCB Diesel by Kohler engine, as are the remaining articulated and all telescopic platforms that will be launched later this year. Load capacities range from 500-550 pounds for the articulated range (227-250kg), enough for two occupants and tools.
The company also had its newly-launched scissor lift line on display. This move into the access sector will see JCB enter the market that manufactures 130000 units a year, generating an annual revenue of $8 billion. Designed in-house to meet the needs of rental companies and contractors worldwide, the platforms will initially be offered in North America, the UK, France and Germany.
"We are all very excited," said Graeme MacDonald, chief executive officer of JCB. "The opportunity for aerial work platforms in North America is huge. I am very confident we have what we need to succeed in the North American aerial work platform market."
Among the major established manufacturers, there were some real innovations on display. One of them, from JLG was the prototype of a concept boom designed for uneven terrain. The machine's self-leveling chassis automatically levels itself in a longitudinal and/or horizontal direction depending on the demands of the terrain. It reduces three-wheeling, allowing the machine to maintain traction on sloped or uneven ground. Machines equipped with the self-leveling chassis can traverse slopes up to 10 degrees with the boom elevated, which means greater uptime and less repositioning. The feature enables easier loading, unloading, and transport, as the chassis can be lowered to reduce the total height of the machine.
Apart from that, JLG Industries used ConExpo to take the wraps off a number of new products, including high-capacity telehandlers, narrow electric scissor lifts, hybrid and redesigned boom lifts. The two new high-capacity telehandlers, the JLG 1644 and 1732, will be available to North and Latin America customers in May. As the nomenclature would state, the 1644 will be a 16000 pound capacity unit with a lift height of 44ft, while the 1732 will be a 17000 pound telehandler with a 32ft lift height.
"Not only are these machines the first JLG telehandlers in the high-capacity category, but they are also the first telehandlers in North America with SmartLoad Technology," said John Boehme, JLG Industries product manager, telehandlers. "SmartLoad is an advanced bundle of three integrated technologies that work together to deliver a greater level of operator confidence. It will be offered as optional equipment on the 1644 and 1732 telehandlers."
As for ConExpo, overall, Frank Nerenhausen, president of JLG, said the event was a "continuation of the upbeat sentiment that we're getting from the marketplace."
Genie also used ConExpo to debut its updated legacy boom line. The new Genie SX-105 XC and SX-125 XC booms are engineered to work in more applications that require higher capacities.
The XC line stands for "Xtra Capacity," and all Genie XC booms combine the benefits of a dual-envelope design to provide an unrestricted range of motion with a platform capacity of 660 pounds and a restricted operating envelope capacity of 1000 pounds.
The Terex exhibition space featured a number of Genie telehandlers, including the GTH-5519 and GTH-636.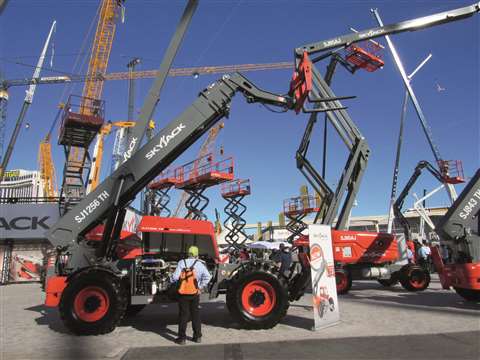 Skyjack debuted the SJ1256 TH at the beginning of the year
Skyjack debuted the SJ1256 TH at World of Concrete this year. The unit was on display at ConExpo, as well. Ideal for heavier-duty applications, the SJ1256 TH features 12000 pounds maximum lift capacity, 56.3ft maximum lift height, 6000 pounds lift capacity at maximum lift height without deploying outriggers and 7000 pounds lift capacity at maximum lift height with outriggers deployed.
Reflecting a general move by the main-line AWP manufacturers to expand their telehandler ranges, Snorkel launched its first telehandler at ConExpo. It also presented a new self-propelled telescopic mast lift and a prototype electric drive slab scissor lift. While sister company Xtreme showed its new 10000 pound capacity XR1056 telehandler.
The SR5519 telehandler has a load capacity of 5500 pounds (2494kg) and can reach heights of up to 19ft (5.79m). The manufacturer says the machine is designed to be competitive, yet is rich on features, including a spacious cab and a large touchscreen interface in the cab for accessing load charts and manuals.
Following the introduction of the electric drive, 12ft (3.6m), telescopic mast lift, TM12E, at The Rental Show in February, Snorkel unveiled a 16ft (4.87m) version of the lift at ConExpo. The TM16E features an electric drive system that delivers longer duty cycles, a zero inside turning radius, and an electric braking system, consistent with the TM12E. Capable of lifting up to 500 pounds (227kg) to a platform height of up to 16ft (4.87m), the TM16E includes a roll-out deck extension as standard.
The company also showcased a prototype of its next generation electric slab scissor lifts. The Snorkel S3019E features a low step-in height thanks to the sunken scissor stack that stows inside the chassis. The all-electric lift uses no hydraulic hoses, achieved through electric drive and electric steer. It can lift up to 500 pounds (227kg) to a platform height of up to 19ft (5.79m), and weighs in at 3200 pounds (1,451kg).
The new Xtreme XR1056 telehandler is designed to handle tough environments. Powered by a 74hp high torque engine, the XR1056 can lift up to 10000 pounds and can reach up to 56ft. It includes a new automatic powershift transmission, a remote-mounted electric over hydraulic HAWE valve, and a more spacious cab.
Haulotte Group used ConExpo as a launch pad to introduce its 85 ft telescopic boom to the US market. The HT85 boom, shown for the first time as the HT28 at Bauma China in November last year, has an outreach of 78 ft, 2 inches and has a number of new features and options for workers' safety.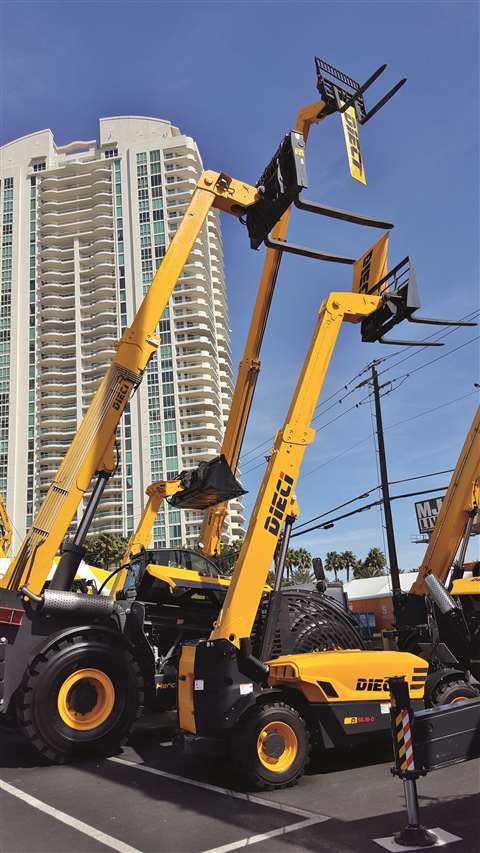 Truck Debuts
Palfinger's massive WT 1000 aerial work platform took to the sky in Las Vegas. Engineered for assembly and maintenance on wind turbines and other tall structures, the WT 1000 provides access up to 337ft. The unit is equipped with a five-axel, all-terrain mobile crane chassis and four different stabilizing configurations. Electronics and safety features, including telescopic stabilizers, also guarantee stability and allow for safe operation in wind speeds up to 12.5 m/s.
After a year of planning, German company Ruthmann and Texas-based ReachMaster have taken the wraps off a new 108 ft working height aerial work platform, the Eagle T-108 A. The unit was shown for the first time at ConExpo.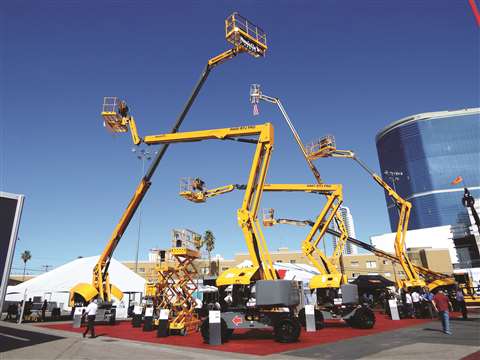 Haulotte launched the 85 ft HT85 boom in North America
The new unit offers a vertical work height of 108ft, 69ft of horizontal reach and 700 pounds of basket capacity. The Steiger lift system consists of a straight boom with a jib, which was shipped from Germany to ReachMaster in Texas where it was then mounted on a Ford F650 chassis.
Since the total weight of the unit is 24900 pounds, no special CDL requirements are needed and the Ruthmann Eagle T-108 A can be driven with a standard driver's license in the US.
"We have been active on the US market for some years through our cooperation with Time on our taller units of 125ft and above, and that remains in place with no changes," said Rolf Kulawik, managing director of Ruthmann. "However, it has also allowed us exposure to the market segment for smaller units that could be driven without CDL, reflecting opportunities similar to those we have seen in Europe, where the use of smaller truck-mounted lifts has made a huge difference for the rental industry."
Telehandler specialists
Manitou used ConExpo to debut a number of new units, including the MRT 2150 rotating telehandler and the MHT 10130 heavy capacity telehandler. The MRT 2150 features 360 degrees of continuous rotation and can be equipped with an extendable 13ft work platform that can accommodate loads up to 1320 pounds with a 180 degree swing capability. A 660 pound winch is integrated within the platform.
The MHT 10130 has a maximum lifting capacity of 28000 pounds and has a maximum lift height of 36ft, 6 inches. The units were both demoed at Manitou's stand during ConExpo.
Cat's new TH514D telehandler made its world debut at ConExpo. The new TH514D has many improvements over its predecessors, including increased lift height, a tighter turning radius, better operator visibility, longer forward reach and hydromechanical advancements. The unit has an 11000-pound lift capacity and a maximum lift height of 45.6ft.
Dieci premiered its Pegasus 45.30 model, which is a 360-degree continuously rotating telehandler with a 98 t reach. The company also showed its line of telehandlers designed specifically for the US market. The four telehandler models are the a-55.19, the z-7.42, i-9.44, and the i-12.56. All four models will meet ANSI standards.
Magni TH used ConExpo to launch its RTH 6.46SH, but to also continue its push in the American market, the company said. "During the event we received interest and curiosity from the public and also got very positive feedback from customers and end-users as further evidence that this type of product is certainly successful for these markets with vertical development," Magni said. The RTH 6.46SH has a reach of 150ft, which Magni said is the highest reach for a rotating telescopic handler.