Construction industry expects to 'go green'
By Andy Brown22 November 2018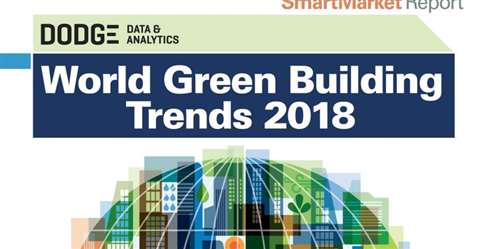 The results from the World Green Building Trends 2018 report has revealed that 47% of those surveyed expect the majority of their projects, 60%, to be environmentally friendly by 2021.
The report, published by Dodge Data and Analytics, shows that the international market for green construction projects has grown significantly in the last ten years.
Demand for green building activity is poised to double in some regions, according to the information provided by approximately 2,000 construction industry professionals in over 80 countries that were surveyed for the report.
The biggest reasons for green construction given were: client demands, environmental regulations, healthier buildings and market demands.
Respondents citing higher initial costs as a top obstacle dropped from 76% in 2012 to only 49% in 2018. However, despite the drop, it remains the top barrier in 2018.
Three additional barriers were selected by approximately one third of the respondents: lack of political support or incentives, affordability and lack of public awareness. The degree to which each of these barriers is influential varies greatly by country, suggesting different strategies are needed to promote green globally.
Countries with the highest percentage of those in the construction industry doing a majority of green projects currently include; Australia (46%), China (Hong Kong) (42%) and Ireland (40%). Looking ahead to the future, countries with the highest percentage who expect to do a majority of their projects green by 2021 include the UAE (66%), Australia (64%), Norway (64%) and Spain (61%). Other countries with notable high levels of growth in this area include Mexico, India and Colombia
"Enthusiasm for green building is clear in all major markets measured, and that is driven by the business benefits they receive, which have stayed consistent since 2012," said Donna Laquidara-Carr, industry insights research director with Dodge Data & Analytics.
"These benefits include 8% operating cost savings in the first year and increased building asset values of 7% for new green buildings, which are clearly influencing all those who do green building to deepen their engagement with green."
To read the report, click here