Construction starts on Huisman 10,000 tonne cranes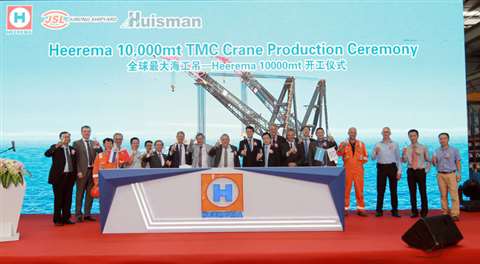 Dutch lifting and offshore industry specialist Huisman held a steel cutting ceremony with client Heerema to mark the start of construction of a pair of 10,000 tonne capacity tub mounted cranes (first announced in IC April 2014, News, page 7).
Huisman is building what it says are the world's largest cranes (each able to lift 10,000 tonnes at 48 metres radius in offshore conditions) at its facility in China for mounting on a new Heerema semi-submersible crane vessel. The delivery schedule is for the end of 2018.
Joop Roodenburg, Huisman chief executive officer, said, "We are honoured that Heerema has shown their confidence in our ability to design and construct the largest cranes ever, for what will be Heerema's main construction vessel for the coming 30 years. Furthermore, we are extremely proud that the innovative Huisman design for the two 10,000 tonne tub mounted cranes will contribute to the further development of the crane industry."
Jan-Pieter Klaver, Heerema Marine Contractors CEO, said, "We are very pleased with the progress in the development of our new semi-submersible crane vessel. Huisman is a reliable and professional partner with whom we have worked to our satisfaction for many years. Their innovative design for the NSCV's two tub mounted cranes will enable us to service the offshore oil and gas industry in ever better ways in the most diverse of circumstances."
Instead of bogies or large wheels for the slew system on traditional tub cranes, the Huisman ones will have 30 metre diameter bearings designed and made in-house. A primary benefit is to save a substantial amount of weight, the company said.
See the announcement story here: www.khl.com/magazines/international-cranes-and-specialized-transport/detail/item93602/World-record-10,000-tonne-cranes-designed-by-Huisman