Cramo interview: Taking shape
Cramo is morphing in response to a changing rental industry. Indeed, the Finnish rental company is embracing that change and looking to direct it from a strong market position.
The company reported solid growth in 2018, with sales for the full year coming to €779.8 million, up 6.9% on the previous year, and profits increasing by 8.3% to €130.1 million – although the picture has been a little more mixed in the first quarter of 2019.
This has been helped by positive market conditions in the fourteen countries where Cramo operates. In an interview at Bauma, Leif Gustafsson, the company's CEO, told IRN the markets are performing well in the Nordics, especially in its home country of Finland and even in Sweden where a decline in Stockholm has been more than offset by increases elsewhere in the country.
Eastern European countries, where Cramo has a relatively small presence, are also enjoying good conditions, and the only exception in the Baltics is Estonia, where the market is levelling out at bit.
Gustafsson describes Germany as "the diesel in our business," because it's a steady market without extreme peaks and troughs. Elsewhere in Central Europe, he singles out Austria as a healthy market, as well as the Czech Republic, which after a slow period has picked up, with a significant increase in investment in residential and non-residential developments.
Continued growth
In almost all these markets, Gustafsson predicts continued growth in 2019. The one country for which he hesitates to give a forecast is Russia, saying, "It is difficult to predict the Russian market. It has been quite challenging for a couple of years," but he added, "Our joint venture with Ramirent under the brand Fortrent has managed that market situation fairly well."
In such buoyant conditions, it might be tempting to continue doing business as usual, but Cramo has different ideas. Ever since the company introduced its Shape and Share strategy in early 2017, it has been aware of a shift in the industry away from simple equipment rental towards total site solutions.
"When we were in our strategy planning three years back, we all saw this at that time. We saw more services, and we believed that in the future we needed to create more value. And creating value, of course, means creating service solutions around our products," says Gustafsson.
This requires heavy investment. Last year, Gustafsson said Cramo had invested about €170 to €180 million in its fleet. Of that, about €80 to €100 million can be attributed to growth Capital Expenditure (CapEx) to grow and develop the company's fleet beyond simply maintaining it. The lion's share of that investment in growth CapEx has been channelled into Cramo's Modular Space division – which has now been spun off as a separate enterprise called Adapteo.
This is being done to capture the strong market growth seen in the modular space sector, and it is an important part of the company's Shape and Share strategy that will allow Cramo to "focus a lot on the way forwards, taking a position, as we see it, in the sharing economy," according to Gustafsson.
Cramo has identified two important catalysts of change in the rental industry: sustainability and digitalisation. With growing awareness of the importance of sustainability, the sharing economy has a central role to play since, arguably, rental is inherently more sustainable than ownership.
"To rent is a good start to being more sustainable," says Gustafsson, adding, "We work a lot with our customers, integrating with our customers to provide different types of solutions to help them decrease their carbon footprint by using services from us."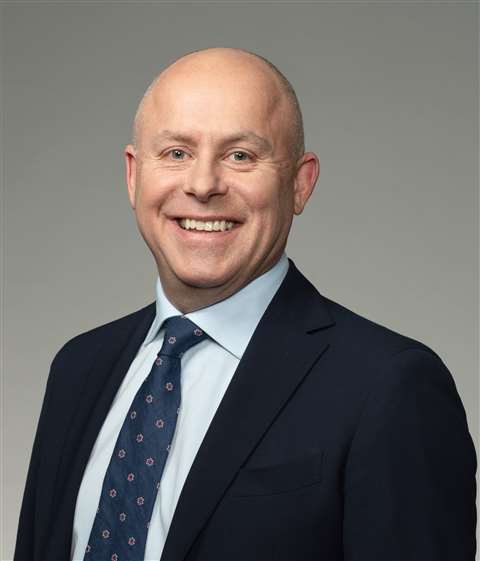 The digital angle
On the digitalisation side of things, Martin Holmgren, Senior Vice President of Group Fleet Management, says, "There are three key focus areas. One is the internal part, and that's normally where you start because that's in your own control and so it's fairly easy to start there. Then there is the customer side, and we have been asking our customers how we can do our business in a better way with new digital features and the opportunities that lie therein. You have to integrate or collaborate with customers in a much more in-depth way. And thirdly, we are also asking how we can actually do business differently with the help of digital solutions – really thinking in new ways."
On the third point, one example is sharing platforms. Holmgren suggests a contractor's entire fleet – not only Cramo's equipment – could be connected up, opening the door to new payment models and novel ways for customers to access rental fleets and services. This is the 'Share' part of the company's Shape and Share strategy.
"So there we are also looking at what we can do, how we can shape this part of the industry. It's very exciting times and there are enormous opportunities. You can do so many things. The key is to have the right mindset among the employees, the right structure, and working extremely closely with the customers. Then you will find those areas where to focus," says Holmgren.
This concept is apparent, perhaps in embryonic form, in Cramo's latest digital products, which comprise a web portal and two mobile Apps – ProductViewer and MyEquip for Android and iOS. Together, they are designed to give users a better overview of their rentals and help them to manage equipment returns. In addition, they aid in the planning and management of documents by providing an order history.
Holmgren says, "We want to give customers an easy way to get access to our data and also give them the tools to do business transactions in an easy way. So it's about simplifying the processes."
The web interface is not intended only as a rental portal or e-business interface; it's much broader than that.
"Of course, they can place an order on there, but also we want to give them a tool with which they can manage their fleet. They can get subscriptions to reports about what they have on site," Holmgren says.
"We have given them tools on the web and also in the App that allow them to see instantly what they have on rent, and what they should not have and can return. So it's much more of a management tool for rental, and it will become a management tool also for productivity, safety and sustainability. More and more digital features will be loaded into that tool."
Mobile Apps
As for the Apps, ProductViewer enables employees on the jobsite to scan equipment and get tutorials, instructions or safety manuals for any of the 230,000 pieces of equipment that Cramo offers. On the other hand, MyEquip is an equipment returns App that provides an inventory list of the rental fleet a company has on site, and invoices are connected to it to make things easy for the customer.
When asked how Cramo is making it possible for people to take machines on and off rent at any time of day, Holmgren cited the example of a container that is installed on a construction site, integrated into its boundary. The container is connected to an App through which the customer can place orders and access an entry code for the container. Transport companies can then deliver rental equipment to the container in the evening, when there is less traffic.
Holmgren says, "The container is very secure because it's part of the fence, which means that from the construction side – the inside of the site – you can put the equipment and lock it from that side but you can open it from the other side. So you don't have to move outside with equipment and make it complex. Once again, a very simple way of working."
This solution was recently provided to a customer in Sweden and some interesting insights were gained from the project. It was observed, for example, that workers spent less time collecting rented equipment; "They measured the amount of steps certain workers had been walking before the container was put in place and then after, and they can see that the workers can spend more time on the production part rather than walking and finding equipment," says Holmgren.
This gives an idea of how new solutions arise from working closely with customers, and as those collaborative relationships deepen Cramo's role is morphing – as previously touched upon – into that of a total site solutions provider.
This is reflected in the company's acquisition last year of German construction site logistics company KBS Infra.
Gustafsson says, "They are more-or-less providing a full-service concept for establishing a construction site, meaning everything from electricity and fencing to security and machines on site."
He adds, "We are doing a similar thing, though not so advanced, in Sweden and Finland, and now we're getting this competence on board it's extremely interesting for our German business, but also across borders, spreading the knowledge and experience of KBS."
This is also an area where Cramo sees great potential for technological development as digital technologies are increasingly offering better visibility and control of a jobsite.
Holmgren says, "We conducted a thorough analysis of the market and companies say logistics is extremely important for the construction site." However, when asked if the logistics are being planned in the most efficient way, the consensus is that they are not; "So we know that we can do this much better. And they can also see that we can be a partner here; we can take the position as that specialist."
Integrated partner
Holmgren goes on to say, "So that is an area we are developing now, to become that integrated partner in the production process, and not only being a machine provider. And when you are there, then you also start to learn about the processes and how they work and that's where we'll find a lot of good areas to improve the digital services as well."
An interesting effect of this changing approach is that Cramo is beginning to assess its fleet from a different perspective; "We start to look at our fleet from a logistical point of view," says Holmgren.
Taking the example of personnel hoists, Cramo used to simply rent out and install them, but now the company considers the best type of hoist to deploy in the context of a given jobsite. In Holmgren's words, "Now we are looking at the hoist business in terms of what kind of hoist we need in order to optimise the flow of people and materials on the site. So it's becoming a different angle on the needs rather than just the hardware or the machines."
In this sense, Cramo's role is morphing into that of a consultant; "We are planning services. We are working together with the developer even before the construction companies are signed to the project, to see how we can set up a worksite and an area to optimise the flow of equipment and products," says Holmgren.
Gustafsson sums up, saying, "For us moving forwards, it will be as a fully-fledged service provider that can also provide rental tools and machines. Our business will be transformed."