Crystal Clean with new Isoli truck mount
By Euan Youdale15 February 2017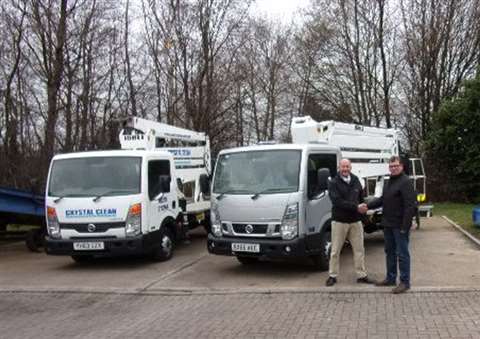 A specialist high access cleaning company has invested in a new Isoli truck mounted boom.
Crystal Clean has purchased an Isoli PNT 210JD4 from Access Platform Sales (APS). The Isoli PNT 210JD4 is a 21m articulating boom mounted on a 3.5t Nissan Cabstar chassis, meaning the vehicle can be driven by anyone with a Class B licence.
A narrow jacking option means that, for some operations, the outriggers can be vertically deployed without first being extended outwards. It also has a Home function, where the machine returns to stowed position with just one touch of a button.
It replaces an Isoli PNT 210J, purchased from APS in 2013. Improvements on the PNT 210J include safe working load increased from 200kg to 250kg, and the stowed height of the boom is also reduced.
Dave Chennells, director of Crystal Clean (Southern), said, "The previous model served us really well, but this one is definitely a step up in terms of functionality. We particularly like the multi-position jacking system, and are thrilled with the Home function, which will make life a lot easier."
Crystal Clean (Southern) is a family-owned and run business based in Wantage, Oxfordshire, UK. Along with the new boom, the company invested in a set of 400x400x40 Hi-Pro spreader plates from Outriggerpads.