Death toll rises in Genoa disaster
By Sandy Guthrie16 August 2018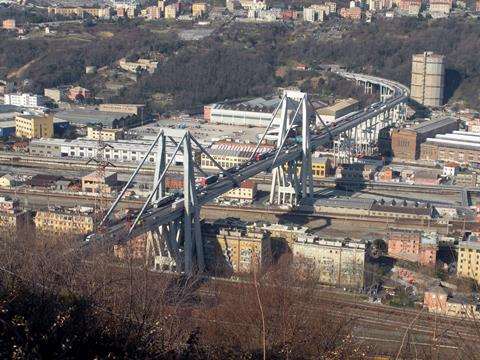 Experts are saying that it is too early to speculate on the cause of the Morandi Bridge disaster in Genoa, Italy, while the death toll has risen to at least 39.
Approximately 200m of the bridge collapsed, sending cars hurtling some 45m to the ground below, with the debris crashing on to rail lines, a river and a warehouse beneath the structure.
The Italian government has said that it will be carrying out a full investigation into who was responsible for the maintenance of the bridge, while the government itself is under fire with claims that the bridge was on a list of projects on which planned improvements were at risk of being scrapped if the costs were felt to outweigh the benefits.
In the meantime, a 12-month state of emergency has been declared, and an initial €5 million has been made available from central funds for the North West region, by Prime Minister Giuseppe Conte.
A larger, similar bridge was designed by the same engineer, Riccardo Morandi, in Venezuela. The General Rafael Urdaneta Bridge in Western Venezuela suffered a partial collapse in 1964 after a tanker was in collision with the bridge. Morandi, who was known for his use of reinforced concrete, died in 1989.
The Morandi bridge in Genoa is part of the Polcevera Viaduct, and was built between 1963 and 1967 by Società Italiana per Condotte d'Acqua.
It is being reported that work was being undertaken on the bridge at the time of the disaster, and there are unsubstantiated claims that in the past there had been predictions that the bridge would collapse within ten years.
It is believed that corrosion of the reinforcements could be a factor, as well as the effects of the heavy traffic load, wind and earthquake, which could have led to fatigue. The bridge collapse took place during extremely heavy rain, which could also have had an effect.
There are also reports that Italy's infrastructure spending according to the OECD (Organisation for Economic Co-operation & Development) since the financial crash had been significantly below the other top five European countries of Germany, the UK, France and Spain, although Italy's figure was said to have overtaken Spain by 2015. Italy and Spain were among the countries to suffer greatly in the aftermath of the crash, but construction output has been showing some levels of growth again in the last few years.