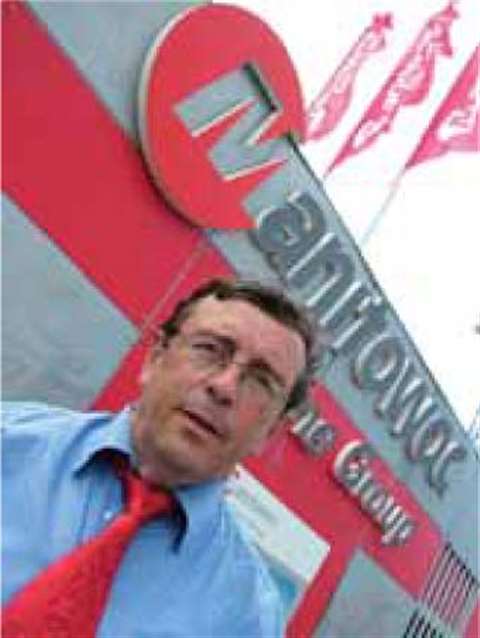 Manitowoc Crane Group has doubled its sales of tower and telescopic mobile all terrain cranes in the last few years, according to Jean-Claude Doucene, head of sales in the CIS at the company's Potain tower crane division.
Speaking to IC at June's CTT Show in Moscow, Russia, Doucene adds, "
"In 2007 we expect to sell 150 tower cranes, that is double our total for 2006. Sales of mobile cranes should reach about 30 units in 2007, again double the total for 2006," Doucene explains. "However, we expect to sell over 350 tower cranes, and over 80 mobile cranes in 2008."
This unprecedented growth in sales is fuelled by demand for high-rise residential units in the major cities, including Moscow and St Petersburg, coupled with the "fairly new phenomena" of shopping centre construction, offices and the burgeoning oil and gas sectors.
Doucene says demand for housing is huge, especially for high-end, luxury developments. Non-residential construction is also booming, he says, thanks to the many foreign companies moving into Russia and the CIS.
Housing demand is also having a knock-on effect in the power-generating sector, says Doucene. "With so many residential developments under construction in Moscow, for example, it is difficult to get a power connection. The result is that there is also a boom in power plant construction, including nuclear, hydro and coal fired, meaning even further demand," he adds.
Significant to this growth is political stability, which Doucene expects to continue after the presidential elections on 9 March 2008. The government is cash rich thanks to its huge oil and gas reserves- "oil and gas prices are going through the roof" - and huge foreign investment, including the US$7.5 billion signed in deals by foreign companies at the annual St Petersburg international economic forum 8-10 June, coupled to economic growth of 7.5% in the first half of 2007.
Future demand
Asked when the boom might end, Doucene admitted it was difficult to say. "Demand is doubling year-by-year and there is no end in sight. For that reason I expect the rental and sales channels to develop at the same speed. Whereas before it was really just a rental market now contractors do not know what work they will have tomorrow so rental is helping fill the shortfall," he adds.
Contractors looking to take quick delivery of new cranes, however, will be disappointed, Doucene says. "There is a [construction] boom everywhere in the world right now, which means everyone is suffering with long lead times and Russia is no different. The tower cranes we are selling now won't be delivered until 2008, while mobile cranes sold at the show, for example, won't be delivered until 2009," Doucene explains.
Looking ahead, Doucene says he expects a boom in multi-storey car parks in dense urban centres and high-rise construction is also expected to continue growing. "The trend is for higher developments so larger machines with higher lifting capacities are going to be in demand for sure," Doucene adds.
Denis Kaminskiy, Grove sales manager, Manitowoc Crane Group CIS, adds that the plethora of high-rise developments is having a knock-on effect in the telescopic mobile all terrain crane sector. "In Moscow, there is demand for all terrains when it comes to dismantling tower cranes, while maintaining cooling systems on top of buildings is also a large market at the moment. There is also plenty of work in the road bridge sector, while in the regions there is plenty of factory renovation work and oil and gas refinery construction is also booming," says Kaminskiy.
Doucene also tells IC that transport infrastructure is in need of huge expansion. "The transport network, particularly roads and bridges, needs investment. It is developing, especially around the major cities in Russia, and this is starting to trickle down into the regions," he says.
In development
Looking to meet this future demand Doucene says the company is starting to develop its dealer network throughout the region. It has five in the CIS and Russia.
"We want to be present in all the CIS countries by 2008 but, all manufacturers realise it is an important market, so everyone is expanding their dealer networks. However, we have no plans for a factory in the CIS or Russia because exporting from here is a problem given the paperwork required," he adds.
While exporting machines may be problematic so is importing them. "There is a lot of bureaucracy", while security is also an issue, as is intellectual property rights. "Russia is not a member of the World Trade Organisation yet," says Doucene, "which gives local manufacturers a loophole over copyright."
There is also a burgeoning market for Chinese tower and all terrain cranes, many of which appear to be modelled on the designs of western manufacturers' cranes. The market for these machines is mainly Russian contractors, says Kaminskiy, as foreign contractors prefer to buy or rent other machines they know and trust.
Outlook
Doucene says the company expects future demand to be met by its dealers and direct sales. "Why? Well it could be a big project and we may have to step in and deal direct, so we need the option."
Future success, however, is not just about sales, says Doucene, it is about service. He admits it has been difficult finding dealers who are capable of providing the level of service the company would like to provide. "When we first started in the region about 10 years ago the mentality [from prospective dealers] was to 'get rich quick', they were spoiling the soup. Now we are more established it is becoming easier to find the right dealer. It's the end of the beginning, but there's still along way to go," says Doucene.