EHS shows uptick in UK rental investment
By Thomas Allen07 February 2020
Manufacturers at the Executive Hire Show (EHS) reported an uptick in demand from rental companies in the UK following the election result in December.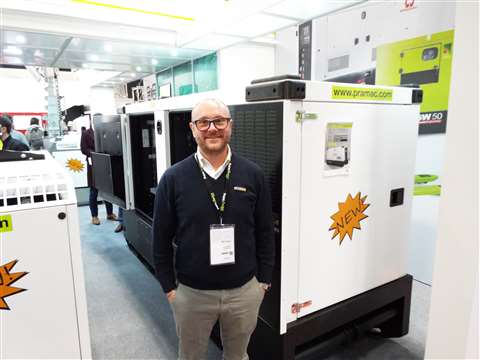 Alessandro Rossi, Managing Director of Italy-based Generac Mobile Products, told IRN that the UK market had been relatively stagnant most of last year, as people were waiting to see what would happen with Brexit and the general election.
"I am hopeful that the UK government will put more focus back on investment in construction, such as infrastructure products, now that the first stage of Brexit is over," he said.
When asked about the possibility of tariffs on goods imported to the UK from the EU, he said, "Pramac-Generac is in the same boat as other non-domestic suppliers, so I'm not particularly worried about tariffs."
The EHS, held at the Ricoh Arena in Coventry, UK, on 5 and 6 February, had a busy feel on both days. Official visitor numbers have yet to be released, but organisers were reporting record attendance on the first day.
Ian Brown, Deputy Chairman of UK dumper manufacturer Thwaites, echoed Rossi's sentiment about government investment, saying, "We saw a slowdown in the UK market before the election at the end of 2019, but it has since picked up again, and we are anticipating investment in housing and infrastructure in the year ahead."
Of course, one major infrastructure scheme currently under review is the High Speed 2 (HS2) rail project. Brown said the decision of whether or not the project goes ahead would have an indirect effect on Thwaites, since the project would create demand for large earthmoving equipment and Thwaites dumpers would be used more for the construction of depots to support the project.
Atlas Copco saw a surge in activity after the election too, according to Gayle Palmer, Business Line Manager, Portable Energy; "November and December are usually quiet months for us, but in 2019 they were very busy.
"Confidence has been restored in the market. And we are happy to see the pound strengthening against the euro because Atlas Copco manufactures on the continent in Europe and has been trying not to pass extra cost on to customers due to currency fluctuations."
Palmer also noted that the Coronavirus could affect supply chains, since Atlas Copco uses components from China, but the company has yet to see the effect of that.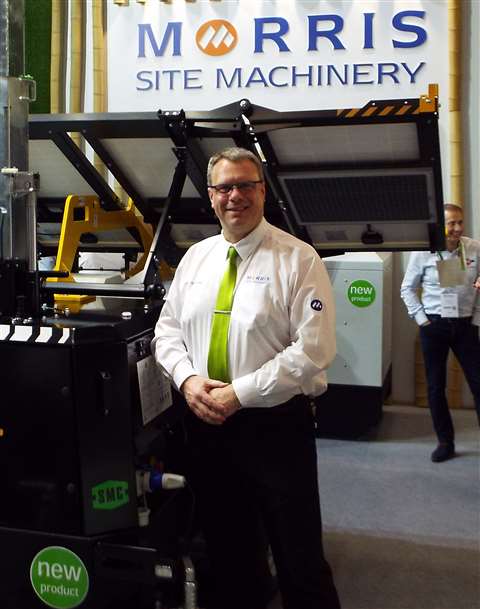 Morris Site Machinery's Managing Director Allan Binstead, who also mentioned the recent increase in UK demand, told IRN about the company's £6 million investment in a new manufacturing facility north of Birmingham, UK – an indicator of its confidence in the market.
The 5,600m2 building will have double the production capacity of the existing factory 5km away at Wolverhampton. Work started in November 2019 and is due to be completed towards the end of 2020.
Receiving orders at the show was Altrad Belle, which was displaying its new 1 tonne capacity DX 1000 Hi-Tip dumper.
"Three Irish rental companies have bought units at the show so far," said Ray Neilson, the manufacturer's Managing Director. "They are Clem Jacob Hire, Whitlow Plant Hire and KDM Hire. Each have bought one unit."
He added that the model is now Speedy Hire's standard dumper in this class, having won second place in the innovation award at the rental company's conference last year.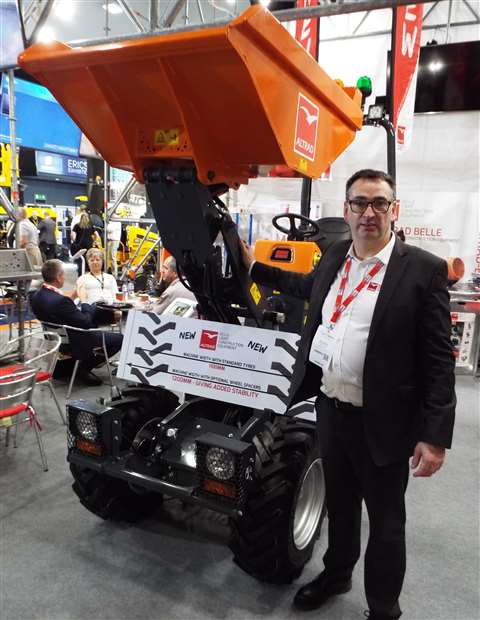 Altrad Belle plans to roll 300 units off the line in its first year of production. The model has been in production for nine months. It is only available in the UK at present, but will be launched on the European market in a couple of years, once production capacity has been ramped up.
Meanwhile, Doosan Portable Power saw a good level of activity throughout 2019, but this was attributed to small independent rental companies; the large national players have been holding off on purchases. There are signs that this will change in 2020, though, with large rental companies now talking about buying.
This corresponds with a comment from Kevin Minton, Chief Executive of the UK's Construction Plant-hire Association (CPA), who said he was getting a "mixed picture" on market conditions from the association's rental company members, with some reporting brisk trading and others with idle machines in their yards.