Engines: the next step up
By Thomas Allen26 July 2017
Lowering emission values is a growing technical challenge for all engine and machinery manufacturers, with the Stage V regulations that due to start taking effect in Europe in 2019 to include new emission limits for diesel and spark-ignited engines used in a variety of applications.
The scope of the legislation will be widening to include engines below 19kW and above 560kW, and Stage V will not only include limits on the overall mass of particulate emissions, as with the current Stage IV standards, but will also restrict the number of particles emitted.
German-based engine manufacturer Hatz, which produces engines in the power range up to 56kW, has been tackling this issue by shifting over to new technology at an early stage, placing emphasis on the more stringent exhaust gas regulations expected in the future.
Hatz engines up to 18kW already fulfil the Stage V requirements without the need for any modifications. Meanwhile, the company's H-series engines, in the 18 to 56kW range, have been preconditioned for exhaust aftertreatment, meaning that the step to a Stage V compliant engine is not far.
Equipped with a diesel particulate filter (DPF), the engines in this series fulfil the requirements of the future EU Stage V standards, without limitations on the usable speed range.
Also, no exhaust gas treatment will be required with the Hatz established and tested B-, D- and G-series engines, as well as the 2M41 and 2L41 within their usual scope of performance, in order to meet EU Stage V standards. As a result, customers will not need to make modifications when the new legislation takes effect.
Specifications for developing the new H-series included the minimising of friction losses, low fuel and oil consumption, and downsizing for the optimal load profile.
In order to meet these specifications, the H50TIC models have each been equipped with a splittable and maintenance-friendly diesel oxidation catalyst (DOC) and DPF combined filter, therefore becoming the H50TICD models.
Combustion has also been refined with the intelligent Hatz Advanced Combustion Strategy (iHACS), meaning that, altogether, particulate emissions have been minimised and the ash generation reduced, making the exhaust treatment more efficient.
For its Stage V models, Hatz has developed a customised DPF system that uses optimised Hatz Exhaust Aftertreatment Technology (optiHEAT). For this, a balance has been struck between storage capacity and heating time to give a DPF substrate with reasonable dimensions.
Also crucial was the regeneration strategy, which had to be brought into compliance with the operation time per machine use and the service life of the machine.
In addition, the expendable modular system allows for flexible installation and simple maintenance.
Hatz claimed that, due to the advances that it had made in the emissions-relevant areas of engine development – injection, combustion, turbocharging and exhaust aftertreatment – it had been able to produce some of the cleanest diesel engines on the market, moving towards zero emissions.
Minimising emissions
Also working to minimise emissions, Volvo Penta has revealed its EU Stage V concept.
The company's EU Stage V line-up included the D5, D8, D11, D13 and D16, providing the same power range as Volvo Penta's existing offering for industrial, off-road applications, from 105 to 565kW.
Said to be designed with the customer's future needs in mind, Volvo Penta's new Stage V platform has been optimised to meet the upcoming emissions standards while ensuring installation commonality between the different emission levels. So, the engine is consistent, from Stage II through to Stage V, which makes it easier for equipment manufacturers to deal with the changing emissions standards.
Johan Carlsson, chief technology officer for Volvo Penta, said, "We are ensuring compatibility with earlier emissions legislations by using the same hardware layout and re-using the electrical architecture to make sure we have consistency across different emission stages."
He added, "This means our customers can integrate solutions from across the emission stages at the same time."
A complete system is offered, with the engine and exhaust aftertreatment system (EATS) working in harmony to make aftertreatment more efficient and the engine less complex. This is aided by the fixed geometry turbo with which the engines are fitted, which also reduces fuel consumption.
The common rail-injection system also reduces fuel consumption, as well as lowering noise levels.
The engines use uncooled exhaust gas recirculation (EGR) in order to deliver effective heat management for the engine. The electrical exhaust pressure governor (EPG) and inlet throttle enable the system to function without a need to inject fuel into the exhaust stream to raise the temperature. Therefore, the exhaust gas is at the optimal temperature when passed through the EATS. It follows that less heat rejection from the system means less cooling is required.
The regeneration strategy used by Volvo Penta is also designed for ease of operation. Passive regeneration during normal operation is maximised by the way the engine and EATS work together. Also, the highly selective catalytic reduction (SCR) technology is said to enable a low-complexity, robust engine to be used.
If necessary, the engine-mounted heat management devices automatically increase the exhaust temperature, and the engine concept ensures that it is easy for the EATS to maintain a favourable temperature during normal operation.
No high temperature regeneration is necessary, because of the fact that sulphur regeneration in the SCR catalyst is not required – only soot regeneration is needed to clean the DPF.
Investment programme
UK-based JCB Power Systems has also introduced a new engine that is EU Stage V ready, following the culmination of a £31 million (€34.93 million) investment programme that received £4.5 million (€5.07 million) from the UK government's regional growth fund.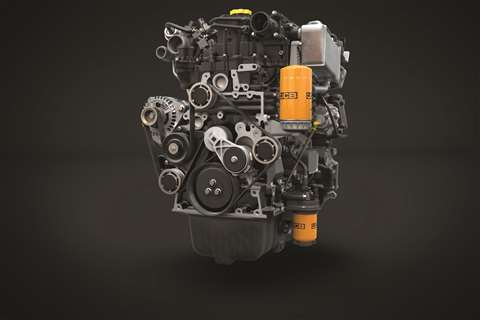 The 3-litre JCB430 DieselMax joins the 4.4, 4.8 and 7.2 litre models, and was said to offer large fuel efficiency savings.
Graeme Macdonald, CEO of JCB, said, "The launch of the brand new 3-litre JCB430 DieselMax engine will build on the success of the JCB Power Systems business and takes the productivity and environmental performance of our engines to a completely new level, particularly on fuel efficiency."
Designed specifically for mid-range construction and industrial equipment operating cycles, the new engine was said to use up to 8% less fuel than the 4.4-litre JCB EcoMax engine, while also weighing 30% less.
Launched initially with 55kW, at Stage IIIB, the engine produces 400Nm of torque at 1,300rpm.
It meets the necessary emissions legislation without any requirement for costly DPF, SCR or any form of exhaust additive or aftertreatment, making it suitable for a wide range of mid-weight construction equipment.
The engine has been designed to be ready for EU Stage V emission standards and will be available with additional power ratings in the future.
Other key features include its durability. The heavy-duty engine features a cast iron bedplate structure and rear-mounted gear train for an extended service life and low operating noise.
JCB Power Systems has opted to use automatic valve adjustors for the first time on the engine, which eliminates the need for regular valve train adjustment, reducing downtime and boosting productivity.
The mass air flow meter system allows the engine control unit (ECU) to balance and deliver the correct quantity of fuel to the engine regardless of temperature, altitude or air density. It has been integrated into the engine itself, minimising the amount of air inlet system development and engine set-up work required for different machine configurations. Further to this, the mounting interfaces are shared with those of the larger 4.4 and 4.8 litre engines, making installation in existing equipment easier.
The JCB430 DieselMax has 45˚ gradeability as standard, allowing it to be used in a wide range of machinery and off-highway equipment. It can also be equipped with an engine- or chassis-mounted ECU, to suit a wide variety of applications.
Meeting customer needs
Caterpillar has also introduced a new engine that was said to be ready to meet the needs of EU Stage V customers.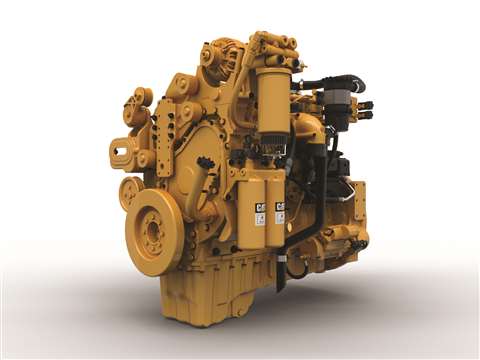 Jeff Moore, product manager for Cat's 7 to 18 litre engines, said, "Our customers expect reliability and durability, but they need it from a simpler, lighter package with more power, and that's what we're giving them," said
The six-cylinder C9.3B combines a
new high-pressure common rail fuel system with simplified air, electrical and aftertreatment systems to produce up to 340kW of power and 1,993Nm of torque out of a package that is nearly 140kg lighter than its predecessor.
Jeff Fischer, commercial product engineering manager at Cat, said, "Our construction customers will see this pay off in performance increase, improved fuel consumption and exceptional starting capability in cold climates."
These upgrades build on a core engine
that has been in production since 2011, with over 46,000 engines logging more than 145 million hours in real world off-highway applications.
For EU Stage V construction customers, Cat's focus has been on simplifying the engine's design and improving its performance.
To this end, 30% of the aftertreatment packaging size has been taken out, compared to the previous design. Flexibility has also been enhanced by the fact that Cat offers an engine-mounted aftertreatment (EMAT) and full industrial power units (IPU) straight from the factory. For more challenging installations, remote-mounted aftertreatment is available, which only requires wiring, coolant and diesel exhaust fluid effects to be added to the system.
Full engine production is planned for the first half of 2018.
Single module
Cummins has also launched a seriesof products aimed at meeting customer needs, particularly with emissions standards in mind.
The Cummins single module systemoffers a more compact solution than the common DPF and SCR system packages. The single pass-through design enhances the efficiency of its emissions reduction capabilities, improving the engine's performance. Its passive regeneration capabilities minimise the need for preventative maintenance, which keeps downtime to a minimum.
Cummins' technology company Cummins Turbo Technologies has developed the next generation of wastegate and variable geometry turbochargers, which are specifically for the requirements of construction and other off-highway markets.
The new technology includes the development of a highly efficient compressor and turbine, which are designed for heavy-duty working conditions and deliver improved fuel consumption. Also, the new electric wastegate allows for more flexible operation.
The improved bearing systems within the turbochargers are more durable and provide greater reliability, helping to reduce downtime resulting from faults and failures.
In relation to downtime, Cummins said that there had been an increase in the demand for information management and advanced telematics.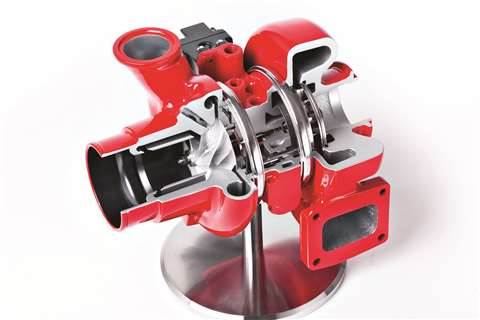 Connected Diagnostics is Cummins' answer to this issue. It uses wireless technology to transmit key engine system and GPS data, which is transformed into actionable information using Cummins' analytics. It not only detects and pinpoints potential faults before they become an issue, but it also provides information on engine performance de-rate timers that may have been triggered by the fault. The engine owner can then take action, knowing the time and impact of a pending de-rate, therefore helping to avoid progressive engine damage.
Low-cost telematics
A telematics solution recently launched by Perkins is the new SmartCap, which was said to be a low-cost telematics device.
It is a smart oil cap, designed to replace the oil filler cap, and can be used on new and existing Perkins mechanical and electronic engines.
The SmartCap enables users to connect their mobile device to their engine via the free Perkins My Engine app on their smartphone. The cap then sends data to the app, offering users an insight into engine running hours, engine location, service reminders, and stop and start times, among other things.
Meanwhile, John Deere has launched a new addition to its family of telematics products.
The Modular Telematics Gateway 4G (MTG 4G LTE) is a mobile communications and processing platform suited for advanced telematics applications, such as machine health monitoring, advanced logistics, machine control, over the air programming, and remote diagnostics.
It features an integrated 4G LTE modem, supporting extended coverage areas and high capacity data rates on cellular networks. The on-board dual-band wireless connects from one machine to another, any wireless access point, or any user's portable device or tablet.
Since acquiring the Italian engine manufacturer Lombardini in 2007, US-based Kohler has become a significant player in the European market.
Kohler recently introduced its tri-fuel engines, which highlight the company's effort to make use of alternative fuels. Research and development in this area was said to be of paramount importance to Kohler.
Four of the company's Command PRO horizontal shaft engines – the CH260, CH270, CH395 and CH440 – now offer the ability to run on three different fuels – gasoline, propane and natural gas.
The latest Command PRO CH395 Tri-fuel offers extended running times when operating with natural gas or liquefied petroleum gas fuels, which is said to lead to cost savings and cleaner emissions.
An extensive range of models and technologies are available through the Command PRO Series, including the Command PRO CH270 and Command PRO CH395, which feature a four-stage heavy-duty cyclonic Quad-Clean Air Filtration System as standard, without exceeding the size or weight of a standard air filter.
The electric fuel injection (EFI) is another innovation that Kohler has developed extensively.
It was said to improve fuel economy by up to 25% and make the engine easier to start. Also, Kohler's closed-loop EFI has been equipped with an oxygen sensor that provides continuous feedback on the quality of combustion, and monitors and adjusts the engine's operating parameters.
Rebuilding engines
Looking outside emissions regulations, there is one engine company that has been aiming to reduce the impact on the environment by rebuilding old engines – Belgian-based Hamofa, which is independent of any engine brands.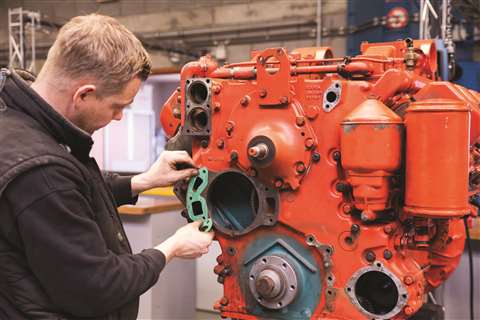 The company primarily reconstructs diesel engines using high-quality products, allowing them to adapt to a client's needs by providing tailormade solutions that deliver what the customer requires in order for it to fit existing equipment.
On average, Hamofa said it reconditioned more than 900 diesel engines a year, and by renovating these engines they have kept old machines performing well.
The company keeps reconditioned exchange engines in stock, which can be used quickly to replace the old engines on a fleet of machines, keeping downtime to a minimum because the customer does not need to wait for the engines to be maintained or rebuilt.
By rebuilding diesel engines, waste is reduced, along with the cost and energy that would be required to melt critical components, such as the block, crankshaft and cylinder head. This is said to reduce any impact on the environment and creates job opportunities in the technical and mechanical sectors.
Further to this, the cost of reconditioning an old engine was said to be significantly cheaper than buying a new one.