First job for BKL's new LTM 1450-8.1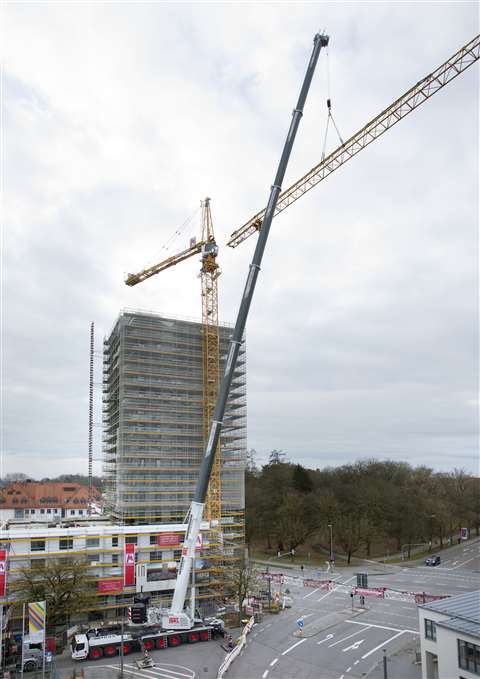 Crane rental house BKL put its new 450 tonne Liebherr wheeled mobile crane straight to work on a tower crane job.
The eight axle LTM 1450-8.1 was delivered in February and its first job was to dismantle the 75 metre crane. Set up was done in less than two hours by a crew from BKL Ingolstadt. Full use was made of the 85 m boom without the need for any extra equipment, Liebherr said. Erection of the crane in 2016 was done with an LTM 1500-8.1. It was set up with a 35-metre fixed jib and roads around Ingolstadt's North Railway Station were cordoned off.
Rainer Speich, BKL site manager, commented, "Having the new LTM 1450-8.1 in our fleet gives us even greater flexibility in ensuring that we provide the perfect crane for our customers' projects. This is because for jobs like this where the full capacity of the LTM 1500-8.1 is not required, we can save set-up time, trucks and we don't need an auxiliary crane."
BKL Ingolstadt has twelve mobile cranes and one mobile construction crane, all Liebherrs, with the new LTM 1450-8.1 being the flagship. The company's national fleet is more than 60 mobile cranes up to 500 tonnes, eight mobile folding construction cranes up to 140 tonne-metres, and more than 400 tower cranes up to 750 tonne-metres.