First job for Mega Jack 800
By Laura Hatton11 August 2014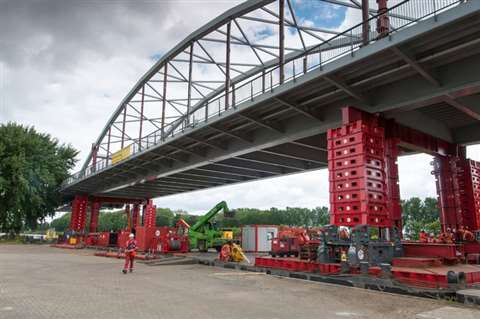 ALE's Mega Jack 800 jacking system was used for the removal and installation of the Loenerslootse Bridge over the Amsterdam-Rijn canal in Nigtevecht, Netherlands.
The Mega Jack 800 is made up of 800 tonne capacity jacking towers. Multiple towers can be combined with a starter beam to create 1,600 tonne and 2,400 tonne capacity per jacking point, the manufacturer said. In addition it can be combined with skidding systems.
The project was the first job for the system since it was introduced earlier in 2014. The first stage of the project included the removal of the old Loenerslootse Bridge which weighed 1,630 tonnes. The new bridge, which is made up of an arch and a deck, were then transported to the site by barge.
"On arrival the arch was lifted off the vessel by a Liebherr LTM 1400 and a LTM 1500," a spokesperson said. "The vessel was then removed and the bridge deck was positioned underneath the arch. The Mega Jack 800 was then used to jack up the 1,250 tonne bridge to 9 metres from the barge deck."
Hans de Hoon, ALE project manager, said, "The fact that the Mega Jack system is scalable to meet different types of requirements gives us the versatility we need for these types of jobs."
Along with the Mega Jack 800 and two mobile cranes, climbing jacks, SPMTs, barges, strand jacks and a heavy skid system were also used.