Fleet of Genie access equipment helps US National Naval Aviation Museum take off
By Lindsey Anderson06 January 2011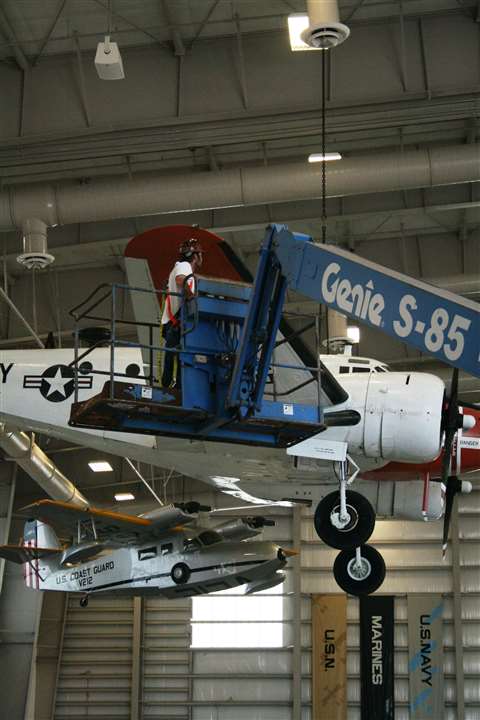 Genie equipment fills key role in hangar expansion and National Flight Academy projects.

It's a must-see for anyone who is-or has been-connected to aviation, particularly anything associated with the US Navy, Marines or Coast Guard. It's like Disneyland to a child; New Years Eve in Times Square to a partier; Fenway Park to the baseball lover.
For anyone with a love of aviation and the aircraft that make up its past and present, the National Naval Aviation Museum in Pensacola, FL with 300,000 square feet of exhibit space and more than 150 aircraft on display, is as close as you can come to a bit of heaven. And attendance figures prove that - as many as a million people each year visit.
However, soaring popularity, coupled with an ever-growing inventory of display-ready aircraft and exhibits, has prompted a need for expansion.
To meet that need, Greenhut Construction is heading up the "Hangar Bay One" project, a facility which will add 55,000 square feet of exhibit space and house approximately 35 additional aircraft.
The Pensacola firm is also spearheading construction of the adjacent National Flight Academy, a facility that will allow students to become immersed in the naval aviation experience through intensive role-play, state-of-the-art simulators and an interactive environment centered around a replica of a working aircraft carrier.
Helping Greenhut-and the subcontractors working for them-bring all this about, is a fleet of Genie scissor lifts, telescopic booms and telehandlers which, while not flight related, have nevertheless helped keep production looking skyward.
The Next Big Thing
Opened in June of 1963, The National Naval Aviation Museum's roots are humble indeed: a renovated wood-frame structure built during World War II offered a mere 8,500 square feet available for display.
The museum's popularity ensured steady growth over the years taking it to where it is today, one of the 10 most-visited sites in Florida.
The latest projects-Hangar Bay One and the National Flight Academy-are designed to take the museum to the next level in both size and appeal. They were both sizeable undertakings, according to Danny Drossos, Greenhut's project manager.
"These are two decent-sized structures," he says. "Hangar Bay One measures in at 55,000 square feet and Flight Academy is four stories tall with a total of 102,000 square feet.
"They each had their challenges, with the hangar being a huge open expanse of a building and the Academy being constructed in the manner of an aircraft carrier interior.
"But, as a company, we are used to projects that are out of the ordinary. We have the people and the equipment to make it all happen."
Drossos says they used both S-80 and S-85 foot telescoping Genie booms during construction of the hangar, on jobs ranging from securing the structural steel roof trusses, to electrical and HVAC work - which was ceiling mounted.
"Again, this is not the standard building work, so we had to make special accommodations for installations at those 60-foot heights," Drossos says. "In that case, there really is no alternative to an aerial work platform or a telescoping boom, each of which has ample room for material, tools, even a full welding package."
Nothing to Hide
Over at the National Flight Academy, the challenges were of a much different nature. In order to replicate the environment found on an aircraft carrier, all the overhead work had to remain exposed. According to Drossos, that's not the way things are generally done.
"We had to make certain that all of the in-ceiling material-electrical, plumbing, HVAC and so on-was neat and orderly. In a normal project, we always take a good deal of care with overhead concerns, but are still aware that it will all be hidden behind a dropped ceiling.
"In this case, to keep with the look of a naval vessel, all that overhead work will remain exposed. So extra care was taken throughout the complex-and there was a ton of electrical work alone, given the equipment that will be part of the Academy's make-up."
Drossos says the Genie GS-1930 scissors they used were particularly helpful, allowing workers much better access, an improved work area and better mobility than they would have otherwise had.
"And, again because of the configuration of a naval carrier, these ceilings were higher than those normally encountered in, say, a traditional office building-anywhere from 12 to 14 feet high.
"Erecting scaffolding was an option but we would have needed to move it regularly as work progressed. And ladders reaching to those heights are generally a lot less stable than we would like and don't afford any area for workers to lay tools, material and so on. So for us, the scissor lifts were just ideal," he said.
Boom Times in Pensacola
As work progresses, lifts of every size and configuration are filling specific needs. Both jobsites are dotted with everything from scissor lifts, to 85-foot telescoping lifts, to 60-foot units which are being used by painters to gain easy access to difficult to reach under-eaves sections.
Even the actual hanging new display aircraft in Hangar Bay One has been helped through the use of an articulating Genie Z-60/34 boom.
In that process, a telehandler, equipped with a special front end, raises the aircraft (supported by a chain) into position below the overhead structural beams, each of which is rated to support 20,000 pounds.
Once raised, Naval Museum personnel use the articulated lift to position themselves at beam height (about 55 feet), and connect a section of the chain to mounting clamps which will ultimately support the aircraft.
According to Paul Durant, the museum's operations and facility manager, the articulated lift allows them a better degree of control during this critical phase of the project.
"The workers have to get into the perfect position to have access to the clamp, make the connection, ensure everything is in order and back off again for the telehandler to lower the aircraft, allowing it to hang freely," Durant said.
"That is almost impossible to do with a straight boom, given that they often have to go around other hanging aircraft or over the wings of the aircraft being hung. For these tasks, the Z-Boom from Genie has been ideal.
"It can maneuver around things, over things and back down to an area with no difficulty at all. It really is the perfect tool for this operation."
Mutual Admiration
Drossos says there's no doubt the role the support equipment has played in the museum projects has helped ensure their success. He adds, however, that Greenhut's relationship with its equipment supplier, Pensacola-based NES Rentals, Inc., is equally key.
"NES is just an outstanding supplier," he says. "On projects like this, it's inevitable that things will come up in which we need another unit quickly, or we have a maintenance issue that needs immediate attention. NES has, without fail, been there for us each and every time. They are really the best at what they do."
NES' feelings about its customer are reciprocal.
"We have been working with Greenhut for better than 14 years now, and in that time, have really grown to respect them as a company," says Arthur Brown, NES' outside sales representative.
"They are extremely knowledgeable about what equipment they need to get a job done. At the same time, however, they are open to hearing about alternatives that could work better-the same can't be said for a lot of companies.
"As a Genie dealer, we offer a lot of equipment that can directly benefit an operation's efficiency and productivity; Greenhut is savvy enough to recognize that and take advantage of it."
Cleared for Takeoff
The Museum held a gala to celebrate the dedication of the new hangar in early November 2010, while the Flight Academy, which is already accepting applications for enrollment in its courses, plans its own grand opening in 2012.