Genie provides lift for Capital Wheel
By Sarah Ann McCay05 May 2014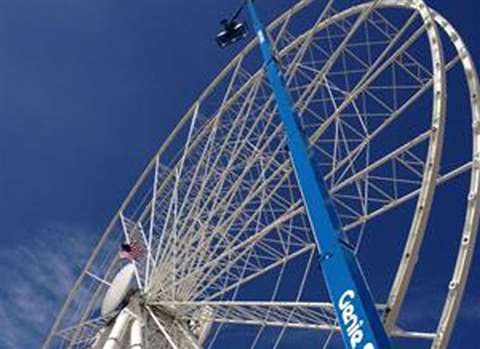 Cianbro Construction opted for a Genie SX-180 boom lift for the erection of a 175-foot tall observation wheel in Washington, D.C.
The Capital Wheel is being constructed at the end of a long and narrow pier at National Harbor, which is why the Genie SX-180 with its 180-ft of vertical reach was the access solution of choice.
"If we were putting this up on land under normal circumstances, we'd have no issues accessing the axle and spoke connections with a standard 85 ft boom lift," said Aric Dreher, Cianbro project manager. "But, because we are on a pier and had to first install the base steel structure, we were left with only two spots from which a boom could operate in order to have access to both sides of the wheel. And on one of those sides we are set back more than 85 ft and need to reach 90 ft into the air over the top and in between the tower legs — far more than a conventional piece of equipment could achieve."
Work on the Capital Wheel started with the installation of a 150-ton steel grid base structure. Fabricated by Cianbro at its Baltimore yard, the individual components for the base were sent by barge to the Potomac River site.
With construction of the base completed, the structure's tower legs were erected, followed by installation of other ride components such as the axle, spokes, ring beams and lights.