German contractor uses three Wolffkran cranes on challenging job site
By Christian Shelton10 June 2021
German contractor Freundlieb Bauunternehmen is using three high-capacity Wolff trolley jib tower cranes on the construction of the Kaiserquartier residential and commercial development in Dortmund, Germany, for property developer Eric Schmidt Kaiserquartier.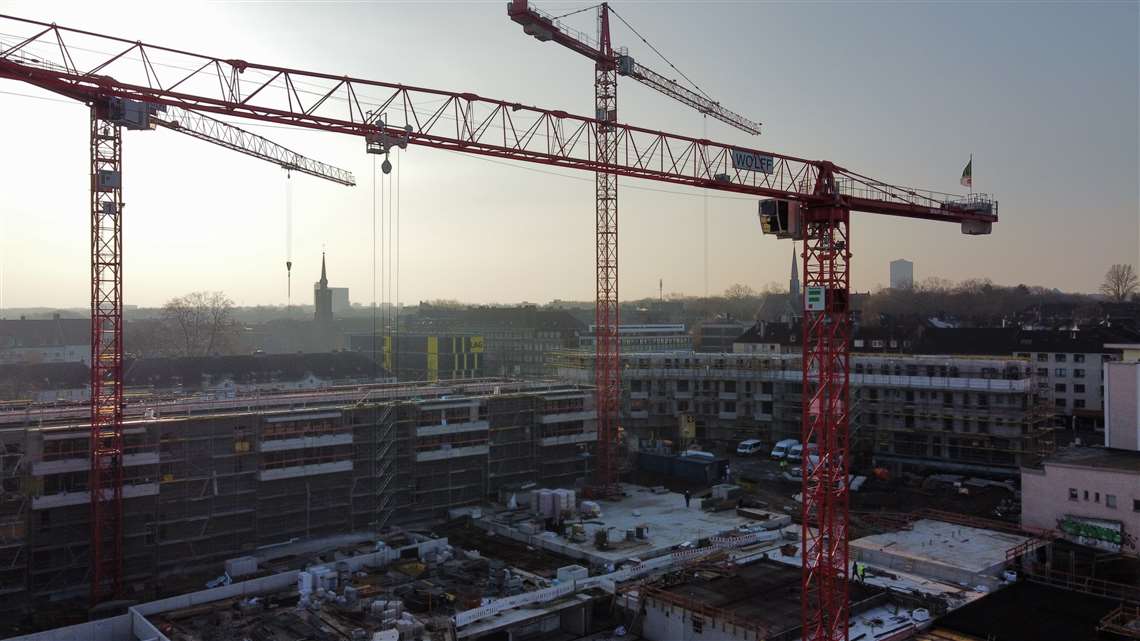 The three Wolffkran cranes are a 250 tonne-metre 7032.12 Clear with a cross frame base, a 315 tonne-metre 7532.16 Cross on foundation anchors, and another 7032.12 Clear on foundation anchors.
These cranes were selected for their tip load capacities of between five and six tonnes at 50 to 60 metres radius – which meant that between them they could cover the whole of the 15,600 square metre construction site.
Erected in the pit
For the cranes to access their assembly points within the job site, which had been excavated to a depth of four metres, a 30-metre-long ramp was built. The two cranes on foundation anchors were erected on the floor of an underground car park, while the crane on the cross frame base was erected outside the construction pit.
According to Wolffkran, dismantling the cranes will also be a challenge due to the weight of the mobile crane used for dismantling. "With nearly the entire building superstructure constructed on the underground car park, many of the open spaces and courtyards will not have the necessary load-bearing capacity for a 300 tonne mobile crane," explained Carsten Druske, Wolffkran head of rental operations in Germany and branch manager of Wolffkran Dortmund. "In addition, access will be limited by the new buildings, so that the crane parts will have to be lifted over them. The construction site's slope also needed to be considered during the planning process in addition to the various building heights throughout the individual construction phases."