Halkali-Kapikule railway breaks ground
By Leila Steed29 October 2019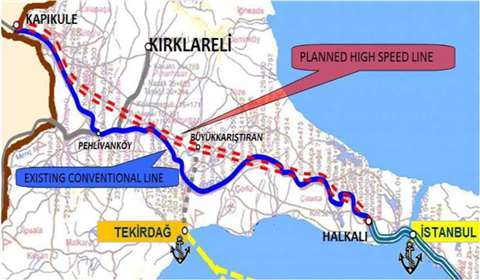 Ground has been broken on the new high-speed rail line that will run from Turkey to the border of Bulgaria, according to local media reports.
A part of the Trans-European Transport Network (TEN-T) that connects member states of the European Union, the new line will also form part of the larger Orient/East-Med Corridor. It will link central Europe with ports in the North, Baltic, Black and Mediterranean seas.
Salini Impregilo is carrying out the works as part of a joint venture after winning a €530 million contract for the construction of the 153km section of the high-speed railway earlier this year.
The company will install a double track to replace the existing single track, running from the Halkali station in Istanbul to Kapikule in Edirne Province in Turkey, on the border with Bulgaria.
Electrification, signalling and auxiliary civil works for the line, which will support trains capable of travelling at speeds in excess of 320kph, will also be constructed by Salini.
The project is being part-funded by the European Union, which is said to be contributing €275 million, and will be overseen by the Directorate General of Turkish State Railways. The infrastructure project is due for completion in 2022.