Helicopter assembles crane in French mountain
By Niamh Marriott07 February 2023
A Liebherr 150 EC-B 8 flat top tower crane has been assembled by helicopter in France.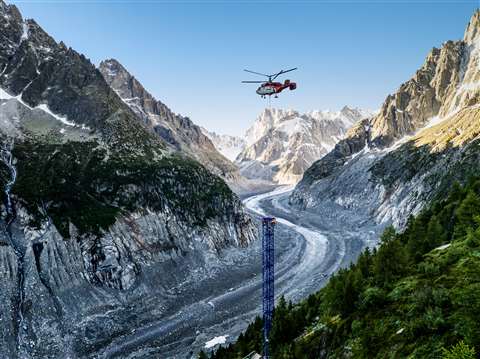 The crane, with a 45-metre jib and a hook height of 42 metres, will support the construction of the new cable car station and the International Glacier and Climate Interpretation Centre until June 2023.
To get the flat-top tower crane tower in place, a Kamov KA 32 A11 BC heavy-lift helicopter delivered one tower section after another to the mountain station up at an altitude of 1,913 metres, after the foundation anchor was secured to the massif.
Sustainable future
The new educational centre focused on climate change, complete with cable car, is currently being built on France's largest glacier, the Mer de Glace.
The transformation of the Montenvers station is intended to make students, tourists and residents more aware of the effects of climate change. Access to the high mountain area will also be made easier with the new cable car moving closer to the glacier.
The Montenvers redevelopment will cost more than 50 million euros and is due to be completed in December 2024.
Why use a helicopter?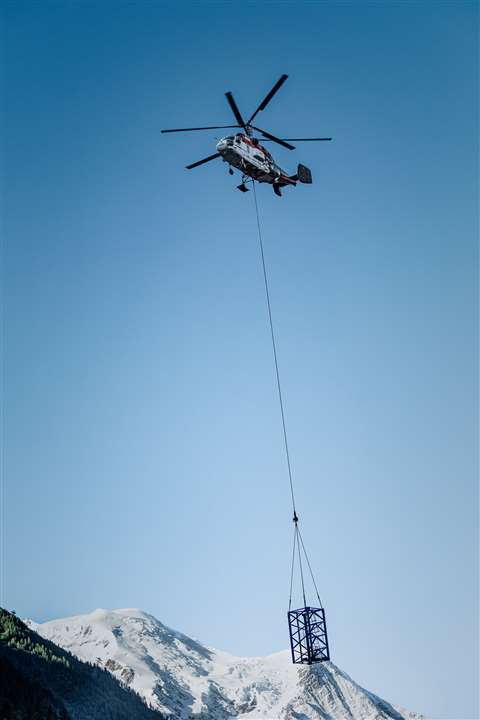 One of the biggest challenges the construction company faced was selecting the right crane. Originally, the site required a crane in the 250 tonnes range due to the loads that needed to be moved.
As such a crane is too heavy for helicopter assembly, Liebherr worked with customers Solumat GAT (Materials Division, Vinci Group) and CBCE Grenoble (a local construction company that is part of the Vinci Group) to find economic alternatives.
Depending on temperature and altitude, the helicopter can move a maximum of 3.8 tonnes.
Liebherr suggested the use of a 150 EC-B, as its counter jib, which weighs in at 3.6 tonnes kilograms, is light enough for the helicopter to manage.
Plus, the flat-top crane can be easily dismantled into several individual parts.
The site's architects and the construction company also adapted the planning so that the loads to be moved wouldn't exceed the crane's maximum lifting capacity of 8 tonnes.
This was in part achieved through the use of lighter concrete elements.
The unusual assembly of the 150 EC-B took around 8 hours. During this time, a Kamov KA 32 A11 BC heavy-lift helicopter from Heliswiss International flew back and forth 30 times to deliver all the crane parts and tower system elements.
Hard to reach site
The delivery site needed to be easily accessible for trucks and offer sufficient space. The location chosen was an area in Chamonix on the Arveyron River, about 3.5 kilometres from the Montenvers mountain station.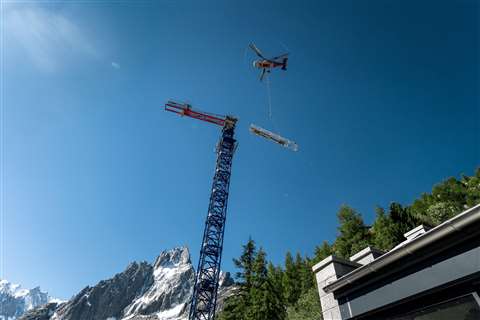 This relatively short distance helped to keep flight times, and therefore refuelling, to a minimum.
"Assembly has been a true team effort that wouldn't have been possible without mutual trust," said Guillaume Riband, operations manager France Centre East at Vinci Construction France. "Everyone has pulled together and risen to the challenge as a result."