Holcim to build Indonesian cement plant
By Chris Sleight07 May 2010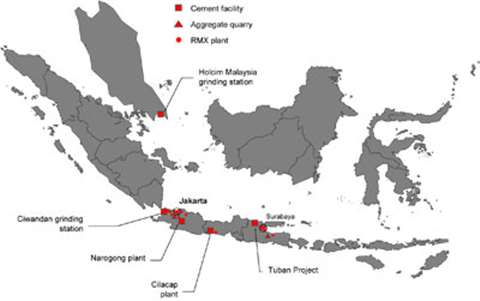 Holcim has announced plans to expand its operations in Indonesia with the construction of a new 1.6 million tonne per year cement plant in eastern Java. The project is expected to cost US$ 450 million and is being built to keep up with expected market growth.
The plant will feature loading and unloading facilities for sea barges, and is due to go into service in the first half of 2013, although a statement from Holcim said this would only happen if all the necessary local licenses and consents were granted in a timely manner.
Holcim already has two cement plants and a grinding station in Indonesia, with a combined annual capacity of 8.6 million tonnes per year. The existing cement plants are in west and central Java. The company says the new plant on the east of the island near the city of Tuban will help keep logistics costs down and open up new markets in Indonesia's eastern islands.
Holcim employs some 2500 people in Indonesia and generated revenies in the country of US$ 500 million last year.