How working with ESG will save money
By Niamh Marriott15 March 2023
Working ethically and sustainably within an ESG framework will attract investors, save money and create a safe and diverse workplace. Niamh Marriott reports.
Environmental, social and governance (ESG) refers to a set of standards that ensure companies work ethically and sustainably with transparent operations. Though not a requirement globally for all sizes of company, the largest in our industry are adopting these initiatives to promote how a socially conscious and environmentally friendly business can also be profitable.
ENVIRONMENTAL

The environmental part of ESG initiatives includes management of resources to reduce waste and carbon emissions. Given the climate crisis, it is clearly vital that companies urgently adopt policies to lessen the damaging effects of fossil fuels and reduce their energy consumption. Having an ESG initiative in place could help track key sustainability metrics such as recording and then reducing greenhouse gas emissions and making positive changes to improve energy efficiency in all areas of the business.
SOCIAL

The social part helps to ensure a business is working in a way that considers matters of equality, diversity and human rights throughout its operations, as well as community outreach initiatives that benefit local communities and infrastructure. It covers issues of labour rights, privacy and data security, and will offer guidance and support for anti-discrimination, modern day slavery and health and safety policies.
GOVERNANCE

Governance relates to how transparent a company's operations are and looks at establishing positive board and director practices, as well as corporate governance and accounting. Essentially, it covers corporate behaviour and issues such as executive pay and board independence. Guidance would be offered on anti-bribery and corruption matters and there would be specific guidelines in place for dealing with decision making and issues of leadership.
ESG metrics are not yet part of mandatory financial reporting, though many companies are increasingly making disclosures in their annual report or in a standalone sustainability report. Institutions, such as the Sustainability Accounting Standards Board (SASB), the Global Reporting Initiative (GRI), and the Task Force on Climate-related Financial Disclosures (TCFD), are working to form standards.
"We expect ESG regulation to tighten up in the UK during 2023 which will make greenwashing much harder and will support the drive for real change across the sector," said ESG data intelligence firm Deepki.
Environmental targets and guidelines are in place already within many organisations in our industry. "Technological advancements are opening up opportunities in terms of embedded energy consumption and building energy requirements. Adopting sustainable practices has obstacles but it also has many advantages," said Tony Nicoletti, VP of business development at DPL Telematics.
Yet it is also vital to consider the social and governance parts of the framework too.
There are some excellent examples of ESG initiatives being put in place to positive and profitable effect in our industry, and worthy of taking note.
Excellent examples
A recent social initiative example came from Manitowoc, who partnered with a Hagerstown, MD residential treatment facility in the USA to provide new beginnings for women recovering from substance use.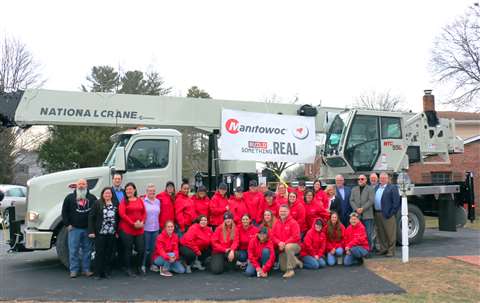 On 9 February 2023, the home's residents, joined by Brooke's House founders Kevin and Dana Simmers and Manitowoc representatives, dedicated the property as "The Manitowoc House."
Manitowoc has been a corporate sponsor of treatment facility Brooke's House since its founding. In 2022, the company began providing job training and employment in welding and assembly operations for women who have graduated from the in-treatment portion of the Brooke's House programme.
"We feel the three key pieces to success for women in recovery are to equip them with social skills, job training and a purpose," said Simmers. "We were looking for area employers that would give our graduates a chance, and Manitowoc stepped up to the plate. We never asked for preferential treatment for our residents, just the opportunity."
Since July 2022, ten women have been trained by Manitowoc in welding and assembly operations, and are now helping build mobile hydraulic cranes, crawler cranes, and boom trucks under the company's Manitowoc, Grove, National Crane and Shuttlelift brands.
Responsible investment
Japanese crane manufacturer Tadano said, "If Tadano can provide sustainability that responds to investors' 'responsible investment' by addressing ESG issues, we will be able to provide a variety of new value to our customers and society as a result. It is our hope that in the future the construction equipment industry as a whole will be made up of companies that excel in ESG." Tadano aims to be ahead of future environmental legislation with its environmental slogan Our True Mission: Zero Emissions.
"Given the current situation in which global warming speeds up even faster, we should implement more assertive measures and legislations to protect the natural environment," Tadano said.
"As a crane manufacturer, we are fully committed to the achievement of reducing CO2 emissions and have already started working for it. We also recognise the importance of ensuring biodiversity and water resources and have already implemented proper use of organic solvents in product coating and wastewater treatment.
"For instance, we have announced the development of the world first fully electrified rough terrain crane which will be coming very soon to the market. Not only for the future, but also for the current solution, we have been providing devices and functions which contribute reducing CO2 emissions such as the e-Pack, an electrohydraulic system which supplies hydraulic power instead of using a combustion engine, or the APU (Auxiliary Power Unit), which provides electricity for air conditioning via a small engine instead of crane engine."
Under the social aspect of ESG, Tadano is engaging with local areas and populations.
"Under the Forest Matching Promotion Project, we have designated a part of forest owned by Sanuki City as Tadano Forest of Learning and have been carrying out forestation activities.
"Since 2020, we have been organising forest maintenance events as an opportunity for volunteer Group employees to learn about the importance of environmental conservation, and at the same time interact with each other."
Promoting equality and diversity in an ethical workplace is part of Tadano's ESG initiatives. Explaining its benefits, Tadano said, "We accept diversity in terms of various factors, including abilities and experience. Harnessing it for use inside our organisation will improve employee job satisfaction and productivity, helping to create added value. Driven by this belief, we are creating workplace environments where diverse employees can best utilise their talents. We also conduct regular stress check tests and satisfaction surveys of our employees.
"Tadano's products are made of tens of thousands of parts, many of which are procured from our suppliers. The Tadano Group CSR Charter and the Tadano Group Compliance Regulations set out principles for coexistence with business associates, ethical and environmental considerations, and fair procurement activities."
When it comes to governance framework, the company said, "We position corporate governance as one of the most important management issues to ensure the transparency, soundness, and efficiency of management. To ensure diversity within our leadership, we have been inviting outside directors with different backgrounds, including an aerospace engineer who worked in the development of robot arms for the International Space Station. We are
pursuing to ensure our business ethical operation with outside directors from different fields as well as providing ethical education to our employees."
Recognising efforts
Global heavy lift and transport company Sarens recently received ESG business recognition with an EcoVadis rating, awarded following a rigorous and complex assessment process. EcoVadis is one of the major global ESG organisations and has so far rated more than 75,000 trading partners worldwide. As of 2022, approximately 750 multinational enterprises used EcoVadis to assess and monitor their global supplier base and selected business partners.
Sarens took the first steps towards achieving an EcoVadis rating while building a commercial relationship with industrial gas supplier Air Liquide. Air Liquide had requested that Sarens Belgium (BE) undergo a Sustainability Management Audit (ESG) with EcoVadis.
Although the initial request applied only to Sarens Belgium, due to the detailed and comprehensive nature of the assessment, the leadership team chose to take it to the entire Sarens Group. This would mean that all Sarens business units worldwide could use the EcoVadis assessment ranking as a positive step forward in their ESG initiatives.
Ongoing improvements
The EcoVadis ranking is an opportunity for ongoing self-improvement and Sarens said it is excited to be undertaking that journey. Following the initial assessment, Sarens NV received an overall score of 50 per cent, a good result at such an early stage, the company said.
"Our current score shows that we are making good progress in both labour and human rights as well as environment categories. These ratings are a concrete recognition of our commitment to environmental sustainability, for example, as demonstrated through our use of the first electric pack for the Demag crane, various electric cranes, a giant electric crane, and solar panels at our head office," said Sarens.
"Our commitment to accelerating the energy transition with our clients is clear. For example, we are deeply involved in offshore wind projects and are transitioning to more electric cranes, which contribute to lower
our emissions and subsequently those of client projects."
Green manufacturing
"In recent years, supporting green development with smart manufacturing has become important to accelerate carbon emission reduction," said Chinese manufacturer XCMG.
It continued, "To achieve the sustainable development of the earth, we should take the control of carbon dioxide emissions as a global issue, it is the inescapable responsibility of all countries."
Under the guidance of this goal of carbon peaking and carbon neutrality, XCMG released its XCMG Carbon Neutral Action Planning Outline. This initiative aims to move the company towards a greener future with strategic goals of "carbon peaking in 2027" and "carbon neutrality in 2049."
Zoomlion said it has innovated green technologies, equipment and production lines to achieve green manufacturing that is efficient, sustainable, low-carbon and safe. It said it has established a comprehensive green development roadmap which comprises design, manufacturing and management to achieve "greenisation".
Sustainable credit
Capital investment in renewables is set to outstrip oil and gas projects for the first time in 2022 as high prices for gas and electricity prompt countries to further diversify their energy mix, Rystad Energy said in a recent report. The report also said that capital investment in renewables has increased "significantly" and will reach US$494 billion in 2022.
Cargotec has entered into an €330 million ($352 million) sustainability-linked revolving credit facility with a syndicate of its seven relationship banks. The purpose of this facility is to refinance its existing €300 million revolving credit facility which will mature in June 2024. The company said it wants to reduce its CO2 emissions by 50 % by 2030.
Hiab, part of Cargotec, has outlined its ESG plans and framework. Tobias Bunne, EHS & sustainability director at Hiab says, "Fulfilling legal requirements gets you to a certain level but to be effective, there must be real opportunities to turn the climate crisis into business opportunities that decouple business growth from emission growth. Getting to this point will take time, commitment and expertise, but there simply is no other option but to take action now.
"In 2022, Hiab's innovation centre in Hudiksvall, Sweden, achieved net-zero CO2e emissions and is our first carbon-neutral site. The site operates on 100% renewable electricity and bio-heating, and the equipment tested on the site is either electric or runs on fossil-free hydrotreated vegetable oil fuel (HVO100)."
Hiab and Kalmar's operations in Stargard, Poland, also switched to 100 per cent renewable electricity. The switch will enable annual emission savings of nearly 4,000 tonnes of CO2 equivalents, representing approximately 26 per cent of Cargotec's scope 2 (own) emissions.
"Our target is to have zero carbon emissions in our own operations by 2030 and reduce 2019's levels by 25 %. Our Sustainable Business Framework consists of ESG focus areas. So far, the activities supporting our sustainability agenda has focused on the environment area, but from 2023 diversity, equity and inclusion will be key elements too.
Choosing charity
Selecting charitable causes that align with a company or directors' ethics and mission statement is an ideal way to start social initiatives, and can have real benefits to the local communities or specific groups chosen.
For a final example, Italian manufacturer Jekko's USA official dealer Fascan International has organised a charitable initiative, a lottery offering as a prize a customised $90,000 MPK20 mini picker crane. The lottery tickets were sold for $500.00 each and all the proceeds will fund the Kennedy Krieger Institute, a centre supplying services and programmes to support families with children having autism spectrum disorders, and involved in the study of several other disorders.
The owners of Fascan International, Bernie and Mike Faloney, sympathise with this topic and have passionately set up this fundraising to raise awareness on autism and positively contribute to support the families involved. The draw will take place at ConExpo on 17 March on the Fascan stand (F9627).