Huisman goes large with 3D printed hooks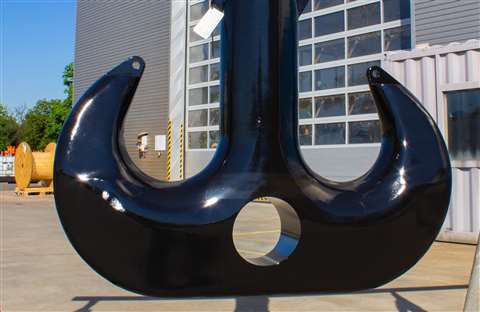 Dutch lifting equipment and technical engineering specialist Huisman has gone bigger with its 3D printed crane hooks.
Four 3D printed 350 tonne crane hooks were tested under the supervision of independent certification authority Lloyd's Register. Larger than the first units tested at 80 tonnes, back in early 2018, the latest one is also a twin horn type. A 325 tonne capacity four-horn design was proposed in October 2018.
These latest hooks are 1,700 by 1,300 mm and almost nine times larger than the first unit. They weigh 1,700 kg and were built up using an astonishing 90 kilometres of welding wire, Huisman said. They use a wire and arc additive manufacturing (WAAM), also known as wire additive manufacturing (WAM) process, similarly used for aluminium crane parts here.
Reduced delivery time is a major benefit of the technique. Huisman said the cost competes with forgings and castings and the quality is more consistent.
Production is at the Huisman facility in Sviadnov, Czech Republic, where there are three welding robots. Upgrading capacity will see Huisman able to produce crane hooks weighing as much as 5,000 kg.
Daniel Bílek, Huisman project co-ordinator, said, "The price of a forged hook increases exponentially with size, especially if it is a non-standard size. If a hook is produced by casting, the problem of inconsistent internal quality could result in longer delivery times. All this led to the idea of making the hooks ourselves, using the so-called WAAM method. After five years of research, development and testing of 3D printed products, we have gained the necessary expertise to use this innovative method for the production of high quality crane hooks."