Hyundai outlines expansion plans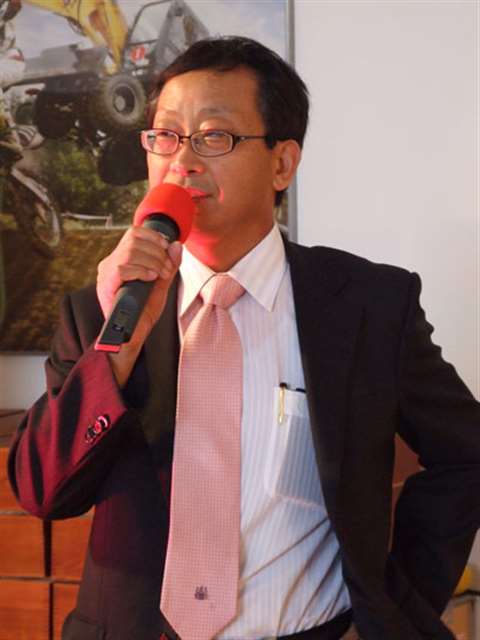 Hyundai will add backhoe loaders to its range next year and is actively seeking companies to acquire according to Eui-youl Lee, its executive vice president for sales and product support. The company also has firm plans to add articulated dump trucks (ADTs) to its range.
Speaking at the opening of Hyundai's new branch office in Bracknell, UK, Mr Lee said the company would add two backhoe loader models - 90 hp (67 kW) and 100 hp (75 kW) variants - to its range in the second half of 2009. Following that, the company plans to add 40 ton (36.4 tonne) and 50 ton (45.5 tonne) ADTs to the range.
While these products will be developed in-house, Mr Lee said the company was keen to increase its offering with mergers and acquisitions too. As a division of Hyundai Heavy Industries (HHI), the world's larges shipbuilder, the company has the financial resources for such deals.
"We have a lot of money to do mergers and acquisitions because HHI's shipbuilding is so profitable," said Mr Lee.
Booming markets
Despite a slowdown in European construction and a recession in the US market, Hyundai continues to enjoy booming sales, with a +40% increase last year. Mr Lee said the first half of 2008 had seen another +40% rise in sales, which he attributed to developing markets.
"The oil and commodity rich countries are doing well and we have a strong market share in emerging markets," he said.
Mr Lee continued, "Russia is incredible. We expect to sell 2300 machines in 2008 and we plan to build an assembly plant in Russia in 2010. After that will be Brazil, and at the same time we have our new plant in India, which goes into full production this month."
Another big market for Hyundai is China, where the company has been building excavators since 1995 as part of a joint venture with Chinese manufacturer Changlin. Its early entry into the market helped establish Hyundai as one of the market leaders in the excavator segment, but Mr Lee said the company's market share was beginning to slip. "The local Chinese manufacturers are catching up very fast," he said.
Despite facing stiffer competition in China, Hyundai is branching-out into the 250000 unit per year wheeled loader segment, which is dominated by domestic manufacturers. Commenting on the move, which includes the building of a wholly owned factory Mr Lee said, "It's not an easy job, but the market is so big in China that we have to."
Production milestone
This month saw Hyundai celebrate the production of the 150000th machine at its main plant in Ulsan, South Korea. The company's recent growth is highlighted by the fact that it took the company 13 years from the start of production in 1987 to hit 50000 machines in 2000. The 100000 milestone was passed five years later in 2005, with the next 50000 machines being produced in just three years.
Globally Hyundai' has produced some 220000 construction machines, when output from its overseas factories is included.