Ihimer's Zero tail swing launch
By Helen Wright01 April 2016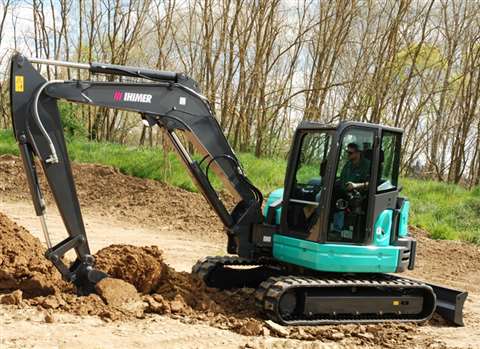 Manufacturer Ihimer said it planned to launch two new excavators at Bauma, including a zero tail-swing model, as well as new dumpers and a concept skid-steer loader.
The 85V4 is the new zero tail-swing excavator – an 8.5 tonne operating weight machine that can work tight against a wall or in a confined space in safety, thanks to having no overhanging counterweight.
It boasts a set of three hydraulic pumps for improved controllability and faster response, a larger cab than the previous model, plus many more features.
Ihimer said it would also showcase the 55N4 traditional mini excavator. This is a 5.5 tonne model boasting variable displacement hydraulics, and offering a maximum digging depth of 3850mm using the standard arm, or 4100mm with a long arm.
The two mini tracked dumper launches are the CARRY 150 dumper and the CARRY 250 dumper, both of which feature hydrostatic transmission and high ground clearance, among other innovations.
Finally, the Concept 3S skid steer will also be on the Ihimer stand – described by the company as a new interpretation of compact construction equipment.
Developed in collaboration with the University of Pisa, the machine showcases electronic management to ensure safe and efficient interactions between man and machine, and machine and environment.
With an operating weight of 1330kg, the 3S‐SKID has an operating load of 330kg. It is equipped with a battery and a 7 kW Worms Expert 7510X engine for hybrid power.
There are four operating modes: electrical, hybrid‐endothermic, hybrid‐mains electrical power, or a 7kW site generator set. The machine can also be recharged from the mains power supply via a 16A 220‐230V 3kW power socket, or by the on‐board generator. The prototype machine was first showcase at Intermat last year.
Taking place in Munich, Germany, from 11 to 17 April, Bauma is the largest construction equipment exhibition in the world.