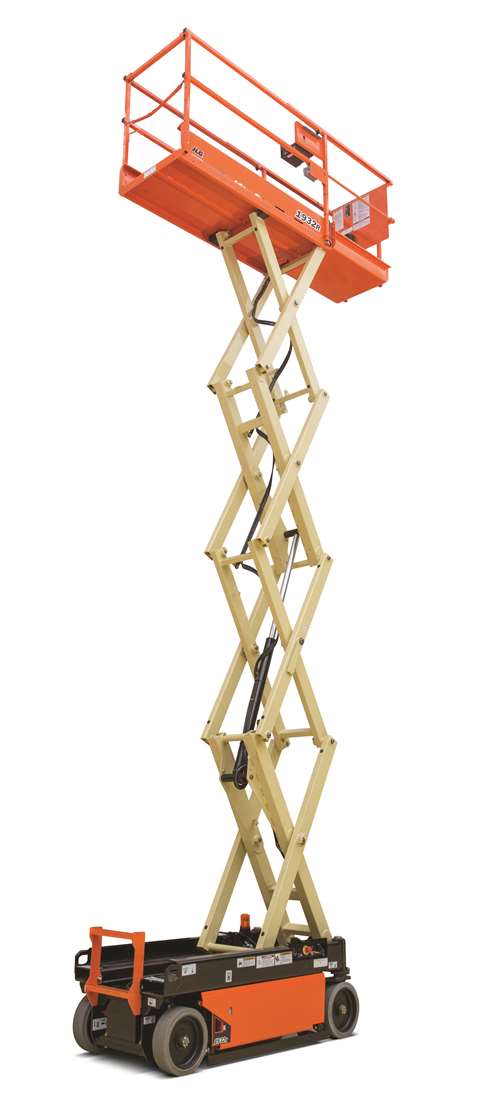 JLG says aftersales support, cost of ownership – and factors influencing cost of ownership, such as serviceability, reliability, durability and productivity – are all areas of focus for rental companies in regard to electric scissor lifts.
By far the biggest shake-up to the entire electric scissor market over the next 18 months will come with the impending ANSI A92 and CSA B354 standards changes in North America. (Please see the box story for what exactly will change.) Rental businesses and their customers will need to understand how these changes will affect not only the design and operation of this equipment (ANSI/SAIA A92.20) but also the requirements for safe use (ANSI/SAIA A92.22) and training (ANSI/SAIA A92.24).
"It is important to note that while these changes will require work and education during the transition, they are intended to set a safety level for all participants in the market," says Zachary Gilmor, Genie associate product manager, Terex Aerial Work Platforms. "Good standards also bring global markets closer together, driving commonality and stronger market competition. The new ANSI standards advance our industry in that direction."
Terex AWP has engaged in active and early communication of these changes through its Genie Aerial Pros website, which is an education-focused site designed to connect customers, operators and key stakeholders with industry experts. Everything from terminology to toeguards is discussed on the site.
"The upcoming revisions to ANSI standards in North America will bring changes to nearly every model of Genie scissor lift family," Gilmor says. "These changes bring with them significant new features such as platform load sense systems, as well as smaller alterations like toeguards on platform entrances. We continue to evaluate not only new product opportunities but also innovative solutions to satisfy industry standards, while continuing to focus on delivering the most value to our customers."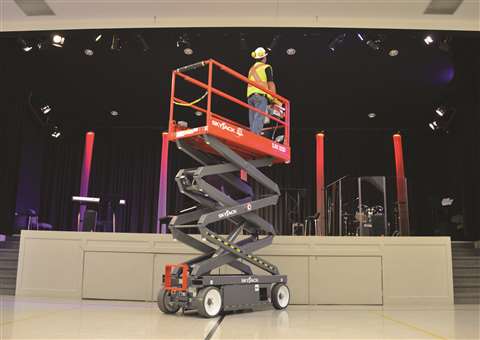 Skyjack expects 2017 to be a year of growth for the electric scissor market.
In the coming year, manufacturers will likely be working diligently to prepare for the ANSI standards change. While these regulations are new in North America, they are based on an ISO model and, so, they will be similar to the current European EN280 standard. Therefore many companies that serve customers globally will be able to utilize their experience developing products for Europe to ease the transition in North America.
Haulotte, like Genie, is a global manufacturer and feels prepared for the changes.
"As a French-based, worldwide company, we have always designed most of our machines compliant with CE regulation because of their home market Europe," says Steve Watts, vice president of sales for Haulotte North America. "The new ANSI standard is very close to CE regulation now and this is not an important impact for us. Most of our sales are in CE regulation more oriented to safety aspects which is our number one preoccupation."
Kristopher Schmidt, product manager at Skyjack, has a similar view, but also notes that the ANSI standards could change buying and cost patterns.
"The role of the new ANSI standard, which brings with it expected increases in AWP equipment costs, may provide a pre-buy in another year where we'll be seeing growth all over North America as the construction industry continues to spend," Schmidt says. "Outside of a possible pre-buy, ANSI means changes in testing for OEMs and various changes in the equipment specification that will mean operators are faced with new practices."
Schmidt says the most obvious new practice is the need for load sensing which is aimed at reducing overloading. He also notes that for the OEM and the customer, increase costs are likely, and while Skyjack and other OEMs have always looked to mitigate such cost increases with savings garnered from improved design, some of those cost increases will inevitably pass to the rental industry.
Market outlook
While the latest American Rental Association forecast looks to be around 5 percent growth, other factors point to a solid 2017 for the electric scissor market. The recent U.S. election, stock market climb, commitment from the U.S. Government for infrastructure bills, and a few small signs that oil is coming back all indicate a positive outlook.
"Some OEMs are less optimistic [than Skyjack,]" Schmidt says, "but we think at least modest growth will occur."
Haulotte, however, sees a flat 2017 in its future.
"Although the electric scissor segment is the largest segment of the AWP market in North America by unit volume, we feel this market will be flat in 2017 and the first part of 2018," Watts says. "We believe replacement spending will be in line with 2016 and we don't feel large CapEx spending will occur until after 2018."
Watts says pricing and aftersales support from manufacturers are both getting more competitive.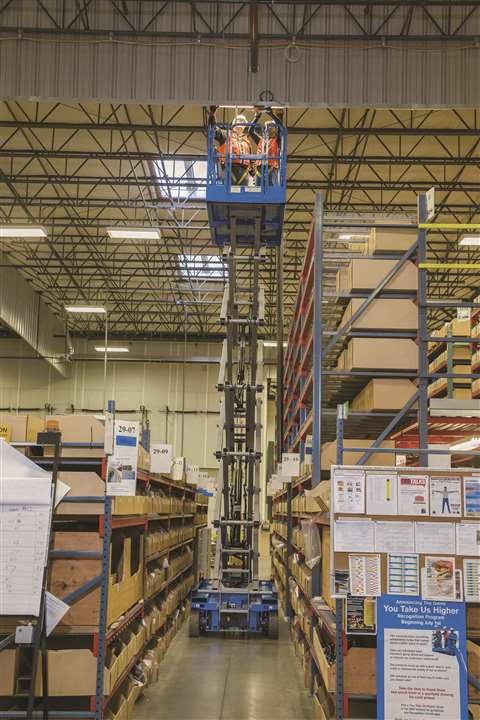 "We're seeing an increase in product options for various applications," Watts says. "Scissor lifts are now coming equipped with load sensing technology and AC drive motors which will increase productivity. There is also demand for higher working heights; for instance, electric scissor lifts are being used in large convention centers where ceiling heights exceed 46 feet of reach."
For North America's largest aerial work platform manufacturer, JLG, the company says while they haven't seen a noticeable shift in CapEx across scissor models, core models are seeing the highest allocation. JLG also says aftersales support, cost of ownership – and factors influencing cost of ownership, such as serviceability, reliability, durability and productivity – are all areas of focus for rental companies.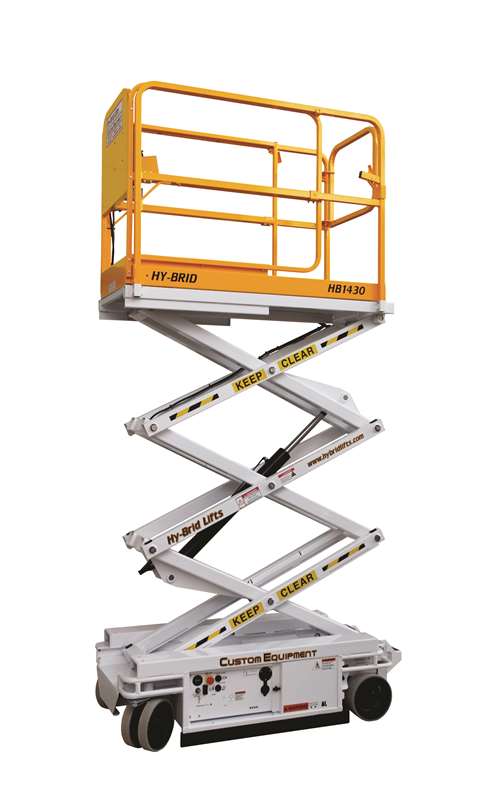 "Total cost of ownership will continue to be a trend this year and productivity has always been a key driver in electric scissor development," says Paul Kreutzwiser, global category director – aerial work platforms, JLG Industries, Inc. "Providing solutions to get the job done quicker, easier and with more comfort is what drives the popularity and success of the electric scissor market. In addition, electric scissors are a safer alternative to traditional low-level access, such as ladders and scaffolding."
Safety at height
One company that continues to push its stance against the use of ladders or scaffolding is Custom Equipment.
"Every contractor has tools and supplies he or she must handle when working, whether it's at 2 feet or 20 feet," says Justin Kissinger, marketing manager of Custom Equipment, Inc. "Using ladders to reach those higher projects puts workers at risk for serious injuries from falls. Even though scaffolds offer a platform from which to work, the risk of falls remains high as workers climb up and down with tools and materials."
According to Kissinger, electric scissor lifts, on the other hand, provide a safe and secure space for contractors to move up and down with their equipment and materials and to safely complete the job. Falls are one of the biggest OSHA citations, and electric scissor lifts are countering that statistic. It is something contractors and rental companies are really looking for, not only for safety, but efficiency.
"We will continue to see safety play a big role in the growth of the electric scissor lift market, particularly when we compare it with ladder and scaffold usage in the general construction market," Kissinger says.
Custom's most popular model is its Hy-Brid HB-1430, Kissinger says, because the unit offers working heights as high as 20 feet, yet is compact and versatile, which boosts efficiency.
"It's just 25-inches-wide so users can maneuver it through standard doorways and elevators," he says. "Its platform can hold as much as 670 pounds, which means contractors can load it up with material, minimizing the time needed to go up and down to reload; plus, they can have two people on the lift, if needed. For many users, the unit's 20-foot working height is appealing because it allows them to handle a wide range of jobs from start to finish."
Over at Skyjack, its 19-foot class of scissors continues to be the "bread and butter" for the company.
"With one in three scissors globally being a Skyjack scissor, [this class is instrumental,]" Schmidt says. "The 3219 has always been very well-received and has been a class and market leader since the mid-1980s. It is the easiest machine to utilize around a jobsite with the best overall ROI."
At Haulotte, the same can be said about the 19-foot market.
"As with every major player in AWP industry, narrow electric scissor lifts such as 1930 segment is our best seller mainly because this segment is weighing approximately 50,000 units worldwide, or 25 percent of AWP industry," Watts says. "This class features lifts that are compact in size, travel at full height and have a commonality of parts."
JLG, meanwhile, accentuates its ability to provide customers the maximum return on investments, while giving a nod to its accessories.
"A removable workstation can be included that optimizes platform space with compartments for tools such as a reciprocating saw, drill, circular saw, battery charger and 6-inch-by-6-inch component boxes," Kreutzwiser says. "A pull-out tray also provides a flat working surface near the top of the rails.
"Manufacturer-approved pipe racks provide positive retention of materials for plumbing contractors, while storage outside the platform helps prevent rail damage and optimizes space. Finally, for electrical contractor applications that require battery-powered tools, a stowable workbench and molded pockets provide ample storage while leaving the workspace open to get the job done."
While accessories add value, overall, the 19-foot slab scissor category reigns supreme.
"These machines are extremely versatile and have become a staple of work-at-height jobs across the globe," says Gilmor. "Also, the Genie GS-4047 scissor lift has proven to be a hit, as well, by offering access to work that has typically required a large deck scissor lift in the past."
So why scissors?
In a landscape where aerial work platforms continue to evolve and offer more solutions than ever, why would someone choose a scissor over a vertical mast machine, ladder or other means of working at height? Price, flexibility and more, everyone agrees.
"Scissor lifts typically offer a more competitive price than vertical masts," Watts says. "Most vertical masts are used for very specific needs and are a heavier piece of equipment, whereas an electric scissor lift can offer the same reach at a lighter weight and for a lower cost."
Watts also notes that electric scissor lifts are versatile machines designed for different kind of applications, mainly indoor. The units have more platform space for tools and personnel, and are easy to maintain. Electric scissor lifts are best suited to flat slab applications and for operations in locations where no fumes and low noise are important.
Some might also choose an electric scissor lift over a vertical mast machine due to the height of the job. Electric lifts have models that reach 40 feet or higher in some cases versus a drivable mast lift which can only reach around half that height.
If the height of the job is not the issue, and a user has the choice between the two machines, it will depend on the specific task they are doing and the environment the machine will be in.
"Doing bigger jobs associated with initial closing-in of a building or mechanical rough-in and installation work, will often require more platform space, capacity and number of people that come with a scissor whereas maneuverability benefits of a mast lift might not be needed at this point in the job," Kreutzwiser says. "In addition to more platform space and capacity, most scissors come standard with a large deck extension, providing around 3 feet of up and over reach that a mast lift will not be able to do.
"This also provides more platform space for the users to spread out on. Scissors will also add more productivity via their options and accessories to help properly carry materials needed for the job. One of the main reasons why the narrow electric slab scissors are so popular is because they can do most of the jobs very well, even the tighter, lower height jobs."
What's next?
Manufacturers will likely be working diligently to prepare for the previously mentioned ANSI standards change during the next 12 to 18 months.
"The next 18 months will be very exciting for us," Schmidt says. "We'll be coming out with different models for every product line that Skyjack has. For scissors, new ANSI complaint product will be the first new scissors. Toward the end of that period watch this space for something new in RT scissor range."