Integrated Logistics in 200 tonne tandem lift
By Laura Hatton03 July 2014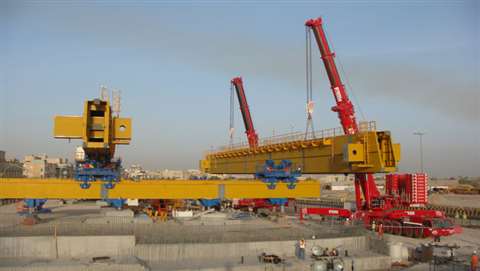 Heavy lifting contractor Integrated Logistics Company used a Terex AC 1000 and an AC 500-2 all terrain crane to carry out a tandem lift for a bridge build in Kuwait City, Kuwait.
The two ATs lifted a 200 tonne steel girder beam to support the bridge span in tandem. The 8-axle AC 500-2 has a 56 metre boom and the 9-axle AC 1000 was fitted with a 50 m boom.
For the lift the AC 1000 was rigged with 228 tonnes of counterweight and a 250 tonne capacity hook block. It was configured with 25.8 m of main boom and lifted the beam at a radius of 9 m. For the beam installation, the crane lifted the beam to 8 at a 17 m radius.
The 500 tonne capacity AC 500-2 was configured with 24 m of main boom and 160 tonnes of counterweight. It lifted the beam into position at a radius of 12.5 m. The beam measured 4 m tall and 2 m wide.
In total, 20 flat bed trailers were used to transport 388 tonnes of counterweight plus accessories to the site over a two day period.
Saleh Al Huwaidi, Integrated chief executive officer, said, "After studying the lift's requirements, we immediately knew our Terex AC 1000 and AC 500-2 all terrain cranes were the right machines for the job. They have the capacity needed to safely install the beam, and they are quickly driven to the jobsite and are very manoeuvrable."