Interview – Kazunori Ohara: Adapting for the market
Kazunori Ohara is well qualified to talk about the differences – and the similarities – between Europe and Japan from an attachment manufacturer's point of view.
The manager responsible for Okada Aiyon's European market area has been with the company for 23 years, servicing machines before moving into the sales team dealing with the domestic market a year later. Two years on from that, he moved into overseas sales, and – 20 years later – he is still there.
"I was based in Japan, but travelled to several areas," he recalls.
"In the meantime I moved to the USA, and established Okada America, which was quite new for the overseas market. With Europe, [Okada has more than 50 dealers in 27 countries] we are now on three continents.
"The main difference between the Japanese and European demolition industries is that Japan is about scrap and build, but Europe doesn't want to demolish its old buildings.
"Because of earthquakes, you don't see any traditional buildings.
"In Europe, the structure remains.
"That said, the expectations of customers, and relationships with them, are not so different. The Japanese are more to face, whereas Europe is very systematic, with more emphasis on the demolition manual. In Japan, you need to go and talk first."
Headquartered in Osaka, the company's turnover is almost €150 million (US$165 million) and it now employs more than 400 people. Its 10 Japanese plants, which range geographically from Sapporo in the north to Kyusyu in the south west, include a demolition crusher facility with annual production close to 2,000 units. In Japan it claims leadership in primary crushers, multi-crushers and pulverisers with at least 40% share in each.
However, one-fifth of Okada Aiyon's total revenue comes from outside Japan, and two-thirds of that from the American business that Kazunori Ohara helped to set up. In that sense Europe is still a young market, but the company's presence during 2019 at events as diverse as Bauma in Germany and the National Federation of Demolition Contractors Demo Expo in the United Kingdom was evidence of its determination to take this forward. It is a logical follow up to the opening of the company's office and warehouse in Rotterdam, Netherlands, in 2017.
Accumulation of data
The concept of "kaizen", or continuous improvement, is known throughout Japanese industry, and for Okada Aiyon, it plays a large part in the development of attachments as well.
"If we have something we need to change, we always think about this and how we can improve, said Kazunori Ohara.
"We are able to keep doing this because we have an accumulation of data. The sales guys always visit the job site and afterwards we can sit and talk with them.
"They give us several suggestions."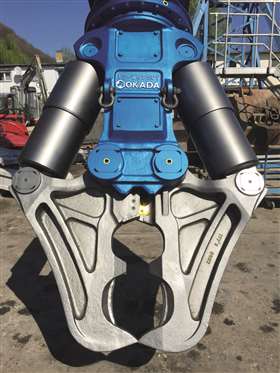 These suggestions could well have led to the new products shown by Okada Aiyon at Bauma, where the focus was on a new rotating pulveriser, which can be mounted on a 35 to 50 t excavator for building demolition applications, and a tough, durable multi-crusher with 100% steel body. But Kazunori Ohara suggests that this route to product development might not be the only one as the 80-year-old company heads into the future.
"For instance, Europe has the largest market for sorting grabs. It's a different kind of sorting grab, so we need to able to adapt for each market and develop more specialised attachments for each application.
"Previously, developments occurred more naturally, but now we are trying to invest in this kind of development."
Article first published in the November-December 2019 issue of Demolition & Recycling International