Iraq transport for ALE
By Laura Hatton13 August 2015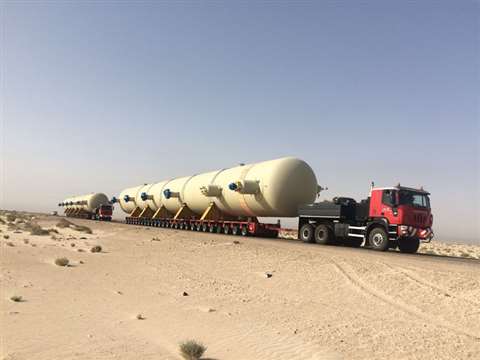 Specialized transport and heavy lift service provider ALE helped transport two liquefied petroleum gas (LPG) storage tanks 600 km through Iraq.
ALE was contracted by Samsung Engineering and Construction Limited (SECL) to carry out the transport. The LPG tanks were 50 metres long and weighed 250 tonnes. They were transported from Umm Qasr Port to Badra Oil Field. It is the largest cargo that has ever been transported this distance in Iraq, a company spokesperson said.
The route from Umm Qasr Port to Badra Oil Field presented a number of obstacles, including 11 bridges. The tanks were moved using 2 x 24 axle lines of conventional trailers.
Alberto Pittaluga, ALE country manager for Iraq, said, "The successful execution of these deliveries over such a long distance is the consequence of the early engagement with the final destination. ALE matured a complete mastery of the routing and its constraints allowing the team to pre-plan and propose a technically driven solution which enabled the awarding of this project and the successful consignments. The team worked hard to navigate this challenging route, removing obstacles, constructing bypasses and engineering a trailer configuration to negotiate the multiple bridges.
"The client was pleased with the execution and an additional eight units have to be transported within October 2015."
The transport time from port to site was 12 days.