IRC/APEX Asia report
By Thomas Allen27 November 2019
The potential for rental in China and wider Asia is undeniably great and the market is developing at a phenomenal pace, but there are some structural challenges to overcome.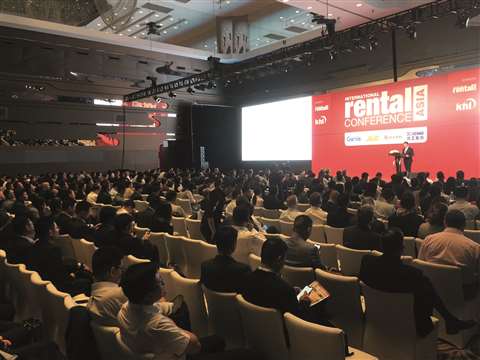 At the recent 2019 IRC Conference in Shanghai, China, which attracted more than 450 delegates, Zhang Tan Na, President of the rental branch at China Construction Industry Association (CCIA), said that China's MEWP (mobile elevated work platform) sector will reach equal maturity to markets in Europe and North America in the next five to eight years.
Providing the welcome address at the International Rental Conference Asia, Zhang explained that there is a major adoption of aerial platforms, despite a flat construction market.
"The benefits of aerial platforms have been recognised and adopted by contractors in China, and in the context of a marginal decline in the construction market, the sales volume of platforms not only did not decline, but have actually grown rapidly."
The MEWP population in China rose by 30.5% in 2019, following growth of 45.5% in 2017.
There were more than 100,000 units in the Chinese market in 2018 and Zhang said that this number was expected to increase over the next five to eight years, bringing the market up to the level found in fully developed MEWP markets.
In Shanghai, the rental sector is maturing in line with the expanding MEWP population, with the number of rental companies in the city growing 73% year-on-year. This is also bringing about a more diverse offering, including companies with specialised fleets.
Zhang added, "Under the leadership of leading companies such as Shanghai Hongxin, rental companies are becoming stronger and bigger. The number with fleets exceeding 500 units has increased from 11 in 2017 to 19 last year."
Zhang's sentiment was echoed by JLG's APAC Finance Director, Harry Pei, who also spoke at the conference.
Pei suggested China's MEWP market could reach 600,000 or more units in less than five years; "China's AWP market has grown extremely fast. We have seen a 50 to 70% growth increase in China's AWP market size each year."
However, despite rapid growth, the market needs financing, and China's banking and loan system can be difficult to navigate.
"With more cash entering the market, the risks will increase," Pei warned.
Financing the growth
Finance costs in China are roughly 10 to 13%, whereas Western financing sits around 5%. Another hurdle is short loan periods – while some can secure three-year periods, many banks and financial institutions only offer one year. In addition, equipment rented and operated in China often isn't maintained as well as it is in other countries, especially with small to mid-sized rental operations.
"Equipment used in China for three years is like a machine being used in other countries for 7 years," Pei said, "If you don't maintain your equipment well, it brings your residual values down."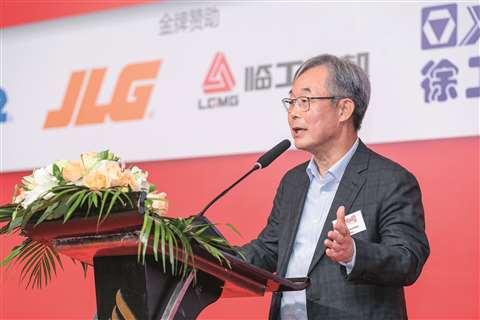 Stepping outside of China, the conference was given some insights into how Korea Rental Corp (KRC) has overcome the challenges of a fast-growing market in South Korea.
Yonkee Eom, CEO of KRC, explained how, over the past five years, the South Korean AWP market has grown significantly, with both large and small rental companies purchasing large numbers of machines through financing loans at low interest rates.
The market had initially been divided into high-tech plant construction serviced by large rental companies and other general construction sites serviced by small- to medium-sized rental companies. However, a decline in construction investment narrowed the market and led to greater competition. The oversupply of equipment put downward pressure on rental rates and profitability.
KRC adjusted its business model accordingly. The new 'Rental 2.0' model, as KRC called it, had three key features: the AWP business was redefined as a safety business, the equipment maintenance process was made more efficient, and the sales force was strengthened.
The company became an IPAF member and now operates an IPAF Training Centre. "We are the only rental company in Korea with official IPAF instructors," said Eom.
KRC now offers safety training not only at its maintenance centres but also at customers' work sites.
With regard to the maintenance process, the firm adopted ISO 9001 and started to use real-time maintenance indicators; "Based on the computerisation of the performance of the work procedure, we shared daily goals of each division with all of the engineers," said Eom. As a result, KRC's maintenance has become 25% more productive.
On the sales front, KRC started to run its sales division on the basis of teams rather than individuals. The company has also been making efforts to diversify its customer base and expand its territorial coverage by having sales organisations for each regional base.
Looking ahead, KRC expects to be able to implement IoT and 5G technology in order to deliver preventative maintenance and manage its logistics in real time. It also plans to track the usage of machines through its online order and billing system.
When asked about the prospect of entering the Chinese market, Eom said the company had tried to do so a couple of years ago but late payment was too big an issue; "However, it has great potential in future," Eom said.
Digital changes
Speaking of digital technologies and how they are transforming the landscape, Stefan Ponea, Founder and CEO of Industrial Access SA, suggested China is in a particularly strong position since it is an emerging market.
The advantage, though, is only to be gained if rental companies openly share their latest developments with one another. This might sound counterintuitive but Ponea said, "It is particularly the case in under-developed markets that when good ideas are adopted widely it has the effect of boosting the entire market."
He added, "Any new valuable gizmo, soft or hard, will create huge value for its creator within the first six to 12 months of full implementation. After the initial boost, the added value will decrease, closing to zero, unless it gives another boost to the market through shared best practices and experiences.
"Keeping it hidden in-house proves less profitable for the creator than sharing it with peers."
Another key message from Ponea was to "act quickly; don't delay."
He said, "I choose to work at the fastest pace possible, even scrapping 30% of the new features."
New technology perishes within six months, according to Ponea, and so small companies have an advantage because they are agile.
And as one final piece of advice offered to all rental companies, Ponea said, "Beware of working for the system; the system should be working for you."
The IRC Conference was held the day before the opening of the second APEX Asia show, which took place across the road at the Shanghai New International Expo Center (SNIEC).
Speaking at the show, Yuxing Song of LGMG said, "We are planning big, because of the potential of the market. We can sell almost any number [of scissor lifts] that we can produce."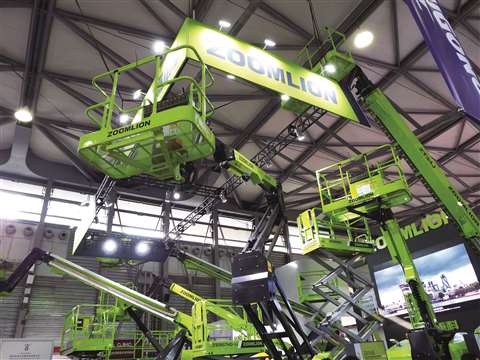 The manufacturer has made an eye-watering number of scissor lifts since it started full production a couple of years ago, and this year it says it has already delivered 16,000 units. Around 10,000 of those are in China.
However, the potential is much greater, with the manufacturer's full capacity due to reach 30,000 scissors a year once its factory is completed by early January. The new production lines will be used for boom lifts, leaving more space at the current plant for scissors.
Rental rates in China have been plummeting as demand increases and the investment in equipment continues.
"The rental rates will stay low and will decrease for the next three years. To compete for big projects, you have to have low rental rates," says Song.
"There are probably too many manufacturers and rental companies but demand is very high."
He explains it will be easier for those rental companies that have been around long enough to have made significant repayments on their investments. "But for the new rental companies, with new machines, it will be difficult."
LGMG is just one of a number of Chinese manufacturers that are producing large quantities of scissor and boom lifts.
XCMG, for instance, is also upscaling its production and claims to have produced between 9,000 and 10,000 scissors this year. Even more impressive is the company's self-propelled boom output. It says 4,500 booms have left its factory during 2019, and a second factory is under construction that will facilitate 8,000 to 9,000 booms and 20,000 scissors a year.
Another example is Zoomlion, which currently produces 1,200 slab scissors a month from its Chinese facility, and aims to produce 250 to 300 boom lifts per month. The company said it has shipped more than 6,000 slab scissors into the Chinese market this year.
These dynamics have created an opportunity for Chinese equipment distributor Global Machinery Hub (GMH), which is starting to supply middle-tier Chinese rental companies with niche, electric-powered machines.
Turning to niche products
In response to the downward pressure on prices, medium-sized rental companies are turning to niche products for which higher rates can be charged.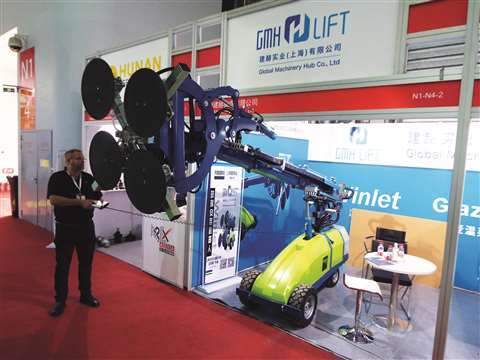 "This is why we are seeing interest from rental companies in our glazing robots," said Sylvia Wang, Managing Director of GMH, speaking to IRN at the show.
The company had previously been exporting machines from China, but in light of this new domestic opportunity it started a partnership with Danish manufacturer GMV Handling in August 2019. GMH has begun to distribute GMV's Winlet glazing robot, which is fully electric.
Wang said, "Rental companies can charge higher rates on these niche products – several times higher than other machine types like access equipment. For instance, the daily rate for a glazing machine will be about the same as the monthly rate for a scissor lift."
Wang also highlighted the growing importance of sustainability, saying, "We are looking to serve the increasing need for electric equipment."
Other niche products that GMH is expecting to start importing in the next couple of months include an electric boom lift from JLG and an electric pick-and-carry crane from Italian manufacturer JMG.