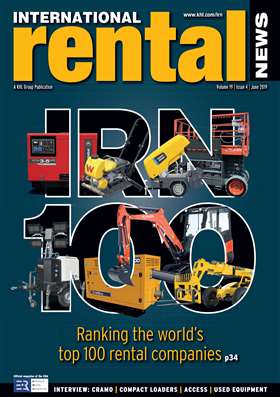 There have been some significant shifts in this year's IRN100 listing, reflecting a global rental industry that is very much in flux. Particularly notable is the entry of more than a dozen new companies in the top 100, the majority of which – nine to be precise – are North American.
This is indicative of the strength of the North American rental market. The latest figures from the American Rental Association (ARA) suggest that North American equipment rental revenue growth will continue to exceed economic growth over the next few years, forecasting that overall revenues will surpass US$61.3 billion this year – representing a 5% increase compared to 2018.
In light of this, North American rental businesses are benefitting from investment. This seems to be true of Caterpillar since four of the new entrants to the top 100 are Caterpillar dealers: Kelly Tractor, Mustang Cat, Carolina Cat and Wagner Cat. Taking the top 100 as a whole, the North American companies in the list grew on average by 20% in 2018, helped by a buoyant market and consolidation.
Meanwhile, the Europeans grew on average by 7% – again due to overall market growth and consolidation, but less in both cases than in North America.
Supporting documents
Click links below to download and view individual files.