ITC conference: BIM and tower cranes
By Murray Pollok14 March 2019
A presentation on the use of BIM techniques and tower crane planning for the Museum of the Future project in Dubai, UAE, will be given at the sixth International Tower Cranes (ITC) conference in Vienna on 26 and 27 June.
The topic will provide tower crane rental companies and contractors with the latest information on how digital construction techniques can help increase site efficiency and productivity.
Mohamed Abouelezz, Wolffkran's general manager for MENA and SE Asia, and Derek Bourke, a digital construction manager at contractor BAM International, will jointly present a case study on how BIM techniques have been applied to the project, including the planning and use of tower cranes.
"We will discuss the digital construction approach and how it helps us to improve the operations of a construction site", said Abouelezz, "This approach also includes the operation, service and maintenance of tower cranes.
"The Museum of the Future project will be presented as a real-life case study to illustrate the main challenges and how BIM helped visualise the project and optimise each construction phase."
The purpose of the museum, which is scheduled to open later this year, is to be "an incubator for ideas, a driver for innovation, and a destination for inventors and entrepreneurs from around the world."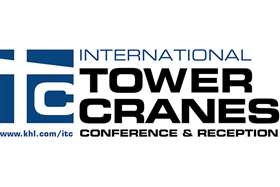 Also speaking about BIM at the conference will be Theodor Strohal, a BIM specialist at Strabag, Austria's largest contractor.
He will provide delegates with an insight into the company's BIM.5D digital working method. This system involves all supply chain partners from the start of projects, enabling an interdisciplinary analysis of project data, including 3D modelling, project management and scheduling.
The conference is organised by KHL Group and its magazine International Cranes and Specialized Transport. The SC&RA is the event partner.
For more information and booking, visit: www.khl-itc.com