LGMG promises major access expansion
By Euan Youdale23 November 2016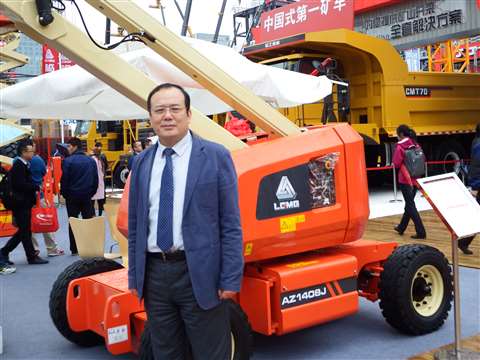 LGMG is moving into booms after starting scissor production last year.
As part of a group with RNB 17 billion annual revenue, based in China, it produces a range of construction equipment and says access equipment offers great potential in the country and worldwide, so much so that it expects to be producing 10,000 units annually, mainly scissors, within the next five years.
It already manufactures 1000 units a year, with 200 of them sent abroad. On its stand at Bauma China were prototypes of a 26m working height telescopic boom and a 14m articulated model, both of which have electric drive. The plan is to produce diesel versions in the future. LGMG is also showing its first rough terrain scissor prototype.
David Wang, vice president of Lingong Group Jinan Heavy Machinery, said it could leverage its 200 distributors in China and 100 worldwide, along with its 40 years experience in machine design, to make a major impact on the access sector. It added that after sales service and finance was also easier to provide because of the size of the company.
The company will concentrate on the Chinese market in the next couple of years until it gets a feel for the industry, then will set its sights on Europe.
Mr Wang said, "We are a newcomer but we have to move fast, there will be lots of effort in after sales service and parts."