LiuGong marks 60th anniversary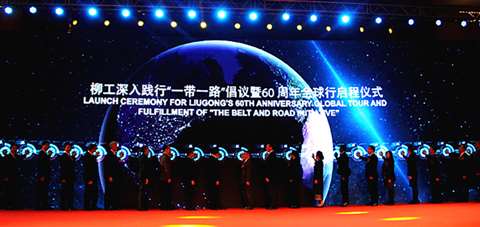 Chinese manufacturer LiuGong celebrated the launch of its 60th Anniversary Global Tour at its 2017 Global Dealer Conference.
It also marked the fulfilment of the Belt and Road initiative strategy – the development strategy proposed by the Chinese leadership to promote connectivity and co-operation between Eurasian countries.
Representatives from government, business associations and financial institutions, as well as LiuGong dealers from China and around the world, attended the dealer conference.
LiuGong, based in Changzhou, Jiangsu, said it had evolved in its 60 years from a Chinese wheeled loader manufacturer to an international company with 15 best-in-class product lines.
It added that the Chinese Belt and Road initiative had brought "a new impetus to its grand vision".
LiuGong's 60th anniversary global tour will start from China and make its way around the globe, stopping in each overseas subsidiary to celebrate its anniversary, and further implement the Belt and Road initiatives.
LiuGong has set up business network in 58 of the 65 countries involved in the initiative, and there are five overseas subsidiaries including two manufacturing facilities in India and Poland to support dealers and customers.
In 2007, LiuGong built its first overseas manufacturing plant and R&D centre in India, while in 2012, by acquiring the civil engineering machinery division of the Huta Stalowa Wola and the Dressta brand in Poland, LiuGong added to its dealer network and established a base at the start of the Silk Road Economic Belt construction.
In September, LiuGong opened its new European HQ and R&D (research and development) Centre in Warsaw, Poland, and announced increased manufacturing capabilities for Dressta dozers and pipe-layers, as well as LiuGong Tier IV Final wheeled loaders and excavators, at LiuGong Dressta Machinery (LDM).
Additionally, LiuGong relocated its European Parts Distribution Centre to LDM.