Middle East equipment rental in focus
By Belinda Smart23 November 2022
High oil prices are supporting some of the Middle East's most ambitious construction and oil & gas projects; and with equipment in short supply, there's potential for rental to win big. Belinda Smart reports.
Oil price hikes following Russia's invasion of Ukraine are a headwind for many economies.
For the Middle East - including the Gulf Cooperation Council (GCC) countries of Saudi Arabia, the United Arab Emirates, Kuwait, Bahrain, Qatar, and Oman - it's a different story.
Higher oil prices have brought additional revenues in this oil producing region, boosting budgetary surpluses already in pretty good shape given those markets' status as energy rich markets.
According to the International Monetary Fund (IMF), economic growth in the Gulf Cooperation Council is set to accelerate from 2.7% in 2021 to 6.4% this year, largely on the back of those oil price gains.
One of the most visible signs of liquidity is construction; perhaps the most prominent example of this is Saudi Arabia, which is rolling out a $7 trillion development plan including 'giga-projects' driven by major government spending initiatives like Saudi Vision 2030.
Oilfield equipment rental
Patrick Fallon is Group Deputy CEO of Byrne Equipment Rental, one of the Middle East region's most established rental businesses.
He says 'giga' projects like NEOM and The Red Sea Developments in the Kingdom of Saudi Arabia (KSA)," are driving the construction market, "while in other geographies we see upcoming massive infrastructure and construction projects including roads, hotels and stadiums."
He adds that "the booming oil and gas sector" is also driving business, especially in the UAE where the government is focusing on developing sour (- natural gas or any other gas containing significant amounts of hydrogen sulphide H2S -) gas resources to fulfil increasing domestic demand.
"Similarly in Saudi Arabia, the rising expansion of existing oilfield activity and increased production capacity of the country, resulted in an increased demand for oilfield equipment rental.
"In 2021, Saudi Aramco announced the development the Jafurah unconventional gas field, which is one of the largest gas fields in KSA."
Construction drives demand for equipment rental 
All these elements are driving demand for equipment and by extension, generating growth opportunities in the equipment rental market, he tells IRN
"The rental market in the Middle East is by international standards becoming more developed and growing rapidly across a number of sectors, due mainly to the increasing number of projects in the region."
"With that demand, we have seen a growing trend where contractors and other end users are increasingly opting to rent their equipment, principally due to the extensive range of benefits and savings that come with renting including capital costs of purchase, repairs, and maintenance, not to mention the desire to have the latest equipment and technology.
"Against this background we foresee significant further growth in the Middle East rental market for the medium-term future."
Temporary accommodation rental
Byrne, which has 20 offices and operational depots in the UAE, KSA, Kuwait, Oman, and Bahrain, reports increased demand from its own clients for a "single source solution provider" model.
This is growing most notably in the oil and gas sector where temporary accommodation rental solutions and services are in demand but is also applicable to other areas of the rental market.
"This encompasses a vast range of equipment including our temporary modular structures, power generation, water and waste management and multiple lines of supporting auxiliary equipment and services."
In addition, rental growth for hoists and mast climbers is encouraging, he says.
Ongoing global supply chain issues have affected the equipment industry, and this coupled with increased demand has made access to new equipment difficult, he tells IRN. But, far from a problem, the result has been a burgeoning of demand for rental.
"While the situation has eased somewhat in the very recent past, there are still cases where the wait time for new equipment can be from several months to a year as costs, shipping schedules and supply access have become highly unpredictable."
He says that for many end users with tight schedules, waiting for the arrival of new equipment is simply not an option and as a result, quite a number are turning to rental to ease the challenge of meeting their project equipment needs.
How much will the equipment rental market grow in the GCC?
Fallon cites figures sourced by Byrne indicating the equipment rental market in the GCC is expected to grow exponentially in the next five years - it was valued at USD 4.07 billion in 2021 and is predicted to reach USD 5.81 billion by 2027.
Despite a comfortable economic climate, efficiencies in terms of carbon emissions reductions and keeping costs down are at a premium, meaning that going forward, demand for technology, especially in telematics, machine control and training that enhances operational efficiency, will increase in the rental market, he tells IRN.
"An increasing number of contractors are looking to find and rent equipment that ticks these boxes, so planning for incorporating and maintaining latest technology equipment in the future is crucial for any rental business to stay ahead of the curve."
Middle East outlook for OEMs 
From manufacturers' perspective, Doosan Bobcat EMEA echoes the view that scarcity of machinery is good for rental.
"After Covid-19 and due to the shortage of supply, many customers are finding solutions to their needs from rental companies, Gaby Rhayem, Regional Director Middle East and Africa, Doosan Bobcat EMEA, tells IRN.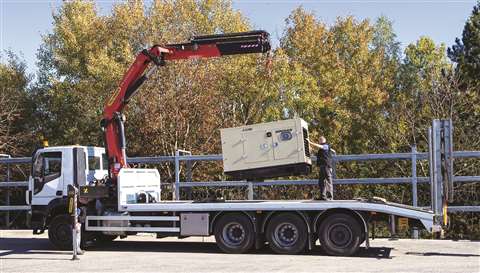 And the rental market is "well developed and managed by professional companies," he says. "Many are regional or international and have footprints in both MEA and in Europe."
"More and more customers are looking for quick delivery but because of shortage in supply and lack of machines, rental companies have the machines in stock, ready to rent and available to meet customer needs.
"It is a fast-growing market for both Bobcat and our Portable Power business. Many of our dealers in MEA have dedicated rental solutions for our customers.
"Some customers are going for a short to medium rental period until they have delivery of their purchased units. So, the rental market is benefiting from many sides."
Because of this, the rental market is expected to grow and keep growing in the next three years, he says. "Projects are there and shortage in delivery will not be solved soon."
What is driving rental equipment demand in the Middle East?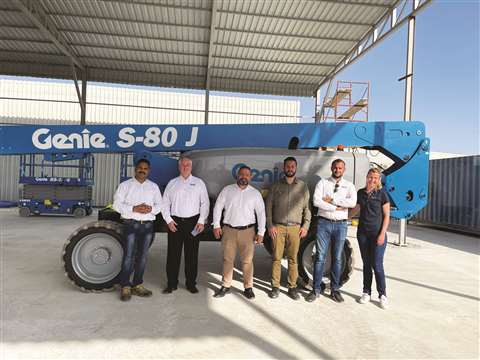 In terms of where the demand lies, Rhayem says rental businesses are in the market for "everything from small machines such as skid-steer loaders, compact track loader and mini-excavators to medium-sized machines such as our backhoe loaders and telehandlers."
And "the same applies to portable power products such as generators, light towers, and compressors.
"Similar rules apply to medium and large excavators and loaders, also for cranes and dedicated solutions such as access platforms and cleaning machines."
On the access front, Genie products are performing well in the region, says Sharbel Kordahi, Managing Director, Middle East, for Genie. "We're seeing the highest demand in Saudi Arabia, the UAE, Qatar, Kuwait and Bahrain, driven mainly by new projects in the oil and gas sector," he tells IRN.
But he says construction also is a significant driver of demand, as well as facilities management, particularly when it comes to major events happening in the region including the World Cup in Qatar, or other sporting events in cities in the Gulf, like boxing and Formula 1.
Booms are the most popular MEWPs in the market, with a preference for straight booms of 19.81 m and above, all the way to the 56.86 m working height of the Genie SX-180, which is Genie's highest-reaching boom.
He says these booms provide the rigidness and robustness needed for the most common jobsites in this region, namely oil and gas and construction.
"We recently introduced the S-80 J and S-60 J telescopic booms. In May, Genie provided the opportunity for eight Middle East access hire companies to see the S-80 J first-hand, ask questions and provide feedback about the boom during a demo tour in the UAE."
In general, these customers cited the machine's single-envelope, optimised design as a key benefit of the Genie J series booms.
The machine's design reduces overall inspection points and wearable components, which speeds up inspections and reduces the time and expense of maintenance and repairs. This results in a lower total cost of ownership and helps improve ROIC.
At the same time, the S-80 J and S-60 J's leading, unrestricted capacity of 660 lb (300 kg), 16.8 m (55 ft) of horizontal reach for access at the top of the envelope, and a 1.8 m (6 ft) jib, make it well suited for nearly all work-at-height tasks in the 80 ft (26 m) range.
This includes general construction, maintenance, inspection and painting.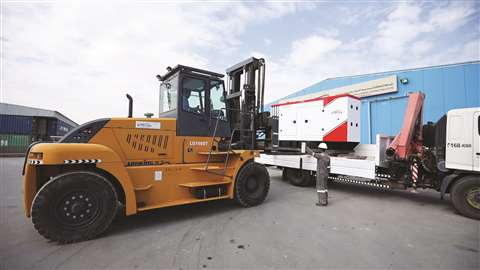 Future rental trends
Looking ahead, Kordahi expects electrification to be an important trend because, "like other places around the globe, there is a big push toward improving sustainability, reducing emissions and lowering the carbon footprint of jobsites."
Overall; "If oil and gas prices continue at or near where they are today, there is likely to be expansion, and this will be a very strong market," Kordahi tells IRN.
"That said, we always have to consider that we are in a very volatile region when it comes to geopolitical stability, which could have an impact. But, as it is looking today, there is a lot of potential and the market looks like it will continue to improve in the next couple of years."