Mini excavators: a mini romance
By Thomas Allen17 April 2018
Almost one out of every four construction machines sold in Western Europe last year was a mini excavator, according to market intelligence and forecasting company Off-Highway Research, making them by far the most popular type of construction equipment in the region in unit terms.
Some 62,500 compact excavators were sold in the region last year out of a total construction equipment market of 160,500 machines. Of course, in value terms the mini excavator's share of the market is much smaller. The value of mini excavator retail sales in Western Europe last year was €1.4 billion, out of a total regional market of €11 billion, or 13.5%.
The major markets for mini excavators are the large economies of Germany and the UK – taking 15,000 and 14,000 units respectively last year – followed by France, with 11,700 units, and Italy, with 7,700 units. Demand for compact excavators in other European countries ranges from 2,500 units in Belgium and the Netherlands, down to a few hundred machines per year in Portugal and Finland.
Having grown 12% last year and 17% in 2016, the market outlook for the sector is fairly flat over the coming years, although at more than 60,000 units it has reached a historically high level.
The popularity of the mini excavator is demonstrated by the fact that a number of companies are launching new mini excavators at this year's Intermat exhibition in Paris, France.
Among them is Doosan Bobcat, which said it was aiming to revolutionise the compact excavator market in Europe with the launch of its new generation of 2 to 4 tonne excavators.
In this range, the new models already meet the upcoming EU Stage V emissions regulations, and they were said to offer improvements in operator comfort, controllability, and the smoothness of working functions.
With a number of different configurations available, the machines have been designed to be flexible so that they can be adapted to specific applications.
Looking specifically at the E26, E27z and E27, which range from 2 to 3 tonnes, the transport weight of the new generation version of the E26 has been reduced by about 100kg, while its over-the-side lifting capacity has been increased.
To make for easier transportation, the weight of the E27z model has also been reduced. The excavator boasts zero house swing, even when fitted with the optional heavy counterweight, and it was said to have better 360° stability.
The stability of the new conventional-swing E27 has also been improved while the machine's weight has been kept below the limits for appropriate trailers, and its digging performance and breakout forces were said to be class-leading. With the optional heavy counterweight fitted, there is just 280mm of tail overhang, allowing the machine to be operated in confined spaces.
Jaroslav Fiser, product line director for Bobcat mini excavators in EMEA (Europe, the Middle East and Africa), said, "Our engineers and product experts have worked closely together with our salesforce and selected European dealers to ensure the new products meet the specific requirements of the very demanding customer base in Europe."
Special attention was paid to the cab during the design of the new excavators, in order to create an environment that is both comfortable and functional.
The new cab is more spacious inside, and entry and exit have been made easier by the addition of new handles and a wider door. Larger windows and narrower pillars provide better all-round visibility, and the level of vibrations and noise within the cab have been reduced.
Minimal-effort joysticks have been installed to enhance controllability and the smoothness of the excavators' working functions further, and there is the option of a deluxe display on the control panel, which provides information for advanced troubleshooting.
Efficiency and productivity
Also at Intermat, Case Construction Equipment intends to demonstrate its commitment to offering customers the latest technologies to help them maximise efficiency and productivity.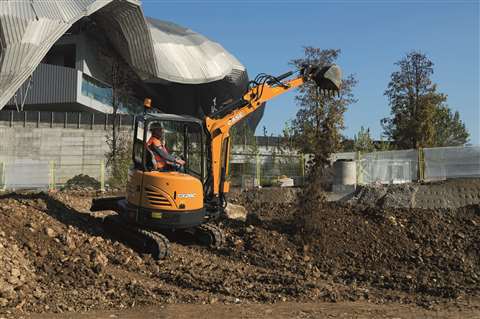 Among the machines on show will be Case's new C-Series mini excavators, which range from 1.5 to 5.4 tonnes and have been designed to provide the agility necessary for working on urban jobsites.
The hydraulic flow on the CX17C excavator was said to deliver digging efficiency and fast cycles. The automatic shift-down function, which optimises traction and speed, works in conjunction with the joystick-controlled auxiliary hydraulics to enable the operator to complete jobs quickly.
The 2.4-tonne CX26C was said to have best-in-class reach and dig depth, as well as
ample boom swing angles, offering a particularly good working range. The machine's versatility has been enhanced by a choice of arm lengths, extra counterweights, and optional rubber tracks. In addition, the first and second joystick-controlled auxiliary hydraulics make it possible to use a variety of attachments.
Also claiming to have improved cycle times, Wacker Neuson has two new excavators in the 3.2-tonne class.
The conventional ET35 and the zero tail EZ36 have a completely new design and interior, as well as additional outfitting options, compared to the company's larger models.
The EZ36 has been designed with no rear overhang so that it can be used to good effect in confined spaces – usually in urban areas. As a result of the fact that the rear of the excavator does not overhang the undercarriage, operators can do their work without worrying about damaging the machine or obstructing traffic.
Gert Reichetseder, spokesman for management at Wacker Neuson Linz, said, "We recognised the needs of the market and are offering even more flexibility and comfort with the new 3.2 tonne models from Wacker Neuson.
"The new generation impresses with a new interior, a new design and additional outfitting options, which allow for productive and fatigue-free work."
The optimised weight distribution and externally-located guide rollers of the ET35 and EZ36 give them good stability, particularly when lifting heavy loads. Up to four additional control circuits are available, meaning that these excavators can be turned into versatile tool carriers. Further flexibility is offered by the optional variable swivelling dozer blade, and Wacker Neuson said the hydraulic clamp that is available for the bucket, to make gripping work easier, is a world-first.
Another option on the new excavators is Wacker Neuson's Vertical Digging System (VDS).
The tiltable revolving superstructure enables exact vertical digging and, on uneven surfaces, it can compensate for slopes of up to 27°. The company said this made for safer and more comfortable working conditions for the operator, while also saving time and energy by reducing inaccuracies.
Regardless of the VDS, safety and operator comfort are enhanced by the two-part front windshield, which brings a large portion of the jobsite within direct line of sight, and allows the operator to fix the lower and upper parts of the window under the cab roof.
This means that the cab can be ventilated and the windows protected.
Also, the power of the air conditioner has been increased so that the cabin can be cooled to 16°C below the external temperature.
The tie-down points on the new excavators have been reworked for quick and easy lashing. There are now a total of eight large tie-down lugs on the vehicle's chassis and dozer blade, making for safer transportation.
Growing range
Komatsu will be showcasing its growing range of MR‐5 utility excavators at Intermat. The PC30MR‐5, PC35MR‐5, PC45MR‐5 and PC55MR‐5 hydraulic mini excavators – launched in February this year on the European market – are four machines with tight tail swing radius and swing booms that were said to hug the machine to help with work in tight spaces.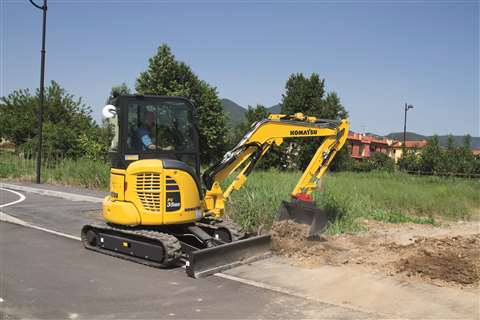 Emanuele Viel, KEISA (Komatsu Europe International) group manager of the utility segment, said, "The new machines are designed for improved versatility, safety, comfort – and for low operating costs.
"They are perfect tools for most confined jobsites and construction, utility, landscaping, or similar applications."
All four machines are driven by an electronically-controlled engine, with either 1.64 litres and 18.2kW for the smaller PC30MR‐5 and PC35MR‐5, or 2.19 litres and 29.6kW for the PC45MR‐5 and PC55MR‐5.
They were said to consume up to 5% less fuel than their MR-3 predecessors, while maintaining the same level of performance.
Manufactured by Komatsu Italia Manufacturing – a subsidiary of Komatsu, based in Este, Italy – the new mini excavators feature design solutions to reduce downtime.
For example, the automatic decelerator and automatic shutdown help to reduce fuel consumption and service costs, and both come as standard now. Also, this is
the first time Komatsu has installed its newly-developed hydraulic electronic controls on its mini excavators. They were said to optimise machine performance while lowering fuel consumption.
Once again, operator comfort has been a priority, with Komatsu redesigning the cab on the MR-5 range. A new hinged door design makes access easier, and a high-resolution, multi-functional 9cm LCD colour monitor panel has been installed so that the operator can quickly access maintenance information. A seatbelt caution indicator is included for improved safety, as is an engine shutdown secondary switch.
14th new model
Meanwhile, JCB has completed its mini excavator line-up with the recent launch of the 15C-1 model – the 14th new model since the next generation machines were first launched in 2014.
This 1.5-tonne, conventional tail swing excavator is aimed primarily at the rental market, using a shorter fixed undercarriage than the higher-specification 16C-1 counterpart. It also has single-speed tracking, long pitch tracks, and mechanical track tensioners.
Other features include the option of either a full ROPS (rollover protection structure) cab with flat glazing for easy replacement, or a canopy, making it suitable for all markets. The cab was also said to boast 24% more internal space than previous machines.
The bodywork is made entirely of steel so that it offers maximum impact protection for the machine's components and can be easily repaired in the event of an impact on the jobsite, said the company.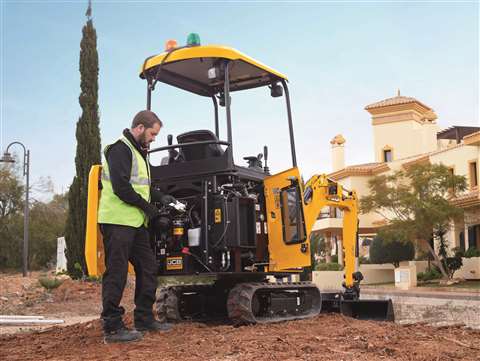 The 15C-1 is powered by an 11.7kW engine that can be easily serviced via the wide-opening fold-out rear door. The new excavator also has 500-hour greasing intervals, helping to keep machine downtime to a minimum.
JCB's chief innovation and growth officer, Tim Burnhope, said, "The all-new 15C-1 will be an important player in the sub-two tonne sector – a segment where more than 50,000 machines were sold globally last year.
"With the addition of this, our 14th compact excavator in just four years, JCB has the right machine in every weight sector of the mini and midi excavator market – a market that topped more than 240,000 machines globally in 2017, an increase of almost 23% compared to 2016."
Variable pumps
In February of this year, Kubota also launched a new mini excavator. The KX030-4 features two hydraulic variable pumps, as well as a gear pump, which the company said allowed smooth, synchronised digging and dozing operations for improved output and productivity.
A large, flat floor space, full suspension seat, and Kubota's ergonomic control panel also come as standard on the model, with the intention of reducing fatigue.
The model is available in standard and high-spec versions, and is powered by an EU Stage V-ready Kubota-built engine.