New heavy hauler for Plant Speed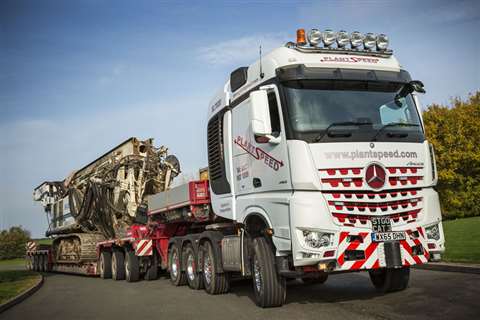 Heavy haulage company Plant Speed, based in Bristol, UK, has added a 250 tonne Mercedes-Benz tractor unit to its fleet.
The new 8x4 Arocs 4163S was purchased from local Dealer City West Commercials. It is the second Arocs model to be commissioned by the company in three years. The new truck has a flat-floor BigSpace cab and is powered by a 460 kW (625 hp) OM 473 15.6 litre in-line six-cylinder engine. It is also fitted with a Turbo Retarder Clutch, which works in conjunction with the 16-speed Mercedes PowerShift automated transmission.
Paul Lomas, managing director, said, "The Turbo Clutch is a fantastic piece of kit. It's very sensitive and offers fine control characteristics, so for low-speed manoeuvres, or when pulling away on a steep gradient, it's absolutely brilliant. There's nothing else like it on the market, which means it really sets Mercedes-Benz apart from the competition."
In addition to its two, 250 tonne units, Plant Speed operates another 16 tractors with gross combination weights of between 44 and 150 tonnes. Since joining the fleet, the Arocs has been used to transport everything from wind turbines and heavy plant, to bridge sections on bolsters.