New Hyundai 22 tonne excavator for Europe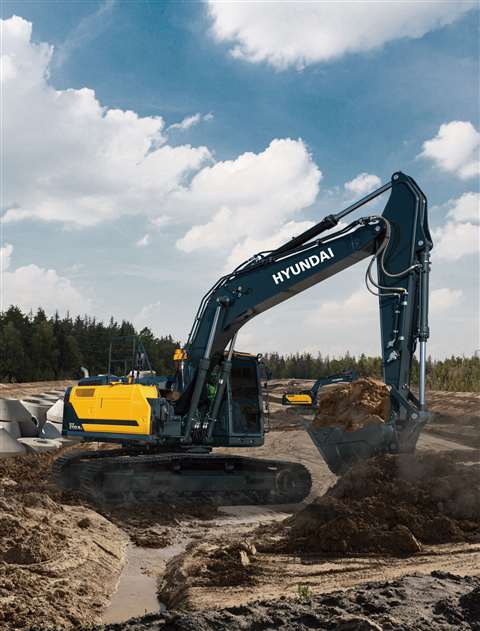 Hyundai Construction Equipment Europe (HCEE) has launched a new 22 tonne crawler excavator, the HX210AL. The new model forms part of the company's new A-series machines which have been built to create better conditions for operators.
The new HX210AL machine sits alongside the HX220AL, which was launched in June 2019.
HCEE anticipate strong demand for the new model, with the company stating that one in five machines bought in Europe is a 22 tonne excavator.
According to the company, every detail has been fine-tuned exceed modern day requirements, including improved safety and comfort, higher productivity, maximum uptime and easy servicing.
The HX220AL is powered by a Cummins B6.7 stage V6 cylinder engine and offers 880Nm torque and is also EGR-free. The Hyundai HX210A features similar general specifications to those found in the HX220AL model, but with standard features and pricing that are designed to appeal to rental houses and dealers with high volumes of rental business.
"We're really excited about this model. We think this is going to be a great entry into that 20-ton class that the market is demanding. We are convinced the HX210A will become the new standard throughout Europe when it comes to performance and operating experience" said Gert Peeters, product specialist supervisor, HCEE.
The HX210AL is said to offer all-round protection for operators, co-workers' and the machine. The spacious cabin allows excellent visibility, while the optional Advanced Around View Monitoring system gives the operator a 360° overview of the surroundings.
The excavator also includes Intelligent Moving Object Detection (IMOD) technology that senses and warns the operator when people or objects come within five metres of the machine.
The HX210AL benefits from improved operator controls which includes optional MG/MC machine guidance/machine control, which indicates the work status and automatically controls the attachment to assist the driver.
The MG displays the position of the bucket tip and assists the operator by use of positioning guidance. The MC will automatically take over control of the grading with the bucket tip or face and will have an automatic stop control: up, down, forward and cabin protection.
New smart technologies have been installed to further improve machine productivity and fuel efficiency. For example, in a move away from hydraulically controlled pumps, Hyundai has installed its new EPFC (Electronic Pump Flow Independent Control) system.