Kranlyft Group, a distributor for Maeda Mini Cranes in Europe, Africa and the Middle East and for Klaas aluminium truck and trailer cranes in UK, Ireland, Sweden and Denmark, has appointed Jurgen Vater as CEO.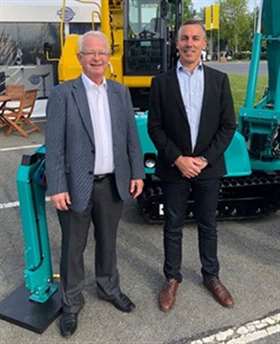 Former Kranlyft CEO Christer Dijnér (left) and new CEO Jurgen Vater
Vater joined the company in November 2017. His background is, most recently, as managing director for one of the main dealerships within Scania Trucks in Sweden. Prior to that Vater worked with Volvo Trucks in Africa and the Middle East.
He takes over from Christer Dijnér who, with more than 40 years of experience at Kranlyft, will continue in the company as a senior adviser. His main responsibility is now to look after the European market for Maeda Mini Cranes.