New scissors from Imer
By Euan Youdale05 August 2014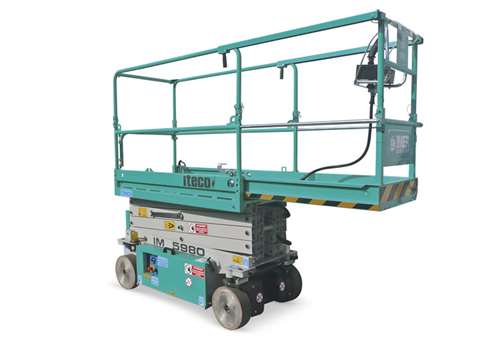 Imer Access, the AWP segment of Italy-based Imer Group, has launched the IM 80 Series of compact electric scissors.
The series was launched at APEX 2014 and includes three models with working heights of 6, 8 and 9, replacing the IT 80 series (IT 4680, IT 5980 and IT 7380).
The new range has been produced in answer to modern requirements for dimensions, weights and reliability, allowing ease of transport, manoeuvrability and working capabilities.
All the models offer traction at maximum height with full rated load and with the full load on the deck extension, which is 1 m long. Total length of the platform is 2620 mm.
The internal width of the deck extension has been increased by nearly 10 cm thanks to a new platform guard design, easy-to-use safety bar, and opening and locking of the deck with handles and foot pedal.
There is also an innovative folding guard rail system, says the company, offering simple and fast closure. The new electric drive motors and transmission ensure less consumption and longer cycle times. All the components are contained inside the chassis guards and are easily accessible for ordinary maintenance.
Looking at each model: the IM 5980 EX is a multipurpose scissor for indoor and outdoor use. It has a platform height of 5.8 m, reaching a maximum working height of 7.8 m.
The IM 5980 EX has the same maximum capacity (230 kg) for indoor and outdoor use (two persons for indoor use and one person for outdoor use). The same maximum capacity is allowed on the deck extension.
The IM 4680 has a reduced weight of 995 kg and a stowed height of less than 2 m, enabling it to enter doors without folding the platform guards.
The IM 7380 is one of the most compact and lightweight scissors on the market, says the manufacturer, for working at 9.2 m.