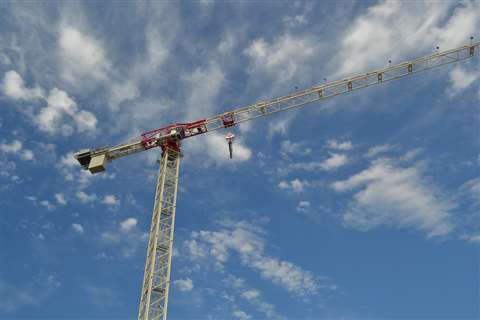 Terex Cranes has launched a new tower crane: the CTT 472-20 flat top. It is a 20 tonne (22 US ton) class crane with an 80 metre (262.5 foot) maximum jib and a lifting capacity at the end of the jib of 4 tonnes (4.4 US tons).
It has a 470 tonne-metre load moment rating which Terex said offers high lift capacities throughout its load chart. There are 11 jib configurations, from 30 to 80 m (98.4 to 262.5 ft)needs.
Terex said the crane's hoist, slewing and trolley speeds allow operators to quickly and precisely move and position heavy loads. All jib sections come preassembled with a lifeline and galvanised jib walkways to aid quick, safe installation at height.
The CTT 472-20 can be used on H20, HD23 and TS212 mast sections or, if using Terex's transfer masts, a combination of them. The tower segments come pre-assembled with aluminum ladders for fast erection and greater durability.
It is the first model to include the new cabin which, the company says, will now be installed on all new flat top, hammerhead, and luffing jib cranes. An adjustable seat and joystick controls with a short stroke length are important features, Terex said. It also has a 180 mm (7 inch) colour operating display with an anti-glare screen. Built-in heating and air conditioning help maintain a constant temperature in the cabin.
The CTT 472-20 also has a new control system that Terex said offers quick set-up times. This system includes Terex Power Plus, a feature designed to temporarily increase the maximum load moment under controlled conditions (e.g. smooth hoist movements) to provide the operator with as much as an additional 10 per cent lifting capacity when needed. A 'power match' function allows the operator to choose between operating performance or lower consumption to fit lifting needs. A radio remote control can also be specified.
Commenting on the new crane, Marco Gentilini, Terex Tower Cranes vice president and general manager, said, "Fresh off the introduction of our new hammerhead tower crane at ConExpo-Con/Agg, we offer our customers the new CTT 472-20, an extremely versatile and robust flat top tower crane with great features requested by our customers."