Newtecnic façade for 356m tower
By Thomas Allen11 August 2017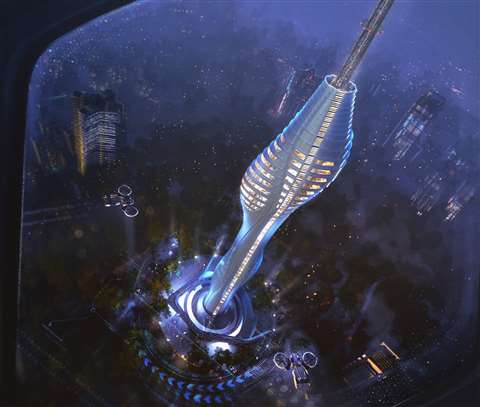 Set to be the tallest structure in Istanbul, Turkey, and costing €39.7 million, construction work has started on the 356m high Küçük Çamlıca TV Tower (KCTV), which will have a façade designed by British building engineering technology company Newtecnic.
By hosting 125 broadcasting transmitters, the building will replace a number of existing broadcast towers.
It will also have inhabitable spaces attached along the full length of the tower's core, which has been made possible by the innovative façade concept developed by Newtecnic.
The company's CEO Andrew Watts said, "Because of the complexity and cost of building, towers of this height normally have accommodation only at the top. Using specially developed algorithms, we devised a design that allows lightweight pre-fabricated glass reinforced concrete (GRC) panels to be attached all the way up the central column. These hang like a curtain and are securely clipped to the main central core to create large interior spaces."
Since the tower is situated on a hill and will reach 580m above sea level once completed, the design was tested in a wind tunnel. This enabled Newtecnic to develop accurately sized façade components from the first stage studies. It also provided the data to optimise the envelope build-up and obtain an accurate understanding of the impact of the façade loads on the structural behaviour of the concrete structure.
Watts said, "The envelope system was designed to minimise installation time and uses an innovative method that integrates thin GRC rainscreen panels, stiffened by a steel frame. This is fixed directly to a backing wall that incorporates integrated glazed openings."
3D printed components were used for structural and assembly testing, and Newtecnic used its Computational Fluid Dynamics (CFD) analysis to assess various design iterations.
The tower, which will incorporate restaurants, exhibition and meeting spaces, two high-level observation decks and a panoramic elevator, is expected to become a new city landmark estimated to attract 4.5 million visitors per year.