Power station lift for Havator
By Laura Hatton24 August 2015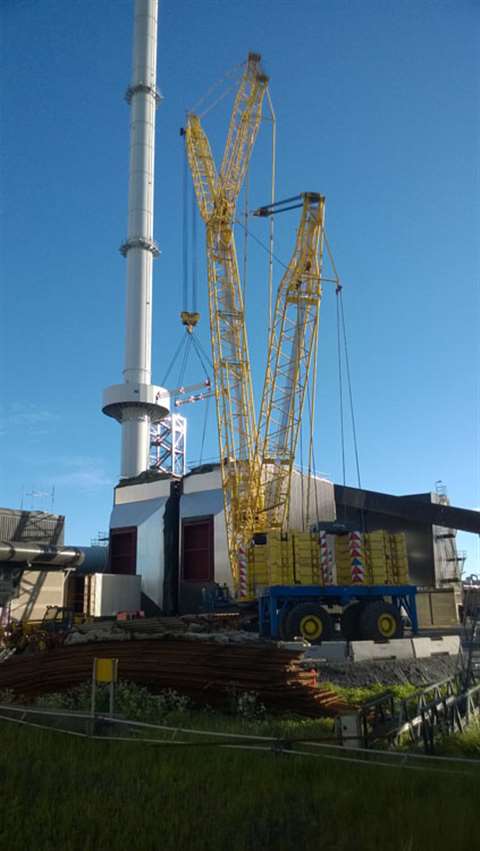 Heavy crane lift specialist Havator, based in Tornio, Finland, used its Terex CC 2800 lattice boom crawler crane at a power station in Oulu, Finland.
The 600 tonne capacity crawler was used to change four 20 metre tall filters at the Toppila Power Station. The filters are changed on a 20 year cycle.
Matti Simola, Havator logistics manager, said, "The new filters weighed approximately 200 tonnes each, but the weight and condition of the old filters can be a bit of a mystery. The filters are typically covered with dust, rust and other items, which can increase the filters' weight."
To remove the old filters the CC 2800 was configured with a 42 m main boom and 30 m luffing jib. It had 160 tonnes of main body counterweight and 275 tonnes of counterweight on the variable-radius superlift tray. This allows the tray to move back and forth as the crane works. Due to a small working area, the crawler worked at a radius ranging from 24 to 27 m.
"At the minimum radius in this configuration, the CC 2800 crane offers a lift capacity of up to 227 tonnes and 205.5 tonnes capacity at the maximum working radius, so we built in extra lift capacity to account for the possibility of additional weight with the used filters," Simola said.
To adhere to ground load pressure limits, pontoon plates were placed under the lifting area, Simola added. "We had to strictly adhere to the ground load pressure limit, because of the risk of damaging the many pipes and canals running under the ground. We placed multiple special kinds of pontoon plates under the lifting and driving area. They are approximately 6.5 m long by 3.5 m wide by 0.6 m thick."
In total, eight picks were carried out by the CC 2800, including four to remove the old filters and four to install the new. The old filters were 20 m long, 10 m deep and 20 m high.