Remanufacturing economics
By Alex Dahm15 February 2016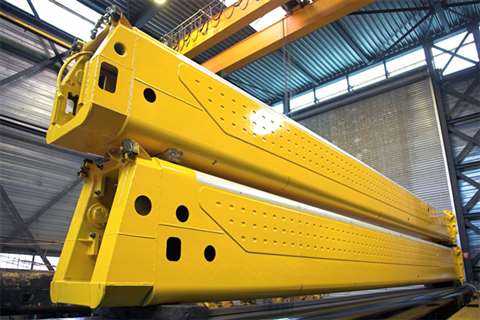 The challenging economic situation over the past few years has made customers more inclined to get crane parts and components repaired instead of paying for new. In addition, more repairs are being carried out on older cranes. As Bert Avezaat, from crane repair and refurbishment company Avezaat explains, the difference in prices between repair and renewing can be more than 80 %.
"Many of our clients would like to invest in new cranes but, because of the difficulties of financing this kind of equipment and lack of profits last year, we do not expect many new cranes to be brought in the next few years," Bert Avezaat says. "In general this means more work for refurbishment and repair projects for companies like us."
The growth of the repair market has also been seen by manufacturers. Although, as Wolfgang Beringer, sales promotion at Liebherr-Werk Ehingen says, there is less demand for completely reconditioned and newly painted cranes and customers are requesting technically refurbished cranes. Another reason for choosing repair over replacement is availability. As Beringer points out, if a part is no longer available, repair is the only option.
H&E Equipment Services (H&E), a Manitowoc EnCORE partner, for example, carried out the remanufacturing of a Manitowoc 4600 dragline crawler crane for United States Gypsum Company, based in Chicago, USA. United States Gypsum Company's manufacturing plant in Sweetwater, Texas, used its Manitowoc 4600 for mining raw gypsum. The crane needed to be replaced, but the Manitowoc 4600 is no longer in production, so United States Gypsum called on H&E to find a second Manitowoc 4600 as a core machine for the remanufacturing process.
In addition to the complete remanufacturing of the 4600, H&E installed a new air conditioning unit, a dual-chemical fire-suppression system, updated hand rails, adjustable access ladders, fall prevention guards, bail service platforms and maintenance access safety steps. Side mirrors, a full front cab guard and three cameras were also installed. The completed 4600 had a custom, chemical-resistant paint finish. The job was carried out at H&E's crane remanufacturing facility in Belle Chasse, Los Angeles.
Customer preference is also a deciding factor, a spokesperson from Terex explains, "Our customers have the knowledge and experience with their own model, and end users can be a bit apprehensive about newer models and their new functions. That's why they first think about repairing, instead of renewing."
Regulations and safety
As more focus is put on crane safety, inspections, regulations and maintenance are becoming stricter and more controlled. For manufacturers, the same regulations apply with repair work and the manufacturing of new cranes. Wolfgang Beringer explains, "For example, for welding work we have to prove that we employ qualified stuff. Also the refurbished cranes have to get the same approvals of registration authorities like in Germany TÜV (Technical Supervisory Authority) and UVV (Accident Prevention Regulations, in France Apave, etc."
As a spokesperson from Terex points out, being qualified for carrying out repairs is vital. "Repair and refurbishment companies have to be qualified, e.g. qualified welders for non-destructive testing. The Terex Cranes repair shops apply the same functional testing and load testing if required as the ones we apply in the acceptance testing area of our factories."
Despite developments in regulations surrounding repair and refurbishment, there are still some general concerns in the industry. As Bert Avezaat explains, companies can find it hard to keep skilled and experienced employees up to date on regulations and training. "What sometimes happens is that some companies are desperately in need of work," Avezaat adds. "They start working on crane booms and – or, structures and things go seriously wrong. This is because of lack of knowledge or simply disobeying the regulations and safety laws."
The concern is felt by crane manufacturers and repair companies alike, as a spokesperson from Terex points out, "We are very much concerned with repairs carried out by third parties as these repair shops are often not fully qualified to carry out the required quality work, in particular when it comes to load bearing components and structures.
"We have seen accidents related to such bad repairs, so we inform our customers accordingly together with the repair offer to avoid third parties offering poor quality at low prices," a Terex spokesperson continues. "Price should not be the only criterion when it comes to a decision on the place of repair, especially when it comes to safety and readiness of the equipment. Crane owners and insurance companies should be informed about the potential risks related to crane repairs performed by third party companies or persons not accredited or recognised by the original equipment manufacturer (OEM)."

Common repairs
Some of the most common repair and refurbishment jobs include carrier and undercarriage overhauls, engine, winch and hydraulic motor overhauls and boom repair. Bert Avezaat says, "We are not focused on simply renewing parts; we check the parts and try find the most cost efficient way to repair or refurbish a crane. This means that if parts need to be renewed we renew them, but when repair is a better option, we will choose for this option. Repairing parts saves a lot of money and time, assuring that this will not be compromising to the quality or safety of the crane."
Avezaat recently opened a new workshop in Dubai, with a shot blasting and paint facility. The workshop and other facilities are built according to European standards and training is provided for staff.
"We are training and certifying staff locally, but until they have enough experience we carry out the projects in Dubai with our Holland team to ensure the quality of our products," Avezaat says. "The quality control will always be monitored by our Holland staff. We have our own internal trainings for our staff to make sure we keep up with the latest developments in the market in terms of steel quality and technology."
In Holland, in Belgium, Avezaat has three locations in the area of the Port of Rotterdam and near the Port of Antwerp. The main office and main crane repair and refurbishment and building new boom and jib sections (lattice and telescopic) takes place in Schiedam. "Our workshop and welders are DNV Germanischer Lloyd certified and we are ISO 9001 and ISO 3834-2 certified," Avezaat adds.
For repair and refurbishment, crane manufacturer Liebherr has three repair halls in Germany, in Ehingen, Oberhausen and Alt-Bork, Berlin. The manufacturer also has repair and service halls in France, UK, Italy, Spain, South Africa, Australia, Russia, Brazil and USA. Personnel generally have a professional education, as mechanics, electricians, in mechatronics and the staff are trained regularly in new technologies, the company says.
Terex carries out repair and refurbishment works in factories in Bierbach in Germany, Montceau-Les-Mines in France, Fontanafredda in Italy and Brisbane in Australia. "In addition, we have repair stations in UK, Scandinavia and Latin America," a company spokesperson adds. "Our staff have a high training standard so we make sure that the cranes come back to the customers with their initial functions and configurations. If needed, we can use the factories with their equipment and experience."
A spokesperson from Terex adds, "Regarding refurbishment, we have recently worked in Bierbach a lot on all terrain cranes such as the AC 40/2, AC 250-1 and AC 350/6 models. It is very often about polishing and re-chroming the rings and the tubes, replacing the rollers, seals and cylinders."
H&E Equipment Services has a new crane remanufacturing facility for Manitowoc cranes in Belle Chasse, USA. The centre provided the company with room to expand its operations and triple its capacity. The complex has two primary facilities: one for crane remanufacturing and another for heavy equipment structural repair. It has access to the Gulf of Mexico.