Remote-control option from Magni
By Sandy Guthrie13 February 2015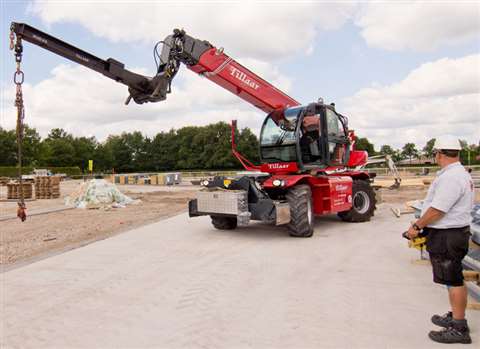 The ability to control its rotating telehandlers remotely has been added by Italian manufacturer Magni.
Collé Rental & Sales, official importer of Magni telehandlers in Benelux, Germany and Austria, has introduced the first remote-controlled Magni rotating model.
Magni said that the telehandler could be operated fully with the radio-controlled remote. Driving and stabilising – including extending and retracting the stabilisers – as well as all of the hydraulic functions of the machine can be operated remotely.
The first user of the new remote-controlled telehandler is said to be Dutch firm van den Tillaar Gevelmontage.
Magni, which was set up in 2012 by Riccardo Magni, said that it had introduced a full range of rotating telehandlers with a lifting capacity 4,000 to 6,000kg and lifting height 18 to 35m. Now the remote control has been added.
Three different function groups – stabilising, transmission and hydraulic – are said to provide full control of the telehandler. The remote control also works fully with the workbasket. For safety reasons the drive functionality can only be operated in transport position.
The remote control function is optional on all Magni models.