Russian lift for SW Trans
By Laura Hatton26 February 2015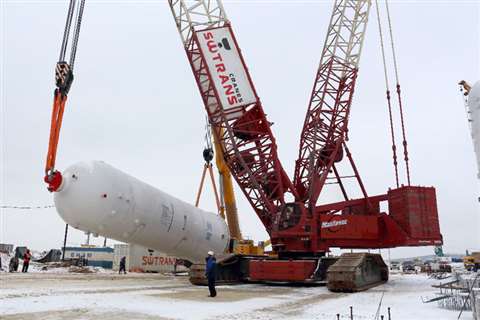 Specialized transportation and installation company SW Trans helped with the installation of several absorbers at a gas processing plant in Russia.
The work was carried out at the Kazachya plant in Anapa, south west Russia. To lift the 230 tonne absorbers into position, SW Trans used a 600 tonne capacity Manitowoc 18000 crawler crane.
The crawler has a maximum reach of 98 m on the main boom and capacity can be increased to 750 tonnes with the Max-Er attachment. Reach can be extended to almost 160 m with the luffing jib, the manufacturer said.
For the task at the plant, the crawler was configured with 42 m boom. In total it lifted and installed ten absorbers, each one 22 metres tall and 6 m wide. Despite working in freezing conditions, the job was carried out on time.
Egorov Roman Valerievich, SW Trans heavy equipment engineer, said, "Once again, the 18000 crawler crane's impressive reach and lift capabilities combined with a simple erection plan proved to be the difference on what would have been an otherwise tough jobsite.
"With a piece of advanced machinery such as this crane available to customers, SW Trans can transport and install even the largest loads, allowing us to meet the growing demand for oversized transport and assembly in Russia."
The work at Kazachya gas process plant is part of the Southern Corridor project. It will supply gas to Russia's Krasnodar region, as well as central and southern regions of Russia.