Shortlisted companies - Urban Demolition over $10m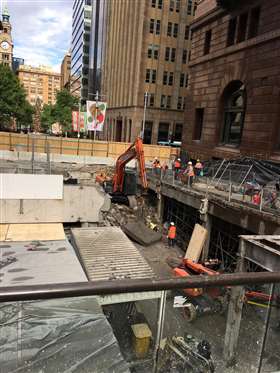 Country Australia
Project Martin Place South
Client John Holland CBP Contractors/Ghella
When contracted to design and deliver an A$18 million (US$12.5 million demolition works programme for the development of Martin Place South Station in the heart of Sydney's central business district, Delta Group faced a series of extraordinary challenges.
These included fully operational and heritage listed rail tunnels connected to the basement columns of a 24-storey tower and live pedestrian, traffic and public transport thoroughfares located beneath, through and adjacent to the site.
Extensive high rise demolition project experience ensured Delta could value engineer site specific solutions, including complex temporary works engineering design.
Over 82,072 hours and 24/7 shifts, a 50-strong workforce delivered the project on time, on budget and without incident.
Country Argentina
Project Barrio 20
Client City of Buenos Aires Government
Demoliciones Mitre was the first company to develop and engineer a method to carry out demolitions in shanty towns. The project was requested by the government of the city of Buenos Aires, and the purpose was to demolish 4,582 houses in an area of 76,475 sq m (823,000 sq ft) in Barrio No 20. It was necessary to have a permanent team of structural engineers to analyse each case individually and determine the demolition technique and the safety measures to be applied to preserve the stability of adjacent houses. Special electric tools were used to reduce vibration and noise pollution that would have affected the people still living in the neighbourhood. A team of 186 people worked on this project and total recycled material was 97.4%.
Country United Kingdom
Project Paddington Square, London
Client Sellar Properties
This £41 million (US$51 million) project saw Erith demolish three Royal Mail buildings adjacent to London's Paddington station followed by conducting substructure basement works.
The demanding project required careful planning and management so as not to affect the vital operations of the adjoining St Mary's Hospital.
At 15 months into the contract, Erith had successfully delivered three sectional handovers with zero accidents, zero environmental incidents, and while recycling 97% of all waste. It is also on track to complete all works on time and on budget in August 2021.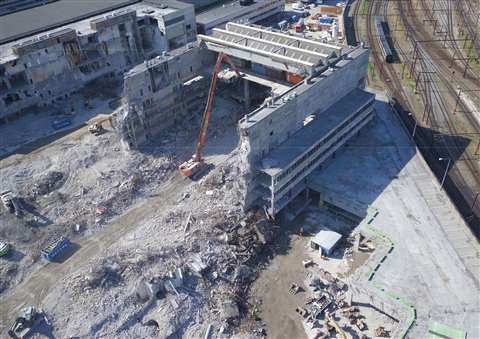 Country Denmark
Project Demolition of Danish main postal handling centre
Client P Aarsleff
Near the famous Tivoli Gardens, in complex urban surroundings and with a tight time schedule and detailed authority limitations to work hours and noise levels, G Tscherning has carried out the demolition of 78,000 sq m (839,500 sq ft) buildings in a 29,000 sq m (312,000 sq ft) footprint. A thorough cleaning of all environmentally hazardous materials, prior to the demolition, was included in the project.
Located next to the tracks of the Copenhagen main railway station, with constructions cantilevered over the tracks, and with an important authority and public awareness, strict planning and careful execution has been crucial. A range of machinery, including an ultra-long reach excavator of 125 t, two long reach excavators, 12 excavators of 50 t, a crawler crane a several other machines, has been employed during the demolition.
The project was delivered on time and on budget, with of 99% of debris has been recycled.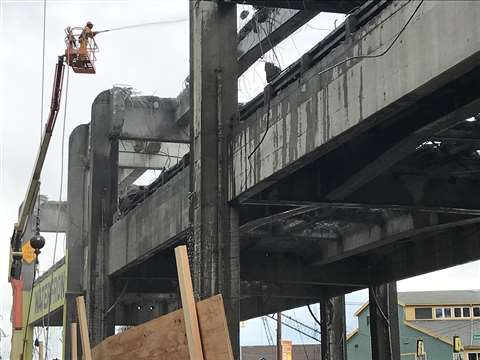 Country USA
Project Alaskan Way Viaduct Demolition
Client Washington Department of Transportation
The Alaskan Way Viaduct is a 65-year-old double-decked, reinforced concrete freeway in Seattle, which was damaged by the 2001 Nisqually earthquake.
Washington State Department of Transportation was awarded the contract to demolish 2.25 km (1.4 miles) of this earthquake-vulnerable viaduct and 64 m (210 ft) of steel girder structures and decommission the Battery Street Tunnel to Kiewit Infrastructure West. Located along Seattle's congested waterfront close to historical buildings; multi-modal traffic; and Pike Place Market, a popular tourist destination; the project required meticulous planning and significant stakeholder coordination.
In places only inches from nearby buildings, the Kiewit team's use of high-reach excavators with specialised attachments made mechanical demolition within the confined space possible.