Spanish construction market changes
By Euan Youdale26 February 2008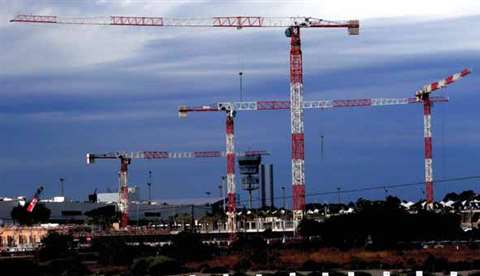 Residential construction in Spain has enjoyed 10 years of unprecedented growth. Lower capacity tower cranes, usually below three tonnes, carry out the bulk of the lifting work.
Typical sites are the more traditional brick and concrete built homes. While a few Mediterranean countries, for example, Greece and Italy, share Spain's building methods, most other European nations are using prefabricated blocks for residential construction. Higher capacity tower cranes are needed for this.
The outlook, however, for manufacturers and operators of city type top slewing tower cranes is not as bright, according to the Spanish Manufacturers' Association of Construction and Mining Equipment (ANMOPyC), which anticipates a slight decrease in the near future.
"Forecasts for the next years in residential construction are not very optimistic. So that is where the tower and luffing jib crane market notices the demand decrease." says Luis Machin at ANMOPyC but, he adds, "The fall could be softened by the increase in restoration works that are growing considerably thanks to aid given for the old properties in old parts of most Spanish towns."
This, he says, should provide some stability for a range of products such as mast climbing equipment and construction hoists.
Decrease
Michael Hörmann, managing director at Liebherr Tower Cranes in Spain, forecasts that residential construction will decrease dramatically in the next 12 months.
Liebherr's Pamplona plant produces the group's smaller capacity tower and self erecting cranes. Also operated from there is a rental fleet of higher capacity cranes manufactured at Liebherr's Biberach factory in Germany.
Hörmann calculates that the market for self erecting and tower cranes has increased to 3,500 units a year, while 2007 will see a sharp decrease to 2,000 units. In 2006, he continues, there were 600,000 to 700,000 residential units built, with prices increasing by 15 to 20%. "Let's say in 2008, at a guess, it may be 20 or 25% less."
During the boom years crane operators and rental firms took the opportunity to upgrade their machines, meaning that most crane fleets in Spain are very new, explains Hörmann.
"But the fleets are very different from the rest of Europe because they are very small cranes, whereas in other countries the demand is for bigger cranes. The type of construction in Spain uses brick and concrete, there really is nothing prefabricated. So there is a huge quantity of brand new cranes but they are all very small."
The maximum load for a vast majority of construction cranes in the country is 2.5 to 3 tonnes, says Hörmann, with most other European countries going for six to 12 tonne lifting capacity models.
Exports
Nevertheless, the export market for cranes produced in Spain has suddenly swelled. Last year (2006) 70% of the cranes manufactured at Liebherr's Pamplona factory were sold in Spain. By the end of 2007, Hörmann forecasts, 70% of the plant's production will be destined for foreign soil.
"We see the market go down in Spain, but now we have the luck that there is a higher demand for cranes in Germany and the Eastern European countries."
By the end of 2007 Pamplona will have produced more than 1,000 cranes in the year, with 400 of them remaining in Spain.
The company's FR.tronic version of its EC-B series allows the three tonne maximum capacity to be increased to six tonnes and for work to be carried out at a faster rate. This Hörmann, says will add to the benefits of the range abroad.
"We expect an important increase in our sales for 2007 and 2008 because there is a higher demand for our types of crane, not in Spain, but in the rest of Europe and the rest of the world. In countries like Romania, where you have a lot of apartments, you can use these cranes because they build in the traditional way, like Spain."
Juan Ballester, at tower crane manufacturer Sáez, who claims the company produces the largest number of units in Spain, says the crane companies had long expected the downturn that had prompted them to change the way they worked.
"We are the biggest in Spain, in terms of the amount of cranes manufactured, but we had to make cranes a little bit bigger as is required in other markets. Our plan was to have a full range of cranes and, from now on, concentrate on exports. In Spain we are known, but in export markets not everyone knows our company. We are investing to set up offices abroad and we are hiring more people. The Spanish market is going down and we have to sell the cranes we don't sell in the Spanish market, abroad."
As a result Sáez is now introducing itself to the world through exhibitions and a range of other marketing.
One of the Sáez cranes designed for the international market is the eight tonne maximum capacity GLS7516, which lifts three tonnes at the tip of its 75 m jib and will be launched in the next few months.
"This crane is not sold in markets like Italy, Portugal or Greece but in the UK, Germany, France, Russia, US and Dubai. And it is too big for the Spanish market where we only use city cranes.
Here 80% of construction sites need less than four tonnes lifting capacity."
Sáez produces around 1,700 cranes a year, with the figure standing at 1,600 by mid-October in 2007, says Ballester, adding that sales in Spain have fallen by about 15% this year, "But this has not been hard on us because in the world view there is a big demand for cranes. So we are exporting more and manufacturing more for sales abroad."
Still strong
Despite the downward trend, Ballester still had some positive words for the home market, which, he says, supports about 80,000 tower cranes.
"Construction in Spain is going down a bit, but it has been very good. In Spain you will see tower cranes everywhere. I think it is where you will find the most in the world and Italy would be second. It is still a very strong market."
Unlike its residential counterpart, the Spanish non-residential construction sector is still going strong, according to Machin at ANMOPyC. The association forecasts the renovation market to remain on an even level with new builds reducing slightly over the next two years. In 2006 public construction saw a 7.2% increase compared to 2005. In 2007 that increase is expected to reduce slightly to 6.1%. As a result, Machin says, the demand for mobile cranes, commonly used on non-residential construction sites, will remain stable. "This good situation is due to foreseen investment in roads and high speed railways all over the country. These facts will provide the stability for the sales and rental of heavy equipment used in this kind of construction."
Liebherr has already benefited from the range of infrastructure related investments in the country and Hörmann says the level of investment over the next five years will be impressive. In turn he hopes this will mean an increase in the number of larger capacity models that Liebherr Tower Cranes orders from its sister factory in Biberach, Germany, to add to its rental fleet.
"We rent cranes to build airports, bridges and highways or big industrial plants." These include a gas liquefaction plant in southern Spain, where 11 Liebherr tower cranes are at work, and a new football stadium.
Making a major contribution to that infrastructure is Silsoil, a specialist foundations company, based in Madrid, with its fleet of lattice boom crawlers, including Liebherrs and Kobelcos up to 80 tonnes capacity. David Silveira says the sector has made huge strides.
"During the last 10 years the crane market in Spain has changed completely, at that time cranes more than 10 years old were more than 60% of the market. Since then, thanks to new [European] CE regulations and mainly because of the construction growth, probably more than 70% of the cranes we are using are almost new, manufactured during the last 10 years."
Seeing change
But, Silveira says, the future is not certain and with the upcoming presidential election in March, crane companies are waiting to see what happens. In any case Silveira feels the crane market can not continue at the same high level, meaning that crane users will be forced to think twice about every crane they buy.
"For the second hand market, the next few years are going to be better than for the new ones. This is not a negative view of the future, it is just that the growth of recent last years was not normal and, as the construction market is slowing down, we have to slow down too."
The decade of success has allowed Spain to catch up with other European countries, explains Silveira. "Ten years ago were buying second hand rope excavators from the German market after its crises."
The most common mobile cranes in the country are 30 to 100 tonne capacity telescopic truck cranes, a trend that, Silveira says, will continue due to increased transport costs and the short-term nature of their work on building sites and new roads. "But this type of crane is not easy to adapt to new activities where lattice boom crawler cranes are better," he adds.
Wind up
One of the biggest stories in Spain is strong growth in the wind turbine sector. In the last few years Spain has been the subject of a massive wind turbine building programme, according to Renewable Enery UK. As a result, Spain has the second highest installed wind power capacity in the world, after Germany, at more than 11,000 MW. The aim is to increase this capacity to 20,000 MW by 2010 with 2,000 MW to be added in 2007.
Machin at ANMOPyC, says the role of wind farms in the Spanish lifitng industry could not be emphasised enough. "The big bet for the future in Spain is renewable energy." This, he adds, would provide a steady market for mobile and crawler cranes, while other markets falter.
Making the most of the demand are crane operating companies, for example, Transbiaga, which specialises in the wind sector and works for customers that include, Gamesa, Enercon, Vestas and Acciona.
"The sector with the biggest increase at the moment is the wind energy sector. The principle reason for this popularity is the elevated subsidies from the Spanish government for reaching the required number of megawatts," says Rafaela Mileta at Transbiaga.
Mileta explains the most popular cranes for wind turbine applications are crawler cranes below 600 tonnes lifting capacity. "These cranes allow us to move from tower to tower on the narrow roads in a wind park without dismantling the crane."
The company is due to receive, however, a 1,000 tonne capacity Liebherr LTM 11200-9 telescopic wheeled mobile crane, which boasts a 100 m boom, the longest in the world, in July 2008.
For crawler crane manufacturer Kobelco, Spain is a multi-million Euro market. In the last two months it has delivered two 250 tonne capacity CKE2500-2 models with special options for wind turbine erection to Transbiaga and will fulfil a third order for the same crane to the company in 2008.
In the last four months Kobelco has also delivered a 180 tonne capacity CKE1800 to Spanish rental company Gruas Romani and an 80 tonne heavy duty BME800HD to Silsoil, which already own seven Kobelco HD cranes and has ordered a ninth.
"Kobelco expects demand in some sectors, like wind turbine erection will continue to be strong in the next few years, considering current high oil and gas prices and the fact that Spain nearly has no oil and gas of its own," adds Jos Verhulst, sales and marketing manager at Kobelco Cranes Europe.
Overall the Spanish crane market is in a good position but, in the view of ANMOPyC, keeping up with innovations across the world is vital to ensure that domestic companies remained competitive.
"The lifting equipment industry is more and more competitive and is on a continuous evolution not only in the domestic market but also abroad. The Spanish construction equipment industry is highly regarded around the world for its proven EU-certified quality products and competitive pricing, customer service and research and development driven policies. But the construction industry is continuously developing and we must be ready to face future changes."