Strong third quarter for Wacker Neuson
International light and compact equipment manufacturer Wacker Neuson says it is positive about the rest of 2017 after announcing its financial results for the quarter ending 30 September.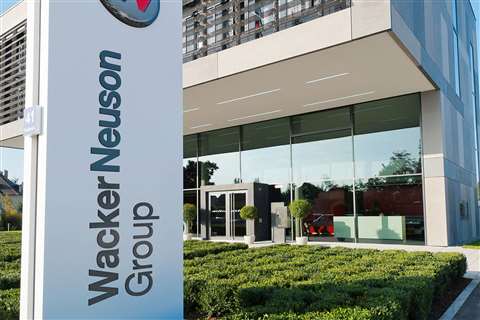 The company, which is headquartered in Munich, Germany, almost doubled its profit before interest and tax to €40 million (US$ 46.5 million) compared to €20.4 million ($23.7 million) for the same period in 2016.
Revenues were also up by 20% from just under €316 million ($368 million) to more than €378 million ($440 million), while the earnings before interest and tax (EBIT) margin grew from 6.5% to 10.6%.
"There is no doubt that we were buoyed by strong markets in North America and Europe.," said CEO Martin Lehner, who succeeded Cem Peksaglam in the role in September.
"However, it was the successful implementation of our growth strategy that really enabled us to outgrow the market,"
The company added that the third quarter is typically a high-margin period and its three operational business segments (light equipment, compact equipment and services) reported increased revenues of 14%, 27% and 11% respectively
The group's largest market, Europe, reported a 17% rise in revenue with Germany, Austria and Switzerland, the Benelux countries, France and Poland all performing well.
Total revenue for the first nine months of 2017 rose 13% to a new high of €1.14 billion ($1.33 billion), with profit before interest and tax at €101 million ($117 million) and an EBIT margin of 8.8%.
"Our order books are full and we expect business to continue on its positive trajectory through the end of the year," added Martin Lehner.
The company said it expects revenue for the whole of 2017 to come in at the higher end of its previous forecast range of €1.45 to 1.5 billion ($1.69 to 1.75 billion), or possibly even slightly exceed this figure.