Takeuchi unveils redesigned loader
By Thomas Allen15 April 2020
Japanese equipment manufacturer Takeuchi has launched the TL8R-2 tracked loader - a redesign of its TL8R model.
With an operating weight of 4,165kg, the machine offers a tipping load of 2,740kg due to its radial lift design.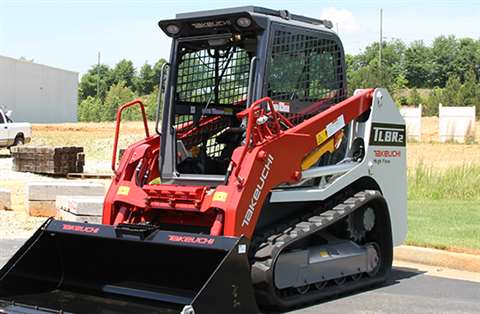 The TL8R-2 is equipped with a 54.6kW turbocharged engine that complies with EU Stage V/EPA Final Tier 4 emissions regulations. The loader's Diesel Oxidation Catalyst (DOC) and Diesel Particulate Filter (DPF) help to minimise emissions.
An optional creep mode function has been added to the new model. This allows operators to match the forward speed of the loader to a particular attachment without having to constantly monitor the speedometer. This was said to be suitable for attachments that require a consistent travel speed, such as cold planers and trenchers.
The operator's control panel features a 5.7" colour screen with rear-view camera. Also as standard, it has proportional auxiliary switches that give operators precise control of the machine's movements.
As an optional extra, the TL8R-2 can be fitted with a pressurised cab that has a roll-up door and air conditioning.
Toshiya Takeuchi, President of Takeuchi, said, "Takeuchi prides itself on our continuing tradition of innovation and advancing technology, and the TL8R-2 is a perfect example of that.
"Operators will feel more strength, performance, manoeuvrability, versatility, and efficiency in this machine, increasing their profits."