TCA upholds Hong Kong view
By Euan Youdale31 May 2013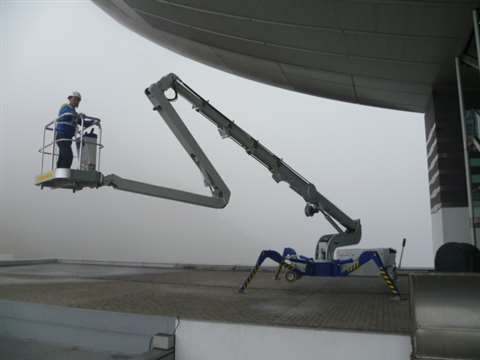 Peak Tower, located in Victoria Peak park, Hong Kong, offers spectacular views across the island. The nearly 400 m high tower contains shops, restaurants and amusements, and sees millions of visitors every year.
The building was constructed in 1971. Since then there have been a number of modifications leading up to its current appearance. In 1995 manufacturer Falck Schmidt - today known as TCA Lift - delivered a Spider TS24 to the building for maintenance and cleaning.
Recently, TCA replaced the TS24 with a new tracked platform from its range, a 29 m working height Falcon Spider FS290.
"We are proud that the Spider TS24 has been working at Peak Tower every day for almost 20 years in a very high humid climate," said Brian Falck Schmidt, sales manager at TCA. "Our international service organization deserves a lot of credit for this."
Mr Schmidt added, "We are also proud that Peak, once again, after a public tender round, chose us to deliver the replacement even though our price is at the high end. The FS290 is just been handed over to Peak Tower, and we expect it will work for the next 20 years."