TechnipFMC wins €6.8 billion Russian gas contract
By Mike Hayes25 July 2019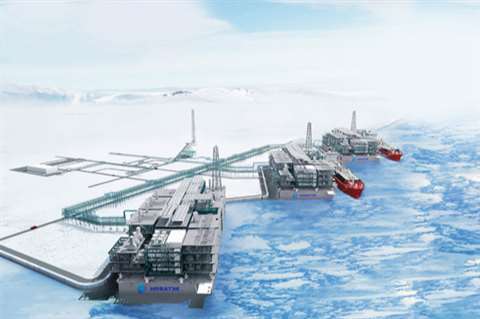 Russia's largest privately-owned gas producer, Novatek, has awarded a €6.8 billion contract to TechnipFMC, to work on its Arctic LNG 2 project in Siberia.
The deal is the latest for the project, which aims to develop some 7 billion barrels of oil-equivalent from the gas field predicted to hold total reserves of almost 2 trillion m3.
Work to prepare Arctic LNG 2 will include the installation of three gravity-based structures (GBS) in the Gulf of Ob. These are engineered platforms, which will be towed into position before being deliberately sunk in shallow waters to serve as foundation for the drilling platforms.
The concrete GBS will have a length, width and height of 330m, 152m and 30m, respectively.
They will host three natural gas liquefaction trains, each with a production capacity of 6.6 million tonnes of LNG a year.
In December 2018, Novatek awarded a €2.25 billion contract for the design, construction and installation of the GBS to a joint venture between the Russian companies Saren and Renaissance Heavy Industries Russia, and the Italian contractor Saipem.
These companies will also be responsible for the construction of associated LNG storage facilities, which will have a total capacity of 687,000m³.
Olav Olsen was subcontracted by Saipem to provide the front-end engineering and design for the GBS.
Novatek signed an agreement with Nuovo Pignone in December 2018, to supply turbo machinery equipment comprising gas compressor turbines and gas turbine generators for the project.
The LNG produced from Arctic LNG 2 will service markets in Asia and be transported via the Northern Sea route that was first developed for Novatek's neighouring Yamal LNG project.