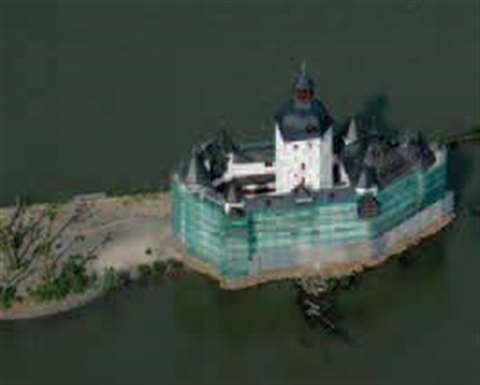 Originally built in 1527 and later extended in the 18th Century, the miniature fortress of Pfalzgrafenstien served as a toll station for King Ludwig until 1866. Victor Hugo described the fortress thus: " a stone ship floating eternally on the Rhine, eternally at anchor." Now needing extensive renovation, Altrad plettac assco Contur modular scaffolding was supplied by contractor GSB Gerustabau GmbH operating out of Bobenheim-Roxheim. GSB selected this scaffolding because of its ability to adapt to most conditions with a load-bearing capacity that provides high water protection.
With a duration of 16 months, the work features several distinct challenges. Firstly, the castle complex will remain open to the public and therefore the scaffolding structure had to allow access to the building, the ground that the structure has to stand on is rough and uneven, and the scaffolding structure itself had to withstand periodic immersion in the waters of the river Rhine during periods of high water, with the scaffold cover being removed and lagging secured to prevent it floating off down the river.
Transporting and erecting the structure was also a challenge. The scaffold components had to be ferried out to the island by boat, then loaded onto small trucks that transported them to near the erection site. However, it was impossible to reach by vehicle the top of the cliff on which the fortress stands. The contractor then had to transport the components to their erection point by hand using cable lifts.