Tunnelling: Breaking new ground
By Joe Sargent28 May 2019
By 2050 seven out of ten people are expected to be living in cities around the world. With limited space in already built-up metropolises, it is essential that infrastructure is installed underground. One such project that will undoubtably change the underground map of a city is the Grand Paris Express.
With around 200km of track on four new, fully automated subway lines, 68 stations and seven technical centres – the Parisian project is currently one of the largest infrastructure projects in Europe.
Approximately 2 million passengers per day are expected to use the four new lines, as well as the extensions of line 14.
The project owner, Société du Grand Paris, sees an incentive for the development of economic strength and the quality of life in the region with 12 million inhabitants.
Herrenknecht will be supplying 19 TBMs (tunnel boring machines) to the project, 16 EPB Shields and three multi-mode variable density TBMs. The TBM's have diameters between 7.7m and 9.8m designed specifically for the project.
Around 72km of tunnel is scheduled to be bored and lined with concrete segments.
Sticking with the theme of working in heavily populated areas, Liebherr announced the world's first battery-powered drilling rig at Bauma Munich.
Known as the LB16 unplugged, the deep foundation machine is said to have been built to be eco-friendly, efficient and to push into new fields of application with zero local emissions.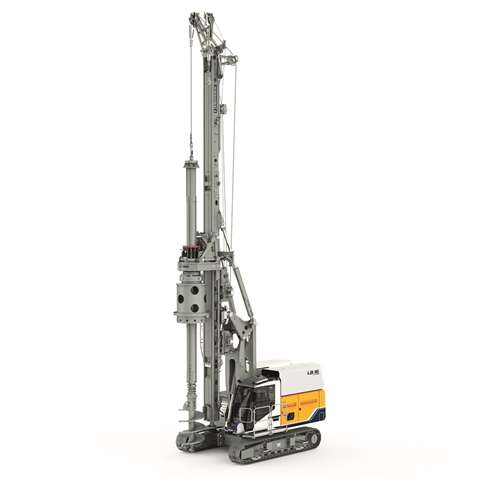 Liebherr's 55 tonne diesel version can achieve a maximum drilling diameter of 1,500mm and drilling depths of up to 34.5m. Liebherr says there is no restriction in performance or application of the machine when compared to conventional diesel versions.
The machine has an electric engine with a performance output of 265kW. The battery itself is designed to be able to last a full working day at around ten hours of life per charge. It can be charged by using conventional jobsite power supplies at 32 A or 63 A. If a 125 A supply is available, then the battery can be charged at a faster rate of seven hours.
As well as the new drive, safety has also been a key factor in developing the new rig. In tunnelling, the ground load-bearing capacity and monitoring of the ground load pressure is important. Liebherr has added an assistance system that will enable ground pressure visualisation.
The LB 16 unplugged will calculate the current ground pressure of the machine in real time and compare it with the specified safety limits of the relevant position.
The operator is permanently aware of whether the machine is situated in, or is approaching, a critical area as the ground pressure is displayed in the cab.
The rig is expected to be made available in Europe during 2019.
Environmental issues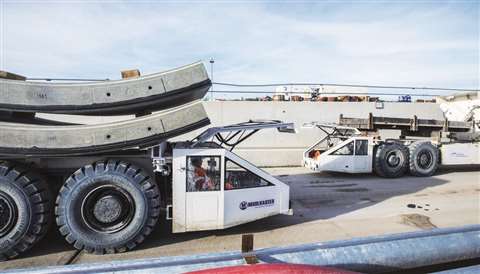 Another company looking to be more environmentally friendly in its machinery is German-based firm Mühlhäuser.
Late last year the first fully electric Mühlhäuser Service Vehicles (MSVs) successfully completed a job on the Victory Boogie Woogie Tunnel, part of the newest infrastructure project in the Netherlands, the Rotterdamsebaan roadway.
The Rotterdamsebaan is being constructed in order to deal with The Haugue's increasing traffic problem and keep the city easily accessible for both residents and tourists. The aim is for the city to be built as environmentally friendly as possible, making electric machines a preferred choice.
The two electric MSVs built for this project were used to supply the TBM, mortar and segment rings for back filling.
With a total permissible weight of 180 tonnes the vehicles can achieve speeds of up to 25km/h. They output sound of 68 dB without any carbon emissions.
Using a flat design with all drive control and integrated steering components, the entire vehicle length can be utilised as loading space. This is said to help ensure maximum efficiency with every trip in and out of the tunnel, increasing work speeds.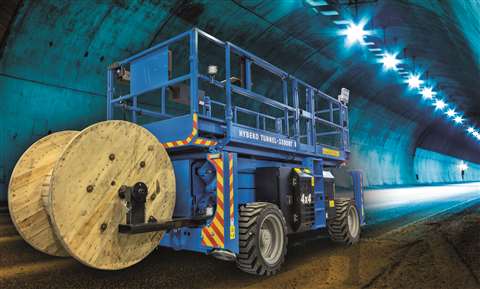 An award winner in this section is Norway-based Hybeko's Tunnel 3390 Lift, which was named product of the year at the International Powered Access Federation's (IPAF) Summit and International Awards for Powered Access (IAPAs) held in Dubai in March.
The aerial work platform was specifically designed for tunnelling and similar construction applications. Based on a Genie GS-3390 RT scissor lift, the Hybeko Tunnel Lift is a diesel-powered product with minimal exhaust emssions.
The design team said that they chose to use diesel as recharging batteries is currently a slow process and recharging in tunnels is not authorised under current legislation in Norway.
Espen Johannessen, Hybeko's CEO, said, "This was really unexpected and we are delighted and honoured to have received this highly esteemed Product of the Year award.
"Tunnelling and construction are key activity sectors in Norway and our goal was to develop a high-quality machine able to provide the safe, fast, low-emission operation adapted to the specific requirements of both fields of application."
Among the features on this model are minimal exhaust emissions and maximum working heights of 8m or 11.94m, with a lift capacity up to 1,134kg.
In order to adapt the machine to tunnelling applications, a cable drum on stand, towing support and air/water to platform hose feature among a wide selection of other options and accessories.
Water tunnel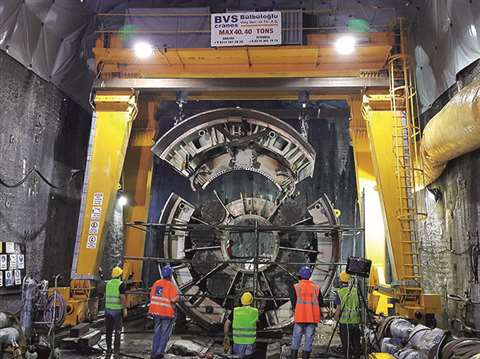 US-based TBM manufacturer Robbins has recently completed work on Turkey's longest water tunnel. The excavation of the tunnel came to an end in December 2018, but the journey to completion was said to contain numerous challenges.
Because the project is considered to be one of the most challenging ever undertaken by a TBM in Turkey, a 5.5m diameter Robbins Crossover XRE TBM was brought into the project by the main contractor, a joint venture between Kolin and Limak.
Eventually the project reached a standstill and the Robbins XRE TBM was called in to complete the tunnel, after three Double Shield TBMs from another manufacturer had encountered incredibly difficult geology including massive inrushes of mud and water.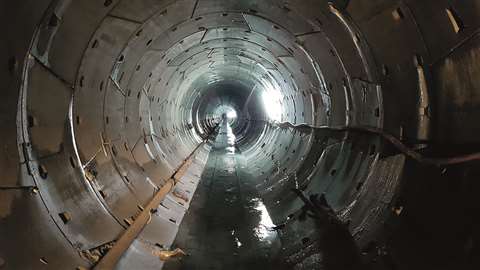 The team working on the tunnel had to overcome a total of 48 major fault zones and water pressure build ups of up to 26 bar.
The 31.6km long Gerede Water Transmission Tunnel was an urgently needed development as severe and chronic droughts have been suffered in the capital city of Ankara, Turkey.
During the final leg on a 9km section, the team came across extremely difficult ground including sandstone agglomerate, limestone and tuff.
Dr. Nuh Bilgin, Professor of mine and tunnel mechanisation at Istanbul Technical University and Chairman of the Turkish Tunnelling Society, said, "I've had the chance to study and visit the majority of mechanised tunnelling projects in Turkey since the 1980s. The Gerede project is one of the most challenging projects among them."
Concerning the Robbins TBM, Barış Duman, project manager for Kolin/Limak, said, "The TBM was equipped with features such as increased thrust, two-speed gearbox, and modular screw conveyor. It was capable of giving the necessary responses in different geologies, which was our most important asset in achieving our goal."
In order to tackle the challenging terrain, the specialised machine was designed to statically hold water pressure up to 20 bar, a failsafe that none of the standard Double Shield TBMs had been equipped with. A convertible cutterhead was also provided that was designed for ease of conversion between hard rock and Earth Pressure Balance (EPB) modes, and with cutter housings that could be fitted with either disc cutters or tungsten carbide tooling.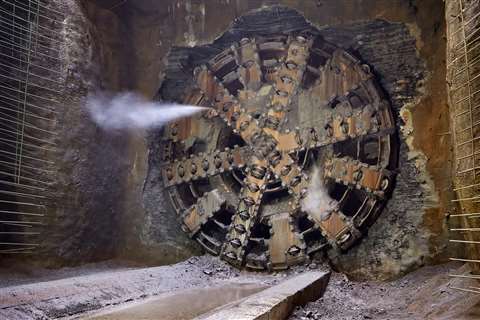 To cope with difficult ground, the Gerede machine was also equipped with a torque-shift system, multi-speed gearing which allowed the machine to function as either a EPB or a hard rock TBM.
The Robbins company also worked on another challenging project in Ohio, US. The Akron Ohio Canal Interceptor tunnel also required a specialised TBM to be created.
The TBM was designed for the project's geology, which transitioned from soil to partial face shale to full face shale rock. The Crossover XRE included features of both EPB and Hard Rock Single Shield TBM types, with a versatile cutterhead that could be configured for hard rock or soft ground conditions.
The machine was 9.26m in diameter and was nicknamed 'Rosie' in honour of Rosie the Riveter, an icon representing American women who worked in factories and shipyards during World War II.
Nuclear options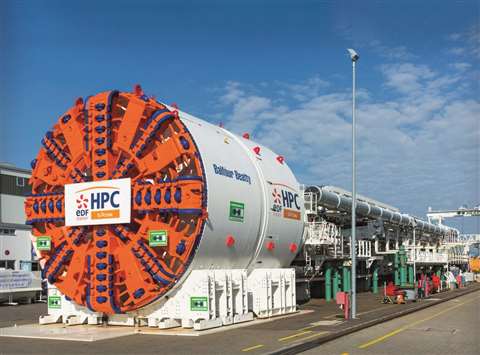 At the Hinkley Point C nuclear power station development in the UK, there will be three large TBMs from Herrenknecht and a smaller tunnelling kit that will be in operation.
The three largest machines will form two intake tunnels that will supply 120,000 litres of water per second, and one outfall tunnel for the power station's cooling water system. The other smaller kit will be used to excavate a tunnel to form the fish return system.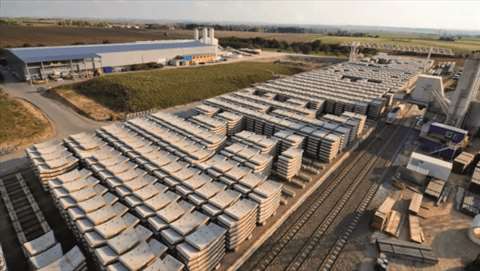 In total there will be 6,000 concrete segment rings which will form the walls of the three tunnels. These are to be created with reinforced segments and grout injected to secure them in place. The segments are being constructed in a state-of-the-art facility at Bristol Port Dock in Avonmouth and it is expected that the facility will create between 70 to 100 rings per week.
It is expected to take 12 months to construct each tunnel and that in total, 1.2 million tonnes of soil will need to be excavated.
From the UK to the other side of the world in Sydney, Australia, where a predominately underground 33km motorway scheme known as WestConnex is currently under construction.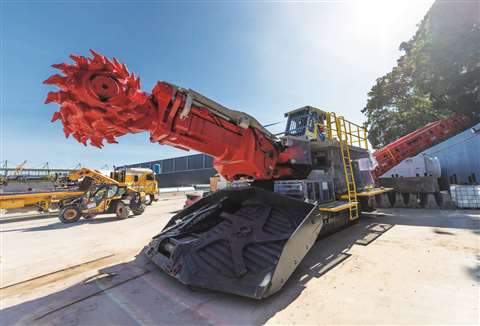 Just under halfway in its development, the WestConnex tunnels will be taller, wider and less steep than older Sydney tunnels, which should result in a smoother ride for motorists. The tunnels will also have more efficient and modern ventilation systems that meet stringent air quality standards.
In December it was announced that tunnelling on the M5 roadway had been completed.
Expected to be open to traffic in early 2020, the AU$4.3 billion (US$3.07 billion) new 9km M5 will run parallel to the existing 38km M5 East providing a non-stop underground journey between Kingsgrove and St Peters.
Tunnelling activities were underway for almost two years on
the new M5, with 21 roadheader machines working around the clock.
Innovation to the fore
At the recent Bauma innovation awards Herrenknecht won an award in the machine category.
The development that received such praise was the company's E-Power Pipe installation method. The purpose is to ensure that underground cables can be installed without need for a trench, close to the surface at depths of between 1.5 to 4m, with minimal change to the landscape.
The method involves the development of new, extended jacking pipes that allow a more continuous advance. Herrenknecht developed an appropriate push and pull unit with a 10m stroke and a push and pull force of 350 tonnes specifically for these jacking pipes.
Using this technology, small diameter drives with ten times greater lengths can be used, guaranteeing high speed and precision. Existing infrastructure such as pipelines, roads and railways are safe as the TBM can keep to the planned alignment.
The technology is based on a rack and pinion guiding system, powered by electric motors. As a result, the concept is said to ensure higher installation performance and greater acceptance thanks to lower noise emissions.
At the heart of the new system is a fully remote controlled TBM, the AVNS350XB, which has an excavation diameter of 505mm and is designed for drive lengths of more than 1000m.
Individual boreholes can be placed a small distance apart at only 1 to 2m, so they can install several lines in parallel. Daily best performances were achieved of 184m during tunnelling and 266m when the protective pipe was pulled in.
"Thanks to the trenchless installation of underground cables, it protects the environment to the greatest possible extent, allows for a rapid construction progress with high quality and is also very economical," said Ulrich Schaffhauser, management board member, Herrenknecht.